How often do you get to taste really fancy wine?  If you're me, the answer is almost never.  So I'm excited about the Green Drinks event happening tomorrow night at the OC Wine Mart in Irvine.  I will be sampling some expensive wines for a fraction of the cost because the wine bar has this nifty sampler machine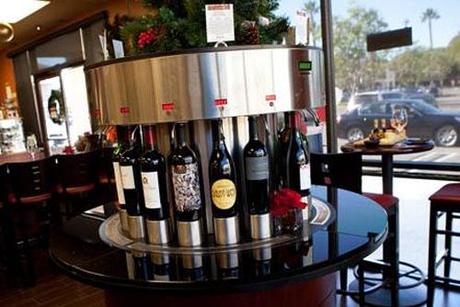 image courtesy of dealperk.com
where you slide in a wine card and push some buttons (like the refrigerator in The Jetsons) and out comes delicious vino.  If only it cubed the cheese too…
So that's where I will be tomorrow evening from 6-8pm and if you're in the OC area why not come say hello?  If not, I suggest you have your own little wine party with a couple close pals and some easy appetizers like these:
Baked Brie with Honey, Walnuts and French Bread
Bruschetta – Chop tomatoes, garlic, basil, salt & pepper marinated in a bit of olive oil)
Olives – Grab a mixture from the olive bar at your local grocery.  I like the Nicoise, Kalamata and Sicilan Green.
Salami – A favorite of many, I can't recommend one because I don't eat it but if you do I'm sure you'll figure it out.
As for wine, well, that depends on what kind of snob you are.  I think getting 1-2 bottles of decent wine and a bottle of cheap wine will have you covered.  You could also have a wine pot luck and get your friends to each bring a bottle and you'll really be covered.  Maybe too covered.  Don't forget you have to go to work tomorrow.
Have fun!