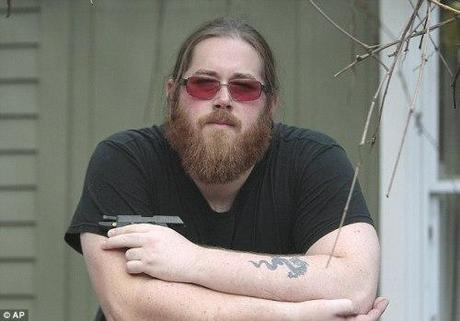 Better safe than dead.
Daily Mail: A 29-year-old gas station clerk who thwarted a robbery by pulling out a handgun was fired for violating his company's 'no firearms' policy.
Shannon 'Bear' Cothran was working alone at a New Hampshire Shell outlet when he was threatened by a knife-wielding man demanding money about 3am yesterday. When Cothran pulled out his Ruger LCP .380  handgun, the masked would-bethief fled the Nashua station and is on the run  from police.
Cothran said he had just finished serving a customer when the would-be robber approached him. 'He had the knife cocked back. It looked like  he was going to stab me,' Cothran told Nashua Telegraph.
'I took several steps back, produced my sidearm, and informed him it was a bad idea and he didn't want to do it, and he  left.'
While Cothran said the move saved his life and the company's money, his employer didn't see it that way. He was fired a few hours after reporting the incident to Nouria Energy, which owns the station.
Even though Cothran's store and district managers lobbied to save his job,  Nouria stood by its policy to prohibit weapons in the workplace 'to keep employees and customers safe'.
Cothran had worked at various Nouria Energy convenience stores for 10 years and was aware of the policy, but said he didn't regret his actions. 'I have a fiancee who I love very much, step-children I love, our first grandchild is due in December,' Cothran told  Nashua Patch.
'Given the situation, and the way the man who tried to rob me was acting, I  truly believe if I didn't defend myself I wasn't going to be coming home to see my family.'
The Milford resident said he'd  obtained his gun license eight years ago when he was 21 and started taking a gun to work about two years ago.
He said he'd feared for his safety working night shift in a city that reportedly had 20 armed robberies in the past few months, most all of them at convenience stores, Nashua Patch reported.
Now out of a job, Cothran said he hopes the  company 'rethinks its policy' of prohibiting weapons. 'My one hope for all of this is that  they rethink their policy about not permitting cashiers to protect themselves. I  realize it's a liability for the company,' he told Nashua Telegraph.
'But I'm hoping they rethink their policy of  letting employees who are licensed to carry concealed weapons do so. I hope they  look at this and realize there was no monetary loss to the  store, no injuries and that because I am a reasonable human being and a  responsible gun owner, they benefited.'
Cothran, a former bouncer, stands by his decision to protect himself. 'I can find another job.  A paycheck's a paycheck. I don't really care where it comes from,' he toldNashua Patch. 'I cannot justify in my mind trying to save  my job at the risk of not ever seeing my family and friends again.'
Meanwhile, Nashua police Lt. Denis Linehan  has backed Cothran's pro-gun sentiments, telling Nashua Telegraph it  appeared the clerk took 'appropriate action'.'In this situation, the clerk was  presented  with a deadly weapon. He was in close proximity to the suspect when the deadly weapon was displayed to him' he said. 'The clerk, from the information I have, took the appropriate action in terms of how he felt  threatened, in presenting  the firearm.'
Meanwhile, Nashua police are hunting  the armed would-be robber, described as a white or Hispanic, between 6  feet and 6  feet, 2 inches tall, with a medium build.
They also recovered a piece of evidence – a  black-and-gray Coleman  jacket with a red collar – which the suspect discarded  while he was  running from the scene.
So much for their policy of prohibiting weapons, guess the perps didn't get the message. Good for this man for protecting himself!
DCG