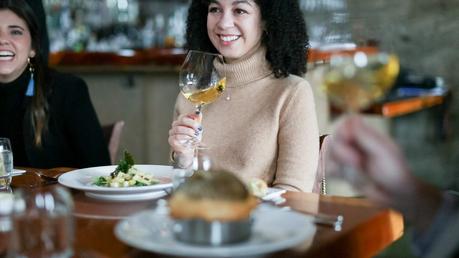 Several weekends ago, I joined a fantastic group of individuals for an event organized by Emily Martin, and sat down to experience the Gary Farrell Lunch event at Valette Restaurant.
Have you been to Valette? The restaurant is located in Healdsburg, CA, just off the downtown Square. Small and intimate, Valette is an omnivore's paradise. However, if you are vegetarian (like me), please do not hesitate on dining here - I have had nothing but incredible dining experiences at Valette, and they are happy to accommodate with advanced notice, and do have non-meat options.
I was excited for this event because I love Valette, but also because this was going to be my first experience with Gary Farrell Wines! While I certainly know the name Gary Farrell, I have yet to pay their winery a visit, or do a tasting with them. Known for their Pinot Noir and Chardonnay, I arrived with my palette and stomach ready for the delightful pairings that were ahead!
The event kicked off with an introduction to the Gary Farrell Wines, along with the history and passion that goes into the grape growing, wine making, and how the winery is carrying themselves into the future – such as the opening of their beautiful new tasting room (reservations required). Next we sat down to an amuse bouche to tantalize us for what was to come. As I was vegetarian, my meals had been prepared differently than most of the other guests. There were a few vegan guests, and they too had special meals created for them. It was fun to see everyone's curiosity in what was being served.😏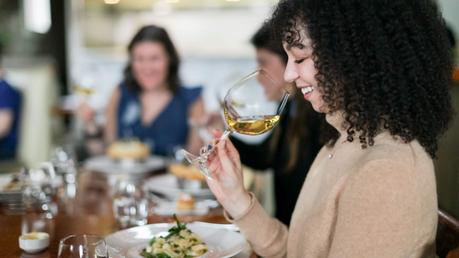 For the starting course we were seated at the white linen tables, and served by the highly trained, and friendly Valette staff. My vegetarian dish the Okinawan Sweet Potato 'Falafel' – which is comprised of baby carrots, spilt pea hummus, and coconut tzatziki sauce. I really enjoyed how fun and unexpected it was. Our first pour was 2014 Ritchie Vineyard Chardonnay (Russian River Valley). Over the last year or so I have really softened my hesitancy against Chardonnays, and wow! I was not disappointed with this one! With notes of lemongrass and honey, this was bright and refreshing on the palette – a spectacular wine to start a course with.
For our second course, I was severed a creamy folded noodle pasta with veggies, with crisp kale. Non vegetarian guests were served Day Boat Scallops en Croute – which looked like a lovely souffle. This was paired with a Gary Farrell 2015 Durell Vineyard Chardonnay (Sonoma Valley). With powdery notes of flower petals and minerality, this had a touch of savory to it – making it the perfect wine to pair with the falafel. The acidity against the creamy and bright pasta flavors was absolutely perfect.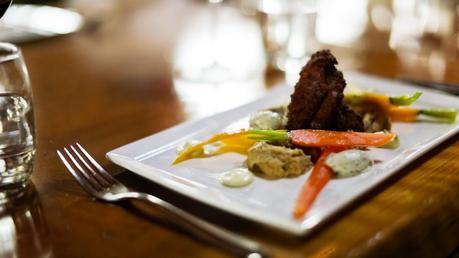 For our third course, we switched things up, and moved on to red wine. I was served a lovely earthy mushroom dish, which was paired with a 2015 Gap's Crown Vineyard Pinot Noir (Sonoma Coast). Complex and smooth, this was bursting with notes of savory dried herbs, vanilla, and tart cranberries. I couldn't have asked for a better, more perfect pairing! The color of this Pinot is stunning, too.
For our grand finale, we were served Valette's famous "ItsNotA 'Snickers Bar' – which is composed of a cocoa nib tuile, peanut powder, and dark chocolate; if you have not yet tried this, please do yourself a favorite and order it immediately! The best way I can describe this is like an elevated, adult Snickers; but once you have this, a regular ol' Snickers bar will never do. For our final Gary Farrell Wine pairing, we had a Dulcette Port-style (Sonoma County). The Dulcette is a blend of Zinfandel, Syrah, and Cabernet, with complex tasting notes of dried blackberry, chocolate, and olives. Unique and silky, this was a very pleasant surprise! If you are "iffy" on ports, I recommend you give this a try.🍷
I had such a wonderful afternoon with Gary Farrell Wines, Valette, and Emily Martin! Thank you so much for having me – and many thanks to Emily Martin Communications & Events for putting this together, and for the invitation!
Photography: Wildly Simple Productions