Lessons learned in Cole's first game action
Top pitching prospect makes first of likely many more appearances for Pirates
By Tom Singer / MLB.com | 2/27/2013 6:05 P.M. ET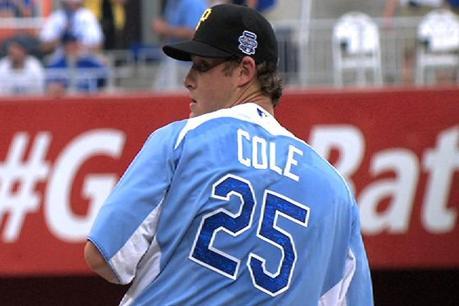 Top Prospects: Cole, PIT00:00:34
2013 MLB.com Top Prospects: Gerrit Cole has a plus fastball that reaches triple digits on occasion with a plus changeup to go with it

BRADENTON, Fla. -- The 4,266 fans at McKechnie Field for Wednesday afternoon's exhibition may not even have been aware that they were witnessing an extraordinary event.
In an isolated sense, the mere debut of Gerrit Cole against big league competition, as he pitched the middle two innings of the Pirates' 8-2 loss to the Rays, was significant enough.
However, Cole, the Pirates' No. 1 prospect and No. 9 overall prospect according to MLB.com, entered the contest after A.J. Burnett had started and Wandy Rodriguez had pulled the first relief shift. It is not unreasonable to project that sometime in the near future, in 2014 or perhaps even by the middle of this season, those three will be starting successively in the Bucs' rotation.
But seeing them pitch consecutively in the same game was doubtless a one-time treat, made possible by a rainout on Tuesday that had delayed Rodriguez's outing by a day.
"I just hoped [the Rays] would be all screwed up by the time they got to me and they wouldn't know what they were doing," said a grinning Cole, who attributed whatever first-game jitters he had to his unfamiliarity with pitching in relief.
"I felt caged up in the bullpen for a few innings," he said. "It was a little weird, I'm really not used to that. When I got out there, I was good, back to normal."
Two innings, and the rest of his pitching line was a picket fence -- one hit, one run, one walk, one strikeout.
"It was good," manager Clint Hurdle said. "The velocity was there. The command was … pretty good. His composure was good, and he kept his pace on the mark."
In an artistic sense, Cole did not have a tough act to follow. The two veterans before him had already dug a 5-0 hole, not without help.
Four second-inning runs came against Burnett, who, with typical Spring Training perspective, essentially thanked his fielders for letting him work mentally as well as physically.
After having been charged with three unearned runs due to three errors while he was on the mound, Burnett said: "You've got to work on your composure, too. Things happen. Balls don't always bounce your way, and you have to work on that concept, too."
Then Rodriguez let Luke Scott smack the center-field wall for an RBI double in the third.
In came Cole, the overall No. 1 Draft choice in 2011, to learn two quick big league lessons: 1. Don't walk the leadoff man. 2. Desmond Jennings is fast
Cole issued a full-count walk to Jennings, the first batter he faced. Then Jennings, the outfielder who had 31 steals in 33 attempts last season, stole second on the first pitch to Matt Joyce, eventually also stole third, and scored on a medium-depth sacrifice fly by Yunel Escobar.
"Yeah, I was prepared to hold the ball on [Jennings], but I didn't anticipate him going on the first pitch," Cole said. "Then, at second, he's just fast … we held him all right at second, but he's just fast."


"[Cole] got to understand the importance of the running game. Game speed, game circumstances," said Hurdle, drawing the line between excelling on the practice field and executing in competition. "That's the real thing for everybody to take out of Spring Training -- the continuity and the repetition. So, I was real pleased with how [he] got out there for two innings."


Cole caught on quickly. He threw 18 pitches in his first inning, 10 of them strikes. As noted, half of the eight balls were to the leadoff man. And he followed up the walk of Jennings with a strikeout of the Rays' No. 3 hitter, Joyce.
"Overall, it was pretty good," Cole said. "I've got to get ahead of guys a little more, put some pressure on them to get the bats going early ...
"The ball was down, so that's good. I was missing a little bit down, but missing is missing. So there's some things I've got to work on -- keep pounding the ball, be a little more aggressive on the first pitch."
One thing he does not appear to need work on is speed. As Hurdle noted, Cole threw his fastball with characteristic velocity. Although, he neither knew nor cared about the radar-gun reading.
"The last pitch for which I got paid on velocity was like two years ago, for the Draft. That's the last time you get paid for speed," he said.
As part of the formula for the signing bonus? Really, you get paid for speed?
"Oh, yes, you do," Cole said, smiling, and now looking forward to the second outing, with the first one in the books.

Tom Singer is a reporter for MLB.com and writes an MLBlog Change for a Nickel. He can also be found on Twitter @Tom_Singer. This story was not subject to the approval of Major League Baseball or its clubs.