Garnier Skin Natural PureActive Blackheads Uprooting Scrub Claims?
Garnier PureActive is a new generation of concentrated formulas tested on acne prone skin. It's creamy formula delivers a double ANTI-SPOTS ANTI-MARKS action:
Enriched with an excellent exfoliating ingredient and powerful micro-beads. It roots out blackheads. Blackheads are visibly reduced.
Thanks to it's remarkable scrubbing properties and enriched with a natural regenerating active, it helps peel off imperfection marks.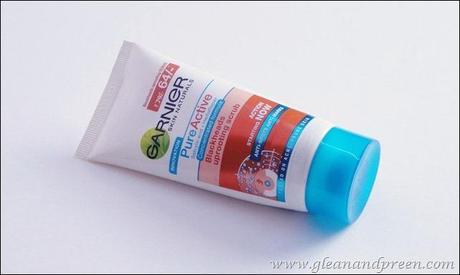 Is PureActive Blackheads Uprooting scrub made for me?
Yes, if your skin is prone to blackheads and you wish to remove them while cleansing to prevent the re-appearance and clear imperfection marks.
It's secret?
An unprecedented association in the formula which fights imperfections and their marks.
Concentrated Salicylic acid is one of the most efficient exfoliant actives.
The proven power of plants - HerbaRepair is a natural active extracted from Vaccinium myrtillus with exceptional regenerating and skin-repairing properties*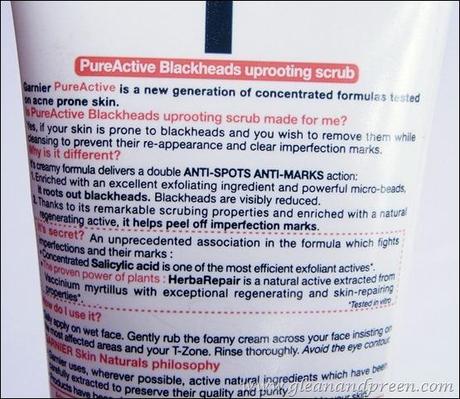 Price:
64
INR for 50gms
Shelf Life:
3 years  
Availability:
www.medplusbeauty.com  
My Expectations:
I love exfoliating and so, I use scrubs on daily basis. Though I didn't expect this scrub to eliminate blackheads completely, I wanted a clean fresh skin without dryness. This scrub indeed became my staple for the summers. Why? Read On….  
Look & Feel
Package: Colorful tube package with a screw-lid cap. It's convenient and travel-friendly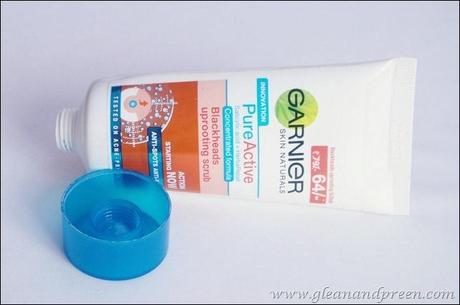 Fragrance: Minty fresh fragrance. It's just so refreshing….I LOVE IT.
Texture: A light blue cream with tiny dark blue beads. It's creamy and smooth.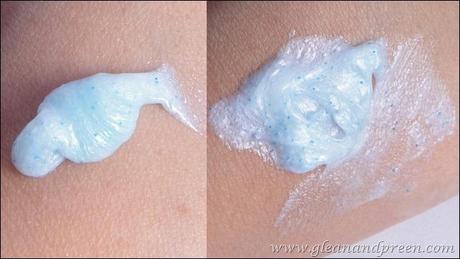 Garnier PureActive Blackheads Uprooting Scrub
Effects
Lathering? Gives a creamy lather than a foamy lather. It lathers sufficiently to give a squeaky clean feeling and washes off easily without being slippery.
Cleansing? Effectively removes all the makeup and dirt.
Exfoliating? It has tiny blue beads which are mild yet sharp so, it gives the feeling of exfoliating the face with sand paper. Oh but, don't worry it's gentle too.  I must say this scrub does a commendable job in exfoliating the skin with a gentle touch.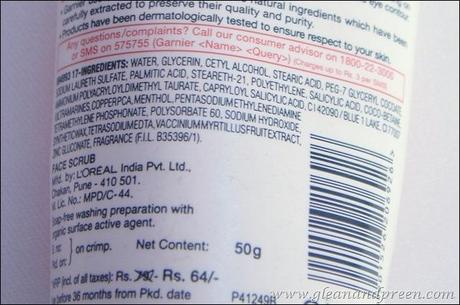 Drying? None at all. My skin always becomes smooth and soft after exfoliating with Garnier PureActive Scrub.
Blackheads Removal? I have been exfoliating regularly even before using this scrub so, I don't have much blackheads. But the use of this scrub definitely kept the blackheads under check.
Anti Spots & Anti Marks? I have very faint red spots on my cheeks and it didn't lighten them in anyway.
Cost Efficiency: Totally Efficient.
Final Note
  The instant minty freshness and the thorough cleansing properties definitely makes Garnier PureActive Uprooting Scrub a highly recommendable product for the summers. However don't expect it to lighten blemishes and scars.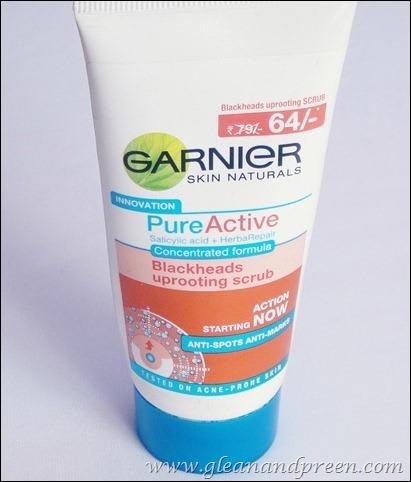 Dear Readers: Let me know your opinion about "Garnier PureActive Blackheads Uprooting Scrub" in the 'Will You Buy It' section and share your feedback about the review through comments.
Did you check out the Ongoing giveaway?
Win free Kryolan TV Paint Stick in 303
Click to Enter: http://www.gleanandpreen.com/2013/03/sbs-monthly-favorites-giveaway.html