Confession time, I do NOT eat enough greens! And I'm betting many of you don't either. So, let's fix that. Let's make Instant Pot Garlic Kale because it's super quick, really good for you, and tastes amazing with just a few basic ingredients.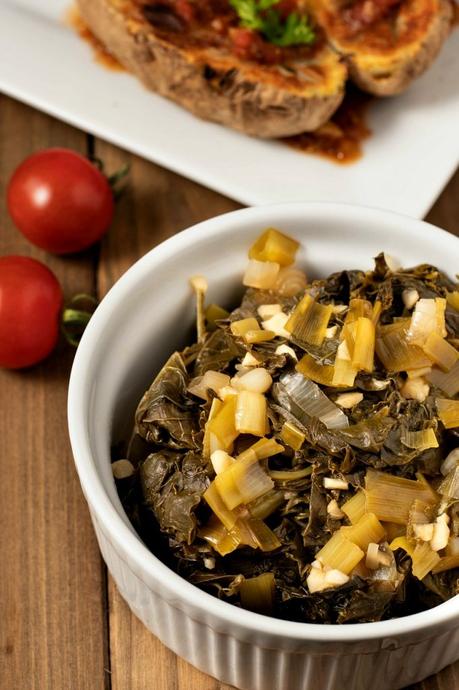 One of my many friends and followers invites me to her home every year for an end-of-summer picnic. Everything we eat comes out of her humongous garden.
And this year I got to try some Kale she had cooked with garlic and I was surprised at how GOOD it was! I'm not a huge Kale fan, but with the garlic? Wow. It was tasty.
So I bought some Organic Kale at my local grocery store the other day and decided to try it in my Instant Pot. Yes, you can easily make this on the stove, but with the Instant Pot, it was done in no time flat.
TWO minutes is all it took!
Well, shoot, THAT'S easy. I figure if I can figure out a way to not only make eating greens easier – but TASTY too? Well then, I might just eat more of them.
Because growing up my only experience with cooked greens were those cans of spinach you buy in the store. (sorry popeye but yuck! )
So I hope you like the recipe and if you have any of your own secrets for making greens taste good, please share in the comments below.
Garlicky Instant Pot Kale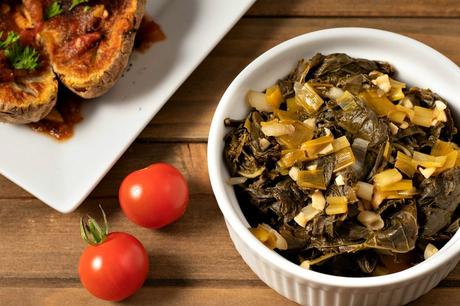 Instant Pot Kale | Brand New Vegan
I started with a bunch of Organic Kale. And by a bunch I mean one of those tied bundles you see in the grocery store.
I washed the leaves to remove any debris and stripped the leaves from the stems. You can save the stems for putting in a soup or broth if you want. I tore the leaves into bite-sized pieces and placed them in a colander to drain.
To my Instant Pot, I added an entire bunch (again one of those tied bundles) of chopped green onions and 4 cloves of minced garlic. I added a splash of veggie broth and pressed the SAUTE button.
It will only take minute or two to soften the onions so WATCH CLOSELY.
Once the onions & garlic are soft, press CANCEL to stop the cooking process and add the Kale.
Finally, whisk 1 Tbs of Balsamic Vinegar into 1/2 cup of low sodium vegetable broth and pour that in. Attach the lid, make sure the vent valve is on SEALING, press MANUAL and enter 2 minutes.
Bam. You got Kale.
I let it naturally vent for 10 minutes before carefully venting any remaining pressure.
I was surprised how good this is (despite how bland and boring the picture looks…..kale is just hard to photograph).
So if you too, are having trouble finding ways to get your greens in every day, I hope you give this a try and let me know how it goes.
Until next week – eat your greens!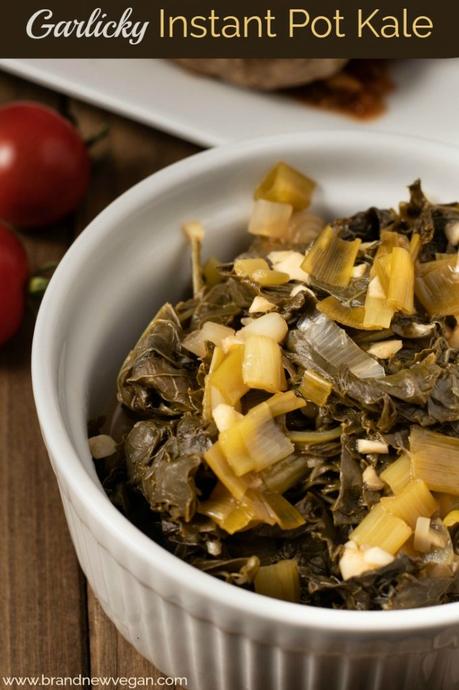 Print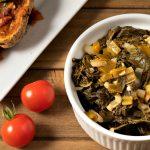 Garlicky Instant Pot Kale
Author:

Brand New Vegan

Prep Time:

15 min

Cook Time:

2 min

Total Time:

17 minutes

Yield:

2-4 servings

Category:

greens

Method:

instant Pot

Cuisine:

american,vegan

Print
---
Ingredients
1

bunch Kale

1

bunch Green Onions

4

cloves minced garlic

1/2 cup

low sodium vegetable broth

1

Tbs balsamic vinegar
pinch of salt & pepper
---
Instructions
Clean kale, remove stems, tear into small pieces, and drain
Chop the green onions and add to the instant pot along with the garlic
Add a splash of veg broth or water and SAUTE until softened, about 1 min
Press CANCEL and add kale.
Whisk vinegar and broth together and add to pot
Attach lid, make sure vent is on SEALING, and cook on MANUAL for 2 minutes
Allow to vent naturally for 10 minutes, then carefully vent remaining pressure
Carefully open the lid and stir to mix
Season with salt and pepper
---
Notes
Keywords: instant pot kale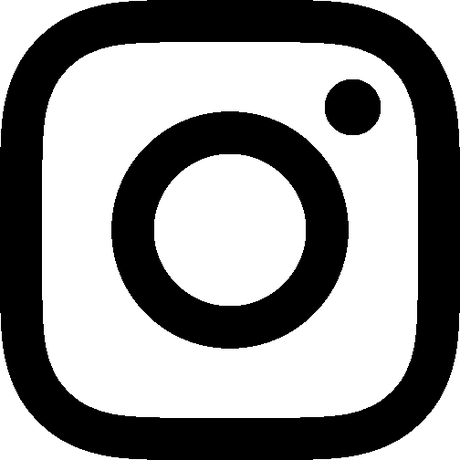 Did you make this recipe?
Tag @brandnewvegan on Instagram and hashtag it #brandnewvegan