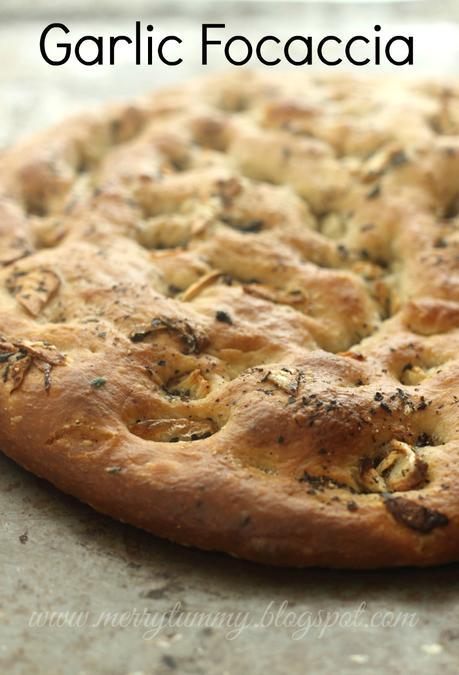 Baking bread at home, hell yeah!The madness of proofing the yeast, kneading the dough, letting it to rise and finally baking-oh that experience, that fresh aroma, that happiness of home baking-all blissful.If you have tried baking bread at home you will know what I am talking about. The whole process is tedious (at times) and time consuming but when you break the homemade bread and bite into it, you know all your efforts are well paid off.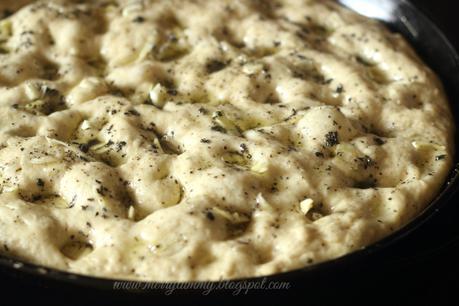 Looking for more homemade breads? Check these out:Potatoes Stuffed BunsGarlic RollsRed Wine Walnut BreadWhole Wheat BunsI made Garlic and Mixed Herb Focaccia last Friday and shared this pic on Instagram. Some have asked for the recipe and my friends are already demanding to bake one for them :-). Olive oil is a must when making focaccia and no there is no substitute for olive oil. A good aromatic olive oil will bring out the best focaccia bread.  Focaccia is an Italian bread and there are hundreds variations for the recipe but the basic bread or dough recipe remains the same but you can change the toppings as per your taste and mood ;-). You can have tomatoes, garlic, olive oil, caramelized onions, nuts and even fruits as toppings.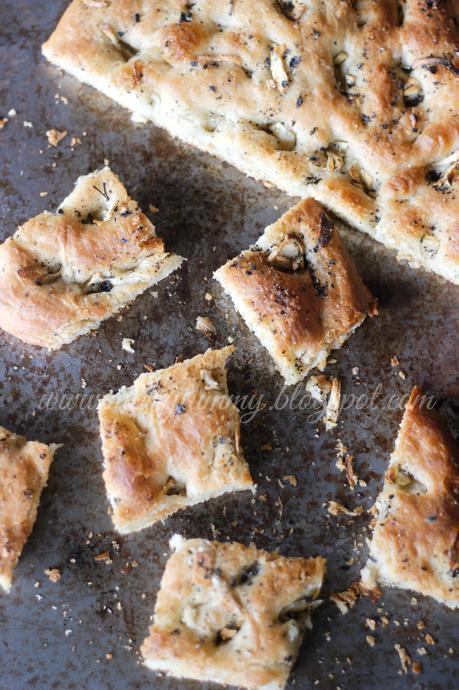 Little about yeast:To have a nice soft bread texture you need to have good quality yeast and proof it properly. I used Allison rapid yeast and I like it because it doesn't smell weird. To work with yeast you need something sweet like sugar or honey and warm water. Hot water will kill the yeast and cold water will not activate the yeast. If like me, you don't have a fancy thermometer to measure the right degree of water, here is the test you can do. Dip your finger in hot water and you should be able to tolerate the heat, anything more or less will not work-just warm is what you are looking for. Next add in yeast and sugar, stir and keep aside for 10 minutes. If you see bubbles and forth in the yeast mixture you are good to go, else try again.
Since I was pairing it with pasta in chilli pesto sauce, I chose to have Garlic, olive oil and lot of herb on top it. And I was so right, the garlic herb focaccia bread and spicy pasta is a pair made in heaven-period! This bread can be served with basically anything. You can serve it with pasta, lasagne or just dip in some olive oil. If you fancy a focaccia sandwich, slit the bread in between and stuff in pesto sauce and some vegetables-grill and enjoy.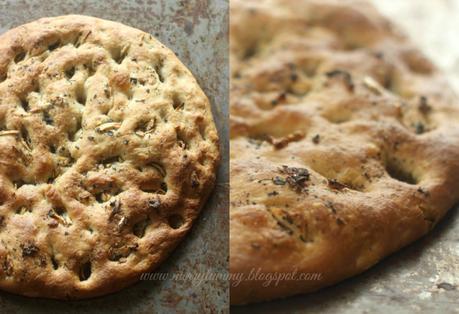 Author: Shweta AgrawalCuisine: ItalianServes: 2-3Ingredients:1 and 1/2 cup all purpose flour/maida1 teaspoon rapid yeast2 pinch sugar1/2 cup water1/2 cup olive oil1/2 teaspoon salt1/2 teaspoon black pepper1 tablespoon mixed dry herbs5 cloves garlic
1/4 teaspoon coarse sea salt (optional but recommended)
Method:
Heat water in microwave for 20 seconds. Dip the finger and check water, it should we warm. Mix sugar and yeast in water. Stir and keep aside for 10 minutes.

After 10 minutes when you see bubbles on yeast mixture, add all purpose flour, salt and 1/2 teaspoon mixed herbs. Mix and knead the dough.

Mix 1/4 cup of oil in the dough. Keep kneading the dough till it is soft and springy.

Grease one large bowl with 1 tablespoon oil. Put the dough in the bowl. Cover it with cling film and keep aside in warm surface for 45 minutes.

After 45 minutes the dough should have risen, beat the air out and knead the dough again. Flatten the dough on a grease pan in to any shape (I shaped in oval). The thickness should be like of a pizza. Cover the dough with wet towel and keep in a warm place for 20 minutes.

After 20 minutes, poke holes (dimples) on the dough. Cover and keep aside for 10 minutes. Till then preheat your oven at 190C.

Prepare the oil. Peel the garlic cloves and chop it roughly. Mix black pepper and remaining dry herbs. Keep aside.

Pour this oil mixture on dimples of the dough. Spread the oil mixture evenly without punching the air. Sprinkle the sea salt.

Bake for 14 -15 minutes. The bread should be golden brown on top.

Let the bread cool down before you cut. Enjoy.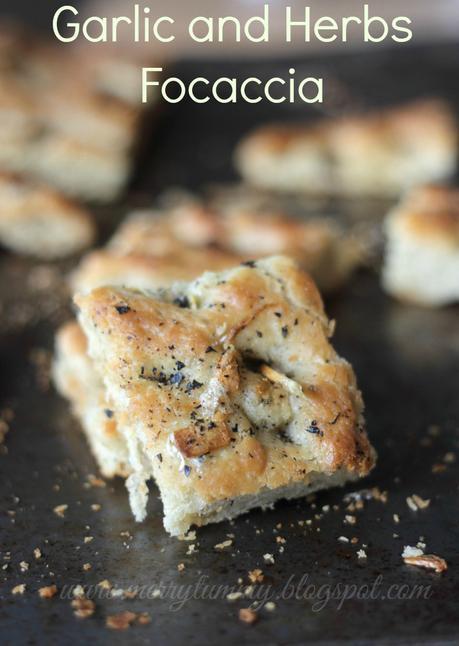 Notes:
Keep your dough in a warm place. I always keep it in the oven. A friend of mine who lives in hills cover the bowl with blanket and keep it dark place-for her this trick works.
You have to use a good quality olive oil for a nice texture. I recommend Colavita Extra Virgin Olive Oil.
Use active rapid yeast or also called as instant yeast. I used Allinson Easy Bake Yeast.
Mixed Italian herbs are easily available in any store. It is blend of oregano, thyme, rosemary and basil. I used McCormick Italian Seasoning.
You can use any particular herb as well. Rosemary is the most popular one.
Cover the bread with cling film and store it a room temperature. It will be good for 2-3 days.
Serving suggestions:
Serve with burnt garlic pasta, pasta in red wine sauce, simple basic pasta.
Pair as side with tomatoes chutney, chilli hummus or roasted fennel cherry tomatoes.
Serve with roasted garlic soup, roasted butternut squash soup or indian garlic lentil soup.