This girl is a riot of images and inspirations that will make your mind wander and dreaming. Simply enjoy her vision!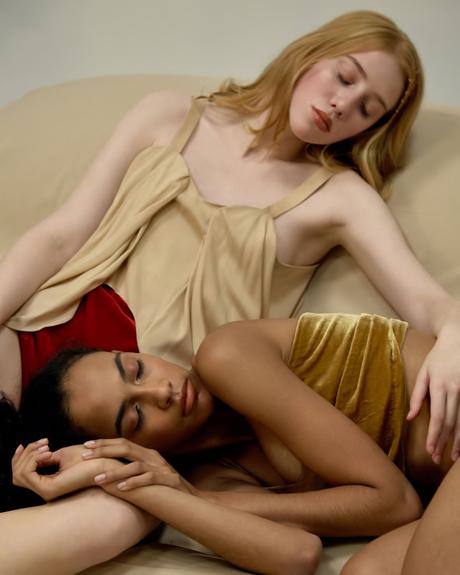 Credits:
Image: Sergei Lomakin
Stylist: Valeria Pekarskaya
Designers: Yes Way Fashions
Hair: Kate Luzina
MUA: Valerie Vitko
Models: Lian Chous and Alisa @ Jugendmodel
"I was born and grew up in Moscow. I have finished my BA degree in a British College in Moscow and MA degree in London. My interest in tailoring, love for research into cultural heritage and history, familization with fashion illustration–were encouraged by my BA tutor. While my fascination with tailoring has been increasing season by season, work with shapes smoothly developed into experiments with patterns and cutting. Russian climate, practicality and warm flashbacks from my childhood of Italian high street knitwear brought about deep love for soft jersey, patterns and wool. The period of my life in Britain has widely influenced on me. I am hearted by the feeling of freedom, love of nature, longevity and preservation of craftsmanship, especially in the wool industry, like weaving and knitting, tweeds and jacquards. Well, I have always loved traveling and visiting different countries around Europe with my family, especially across Britain. Travelling has always given me new breath of ideas as well as huge passion for art, real life stories, culture traditions, vintage and developed my aesthetics and taste."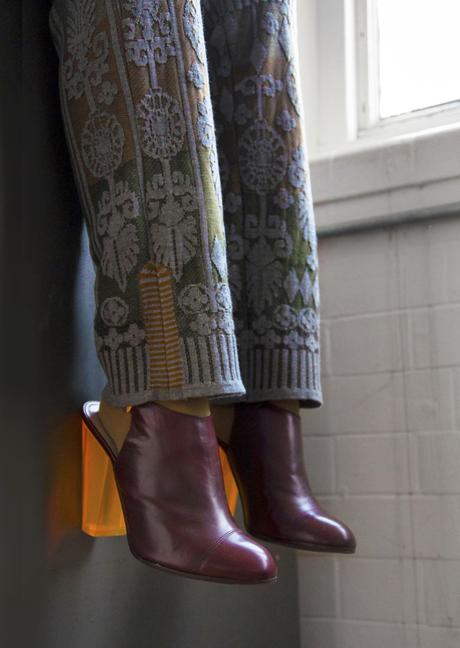 Credits:
Image: Nadya Filatova
Design: Nelli Kim
MUA: Karina Hachaturyan
What's the concept of your latest collection?
I am keen on craftsmanship and its history I do love archive and research, even sometimes more than actual design development!ha!
Train trip reminiscences inspired me for the Fall collection. Gardening in partnership with nature and the feeling of freedom of British landscape gardens like Kew Gardens or Queen Mary's Gardens thrill me. Feelings of nostalgia for Russian nature hearten the idea for this collection. It is also inspired by countryside nature and European open-air culture. The mood is taken from the research into the way people were dressed during the promenades and countryside pastimes. I am keen on the gardens elements like glass architecture and winter sunrooms. Sport, like hunting and shooting, riding, skating, bird- watching, motoring, are one of the routes for tailoring popularity. Leisure activities are dependent on weather conditions. That reflects the practicality of garments in leisure dress.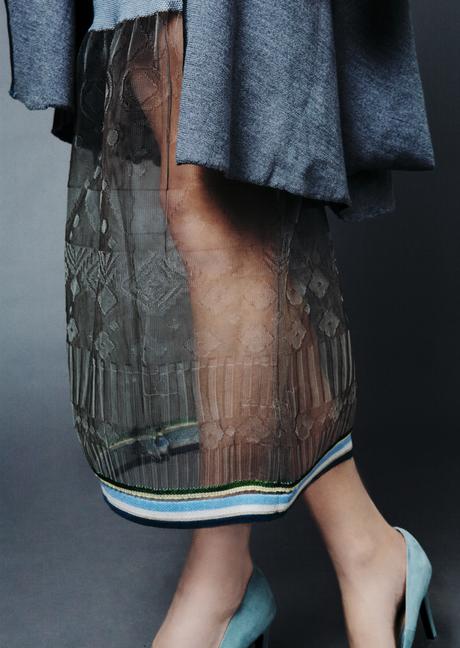 What inspires you the most?
I am strongly effected by contemporary art, literature, personal memories and the seaside. Another my never ending inspiration is leisure lifestyle and sport activities. Women tend to favour garments uplifted by history and heritage. Strong aesthetic themes, romance have always motivated me. Agatha Christie has always been a forever muse. I am fond of her personality, self-independence, intelligence and witticism of her stories and the way she describes the British live. I love re-watching BBC screen adaptations on Poirot stories. I love sculpture, ceramics and textile art. Sometimes I do hand weaving with needles at the same time recycling my yarn left overs and weaving something abstract, concentrating on composition and color. Seaside has always been a subject for adoration since tender age if looking back at bright summer vacation memories in Turkey and Italy and emotions connected with these adventures. I still remember how I was waiting every summer holiday at secondary school to get a chance to go to the seaside and swim. I love water, fluidity, curves, how salty air and the sun reflects on all the colours and how the actual warmth gets into your skin.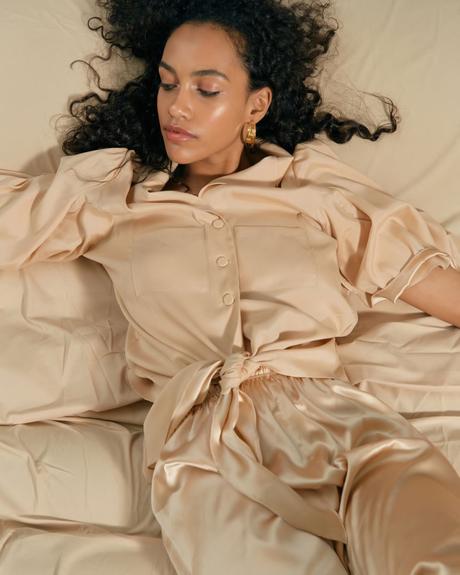 How does the place you live in affect your design? Born in post soviet era I had always been surrounded by women with great craftsmanship skills and elegance. Since my early childhood I have been thrilled by art of pattern cutting, technicality and tailoring. In Russia every women in soviet times possessed all craft skills like sewing, pattern cutting, knitting, embroidery. That happened simply due to the lack of products in shops. So people had to dress on themselves and find solutions. I am touched by the memories of my mother sewing, making notches by hand and crackles of the fine wool clothing cut by huge iron sheers when touching the floor. I had always been dressed in the most beautiful outfits made by my mother. I presume art school has put an art passion seed in me, I started drawing since 5 years old when my mom took me to the kids drawing courses at the Museum of Oriental Art in Moscow and later in one of the oldest Academic art secondary schools. Russian art schools curricular is very classical and theoretically orientated, it so it gave me a thorough base for art knowledge. I also used to mentor fashion students and read lectures, which actually I really enjoyed doing since it helped me to develop my art mentality and I simply like helping people and watching them growing and overcoming their own fears and weaknesses.
What's the future of fashion according to you? I feel people will concentrate more on garments longevity and quality and really hope sustainable fashion will get more popularity around the world, not only in highly developed countries. I also believe that artisanal fashion and craft will be more popular among designers.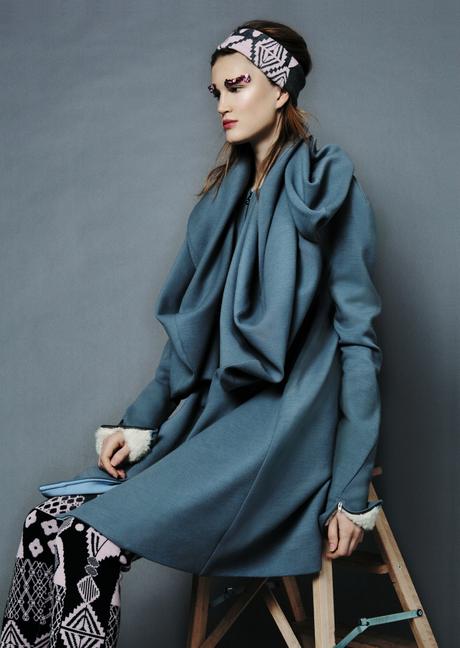 What's your next project?
I am working at the same time on another brand called 'Yes Way Fashions' which was recently launched in Moscow. Me and my friend decided to create a women dreamwear label which focuses on cozy and fluid nightwear and leisurewear as our modern reinvention of such notions as beach pyjamas, works of Claire McCardell and Madeleine Vionnet. We have produced our first collection called 'Pajamaland 01' inspired by American Abstract Expressionist female artists from the 40-50s like Helen Frankenthaler and Grace Hartigan. We aspire to design clothing perfect for home dreaming, midday siesta in the garden, catnap in the sunroom, seaside time, weekend brunch or a simple summer walk in the countryside with friends. We do not aim for big amounts and quantities and value high level quality in fabrics, finishing since most of the pieces are from gentle fabrics like silk, viscose, linen. We are planning a new photoshoot of upcoming capsule sleep masks collection and production of small amount to showcase them online for International purchase and sell in several shops around Moscow. I am also working on the knitwear pieces collaboration with another fashion designer from Moscow, Alisa Kuzembaeva, and leading my fashion illustration blog called 'The Art of Line'.