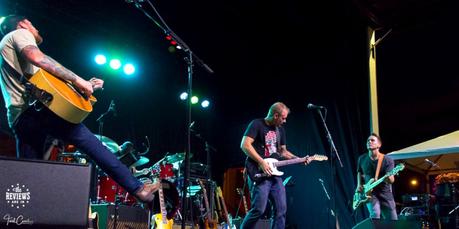 The James Barker Band has put four singles in the Top 10 on Canadian country radio, including Chills, which hit #1 in June 2017. And now, with a fanbase that continues to grow from coast to coast, JBB are hitting the road on their first Canada wide headlining tour.
The Game On Tour (named for the debut EP from the band) will see James Barker Band put on 21 shows, starting in Halifax, NS on January 11 and ending in Vancouver, BC on February 10. Joining the boys on the road will be 2017 Canadian Country Music Association Female Artist of the Year, Meghan Patrick and 2017 CCMA Rising Star nominee, Jojo Mason.

The reaction and excitement for the tour can be seen daily on social media, as fans and the artists post about the upcoming shows. It has been fantastic to see the reactions, and it's certainly exciting for James Barker, Taylor Abram, Connor Stephen, and Bobby Martin as they get ready to get things started.
We caught up with James on the phone the day before the first tour date in Halifax to talk about their live show, how they're feeling, their supporting acts, and more. And when we asked for three words to describe how they're feeling as they prepare to start the tour, Barker gave us: All Fired Up!
As we talked about the tour we also got James to give us three words to describe tour mates Meghan Patrick: Ass-Kickin' Country Girl and Jojo Mason: The Nicest Guy. (James made it clear that this was not easy, and we did grant him an exemption on the hyphenated ass-kickin' for Meghan)
Headlining a cross country tour is a big step for any band, and we talked to James about that step up from headlining a venue like Boots & Bourbon in Toronto to The Phoenix Concert Theatre, in the middle of their own tour. He told us that it's kind of crazy to look back even to last April when they played their album release show to now. James also said that it's wild to be able to look back at his calendar from year to year and see the progression in venues and shows that the band has played. From small bars in small towns, to opening on tour with Dean Brody, to having their own name at the top of the ticket, he can track it.
We asked about looking back on that progression and reflecting on it, and James said that the holidays have always been a time when he finds himself looking back on the year and taking it all in. And while 2017 was a big one, we're sure 2018 will bring even more to look back on when it's over.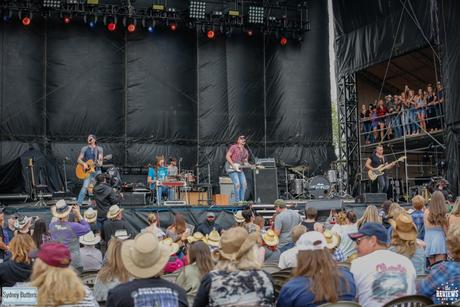 While we had James on the phone we got him to play a quick round of 5 Quick Questions... here we go!
5 Quick Questions with James Barker Band
Q1) What was the first song you played as a band?
James) Drift Away
Q2) What was the first album you bought?
James) Led Zeppelin by Led Zeppelin
James told us that he was given Led Zeppelin IV as a gift, which put him on the path to buying the debut album on his own.
Q3) Do you have a dream duet/collaboration partner?
James) Eric Church
He's The Chief, we've seen him live, listened to the records, and can't argue with this choice!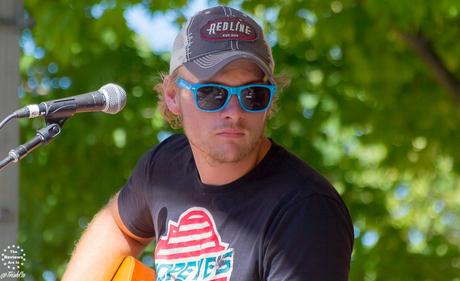 Q4) What city or venue is at the top of the James Barker Band goal/wish list?
James) Madison Square Garden
It is THE arena. End of story.
Q5) Is there an artist you think people should be paying more attention to?
James) Corb Lund
James said he has always been a fan of Lund's songwriting, and things other people should be in on the Alberta native.
The Game On Tour is possible because of the success that James Barker Band have had on Canadian country radio, and the fanbase they've cultivated, but they're still just getting started.
The band recently spent time travelling throughout the United States, visiting radio stations and playing their songs for a new audience south of the border, with the intention of proving that they're more than just a Canadian favourite.
We asked James about going to the U.S. and he told us that for about 12 weeks in a row they flew down to American markets and hit radio stations all over, promoting the band, introducing new listeners to Chills. There were a lot of flights, from city to city, and back to Canada to play shows and festivals on weekends, but the song is starting to gain traction, and the band is starting to get noticed.
It was cool to hear James talk about the positive reception the band and the song have received in America. He acknowledged that they didn't know what to expect, or how it would go. But from the jump things have been good and the band couldn't be happier about it.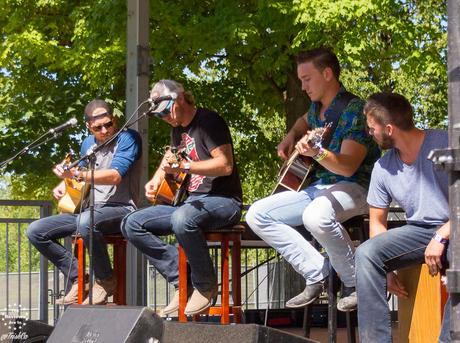 JBB has more plans for the U.S. too, and while James couldn't give us any specific details, he did tell us that JBB will be in Nashville in early February for CRS (Country Radio Seminar) 2018, and are hoping to get on the extended summer festival season circuit south of the border, and as we get to fall and winter 2018, the band hopes to be on a tour in America.
Before we got off the phone, we asked James about what's coming next in the form of new music... and we heard exactly what we were hoping we would.
1) James has been writing constantly, working on songs that he hopes will turn into the next James Barker Band record.
2) A brand new single is coming on January 19, 2018. Tour crowds will have a chance to hear Good Together live, and country fans everywhere will be able to hear it starting next Friday!
The very last thing we talked about before we were done, was the live show and what fans can expect on the Game On Tour.
James told us that it's going to be the full James Barker Band experience. The boys like to keep things loose and fun, and they are looking to do that on every date from Halifax to Vancouver. And when I asked if we'll hear Sold (The Grundy County Auction Incident), he laughed and told us that he wasn't sure it would be a full JBB show if we didn't.
We're looking forward to catching up with the boys in Toronto at The Phoenix to celebrate the tour, the release of Good Together, and the continued success of four dudes from small town Ontario.
James Barker Band, Game On Tour Dates
January 11, 2018 - Halifax, NS
January 12, 2018 - Moncton, NB
January 13, 2018 - Charlesbourg, QC
January 14, 2018 - Montreal, QC
January 16, 2018 - Kingston, ON
January 17, 2018 - Ottawa, ON
January 18, 2018 - Kitchener, ON
January 19, 2018 - Toronto, ON
January 20, 2018 - Guelph, ON
January 22, 2018 - London, ON
January 23, 2018 - Sudbury, ON
January 24, 2018 - Sault Ste Marie, ON
January 26, 2018 - Winnipeg, MB
January 27, 2018 - Brandon, MB
January 28, 2018 - Saskatoon, SK
January 29, 2018 - Red Deer, AB
February 1, 2018 - Edmonton, AB
February 2, 2018 - Calgary, AB
February 3, 2018 - Lethbridge, AB
February 10, 2018 - Vancouver, BC
Looking for tickets? Click Here!