Goal!
Score!
Slam Dunk!
My 14 year old 9th grader has successfully completed Game Programming from Homeschool Programming earning another 1/2 credit in Computer Science!
This is the second part of the TeenCoder series - and - it is
PURE ENJOYMENT
! (Read about our experience with the first half of Game Programming HERE.)
From the Homeschool Programming website:
"TeenCoder: Game Programming is our second semester course in the TeenCoder C# Series. This course pairs the 'C#' programming language with Microsoft's XNA Game Studio to provide a modern, easy to use game-creation framework. Students will be thrilled to learn how to write their own Windows games from scratch!"
During these weeks, my son has learned how to program more multi-player and AI driven games such as Tic Tac Toe, Maze Generator and Bumper Cars.
My son's Tic Tac Toe Video can be found 
HERE
His Maze Generator Video (very cool!) can be found 
HERE
The Final Project was constructing part of a Bumper Cars Video Game. The assignment was broken down into 7 steps. First, a reading of information and then a programming activity for each step. This also required my son to move previously made files into their correct position.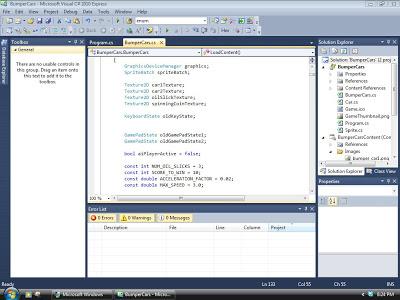 Bumper Cars Code Screen
And his final project, Bumper Cars Video can be found 
HERE
Final Thoughts:
What a great year!
I loved that my son could set his own pace in moving through this material AND that I didn't have to be a computer genius in order for him to learn programming at home.  He loved the abundance of hands-on programming activities throughout the book.  This REALLY cemented concepts into his brain and gave him a desire to try self-motivated programming projects beyond the book.
We will both be happy to move on to Homeschool Programming's Java & Android Programming!
See 
sample pages and demo videos
Disclaimer:
I received a free copy of the Game Coder program in exchange for an honest review.  I am also an affiliate. This post written and property of Homeschool Circus and can be found at: www.upatdawnreadytowork.com.