3-3-0 | 6 Points 3-3-0 | 6 Points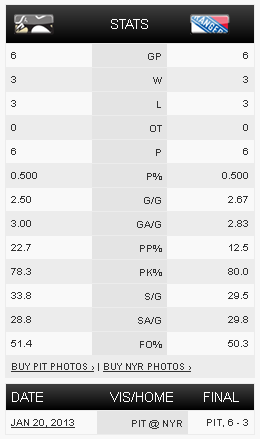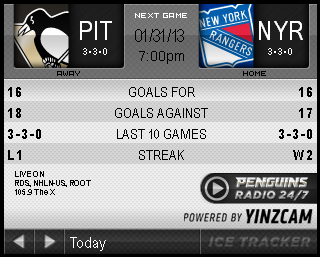 Penguins Report: Game Day at NY Rangers

Thursday, 01.31.2013 / 10:00 AM / Penguins Report
Pittsburgh Penguins



Game Day Report from NYC
Pens lineup for tonight
Bylsma on Boychuk
Bylsma/Crosby preach knowledge
Morning skate updates
Tweaked PP
Scouting report and game preview
Orpik predicts the Super Bowl
Pic of the Day
Prospect report: Pouliot
"Tom, get your plane right on time..."
---
PENSTV LOCKER ROOM SOUND
DAN BYLSMA
SIDNEY CROSBY

--Sam Kasan
---
VERIZON GAME DAY REPORT
You wanted it, you got it! Game day updates via video...
--Sam Kasan
---
PIC OF THE DAY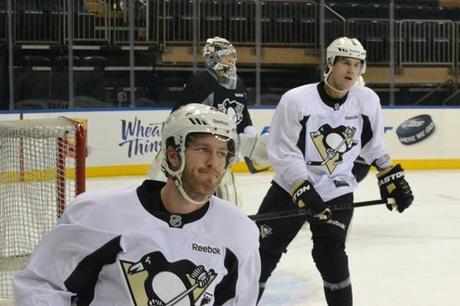 Joe Vitale grimaces after being stopped by Marc-Andre Fleury
--Sam Kasan
---
QUOTE OF THE DAY

--Sam Kasan
---
PENS LINEUP
Head coach Dan Bylsma said that forward Chris Kunitz was ill and thus did not skate this morning. But Kunitz is expected to be in the linup tonight.
Two notables: Robert Bortuzzo will play his first game of the season on defense. Tomas Vokoun will be the starting netminder.
"Chris Kunitz was a little bit under the weather so he did not practice," Bylsma said. "We expect him to play tonightin the game. Tomas Vokoun is starting in net. Robert Bortuzzo is going to play tonight."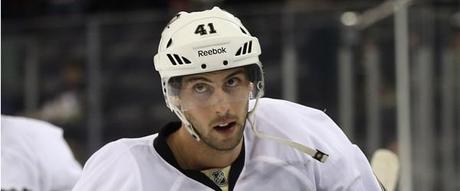 (Getty Images)
--Sam Kasan
---
PENS CLAIM BOYCHUK OFF WAIVERS

Boychuk, 23, has spent the majority of this season with the Charlotte Checkers of the American Hockey League (AHL) – the top minor-league affiliate of the Hurricanes. Boychuk was leading the Checkers in scoring with 32 points (16G-16A) in 37 games played. He also appeared in one NHL game this season with Carolina.
Full details here.

(Getty Images)
--Sam Kasan
---
MORNING SKATE INFO
Chris Kunitz was not on the ice for Pittsburgh's morning skate. Eric Tangradi took his spot in the lineup on line rushes and power play.
Tangradi-Crosby-Dupuis
Jeffrey-Malkin-Neal
Cooke-Sutter-Kennedy
Glass-Vitale-Adams
Orpik-Martin
Despres-Letang
Lovejoy-Engelland-Bortuzzo
Tangradi worked the net-front on the top PP.
--Sam Kasan
---
PROSPECT REPORT
Pens defensive prospect Derrick Pouliot is having an epic season with Portland of the Western Hockey League. The 8th-overall pick in 2012 has eight goals and 38 points in 39 games so far this season. He was the highlight of this week's prospect report.
--Sam Kasan
---
PENS TWEAK POWER PLAY
The Pens tweaked their power play at Wednesday's practice. You can expect to see the changes tonight vs. NYR. Evgeni Malkin has moved up to the point and James Neal goes to his former spot down low...

Neal is a highly effective player down low. That's the spot he occupied all of last season when he led the entire NHL with 18 power-play goals.
"I had success on the power play in that spot last year," Neal said. "It's a spot I'm familiar with and I feel comfortable. I'm more comfortable there than on the point."
Full story here.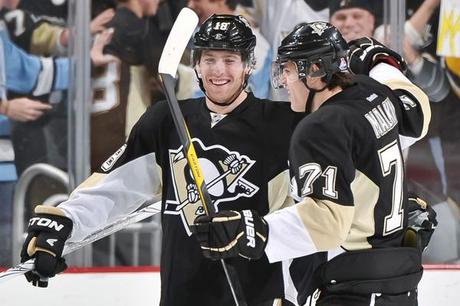 (Getty Images)
--Sam Kasan
---
ORPIK PREDICTS SUPER BOWL
Brooks Orpik was born in San Francisco and grew up a fan of the NFL's 49ers. So he'll certainly have a rooting interest when the 9ers take on the Baltimore Ravens in Super Bowl XLVII in New Orleans this Sunday. He shared his prediction for the big game below...
--Sam Kasan
---
GAME PREVIEW
Marian Gaborik has been a dynamic scoring machine since the first day his blade hit a sheet of NHL ice. He's a three-time 40-goal scorer, including the 41 he posted last season with the Blueshirts, and has scored at least 30 goals in seven seasons. He certainly hasn't lost his scoring touch in the opening games of the current campaign. Gaborik posted his 14th career hat trick in a 4-3 overtime, including the winner, win against Boston Jan. 23. According to the Elias Sports Bureau, he is now tied with Dallas' Jaromir Jagr for second most career hat tricks among active NHL players.
Click here for full scoop on what to watch for against the Rangers.
--Sam Kasan
---
START THE DAY
The Pens open the day with an 11 a.m. morning skate at historic Madison Square Garden. They take on the Rangers tonight at 7 p.m. It will be the second meeting between the two teams this season. Pittsburgh came away with a 6-3 victory Jan. 20 in NYC. The Pens scored four goals in the first 30 minutes to chase goalie Henrik Lundqvist. They're looking for a repeat effort tonight.
KIPPER's SONG OF THE NIGHT :
We are going with "Break The Ice" from John Farnham from the Epic move and soundtrack of 1987 - Rad (the ultimate BMX movie, slightly better than BMX Bandits)