35-11-0 | 70 Points
18-18-10 | 46 Points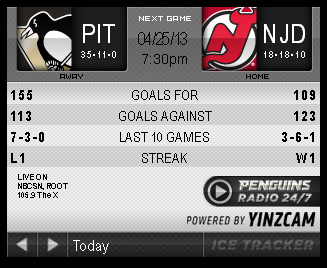 Penguins Report: Game Day at New Jersey

Thursday, 04.25.2013 / 10:00 AM / Penguins Report
Pittsburgh Penguins



Comment



Print

Crosby Update - back to practice
Verizon Game Day Report
Lineup/injury updates
Martin talks injury, possible return Saturday
Morning skate info
Quotes from the locker room
Pens photos
Pens-Devils game preview
"Seven devils all around you, seven devils in your house..."
---
CROSBY BACK AT PRACTICE

Penguins captain Sidney Crosby will rejoin his teammates for practice Friday afternoon at Southpointe.
Full details here.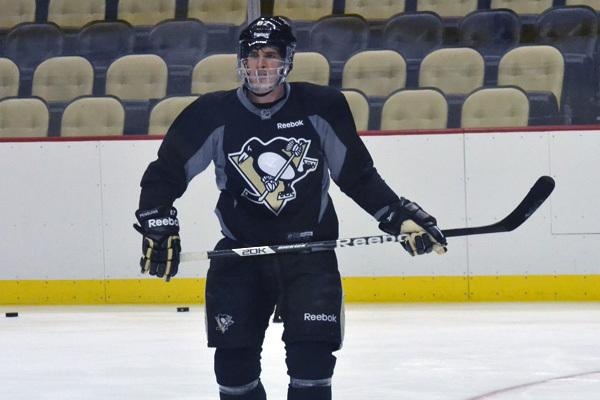 --Sam Kasan
---
PENSTV INTERVIEWS
Dan Bylsma
Robert Bortuzzo
Steve Sullivan

--Michelle Crechiolo
---
VERIZON GAME DAY REPORT
--Michelle Crechiolo
---
THEY SAID IT
There's a special guest appearance from former Penguin Steve Sullivan, who is now with the Devils. Fantastic guy. He was a pleasure to deal with last season. Without further ado...



--Michelle Crechiolo

---
MARTIN TALKS INJURY, POSSIBLE RETURN SATURDAY
Paul Martin underwent surgery on a broken bone in his hand on Sunday, March 31 and was projected to miss 4-6 weeks.
The good news is that it's looking like Martin's recovery will be on the low end of that timetable. He joined team practice this week and participated in Thursday's morning's skate prior to Pittsburgh's game in New Jersey. And while Martin won't play tonight, he said he feels "great" and is hopeful to play Saturday in the regular season finale at home vs. Carolina.
"(The doctors) tell you not to do anything for 10-12 days and you listen to them, so it's just been good to get back on the ice and skate, especially with the guys," Martin said. "I feel good in the progression of things. I'd like to say we're ahead of schedule just from the way things have been going. At the same time, it's up to the docs, too, when they think I'll be ready to go, too."
Martin said he would like to get a game in before the playoffs start next week, but cautioned that there's no guarantee that he will.
"I think that's the plan," he said. "I was hoping for tonight, but now I think it looks like probably Saturday. That's no guarantee. I think it might depend. But I feel good enough. It would be nice to get a game in before the playoffs start."
Martin said being able to grasp his stick and stickhandle for a while now has helped in his recovery.
"Yeah, I think it has helped a lot," Martin said. "Especially being my bottom hand, I was able to skate and hold the stick maybe a lot sooner than I would have if it was my other hand. It's felt good. Obviously I'm wearing protection to keep it locked in, so it's not the most comfortable stickhandling and stuff, but as far as shooting and limitations, I haven't had any issues."
--Michelle Crechiolo
---
LINEUP UPDATES
Coach Dan Bylsma said Martin and Neal are back to full practice, but will NOT play tonight. Martin is hopeful to play in the regular season finale Saturday at home vs. Carolina.
When asked if it's important to get the injured guys in a game before the playoffs begin, Bylsma answered, "to get back in and play is definitely a better thing than to not and wait till Game 1 of the playoffs. Having said that, we can't get players back in and rush them back in to get that one game, and we aren't going to do that. In terms of James Neal and Paul Martin, they're returning to practice and that's a good sign that they're able to get out with the guys and practice and be in those situations. If they're capable and it's a good thing for them, then we'll hopefully get them in for one game before we go to the playoffs. But if that's not the case, hopefully they can practice for the week with the group and hopefully be back for Game 1."
Bylsma also said that Orpik (lower body), Vitale (lower body) and Crosby (dental work) all stayed in Pittsburgh. Orpik and Vitale are day-to-day.
Marc-Andre Fleury will start in goal. The rest of the lineup is game-time.
--Michelle Crechiolo
---
PENS PHOTOS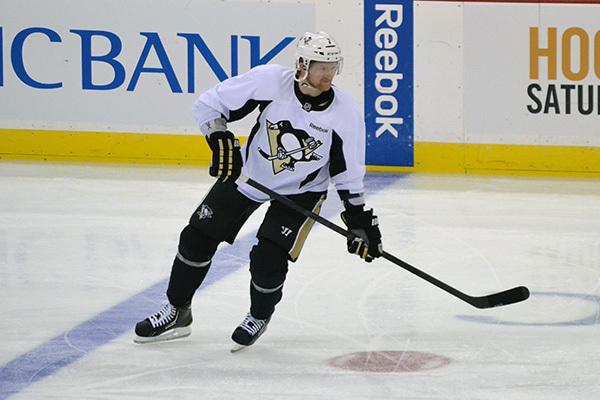 Paul Martin is practicing with the team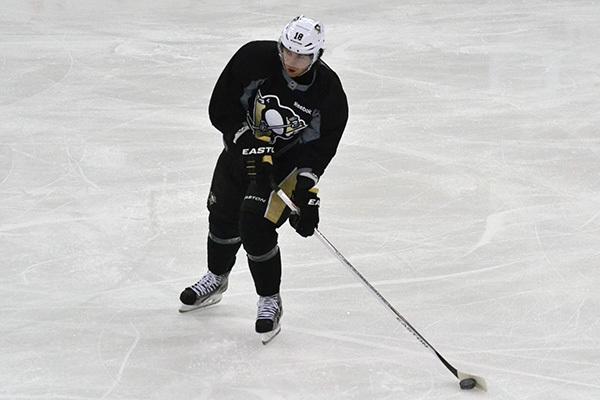 As is James Neal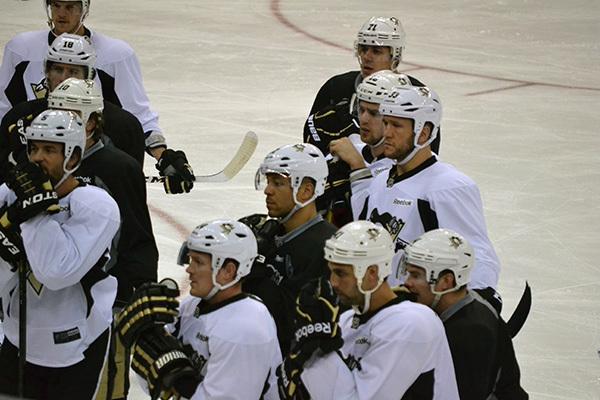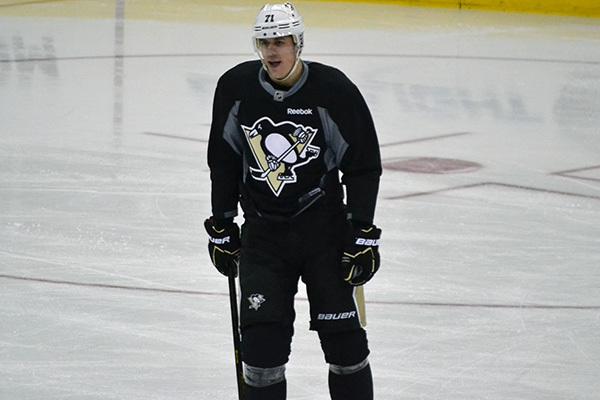 Malkin returned last game after missing four straight with an upper-body injury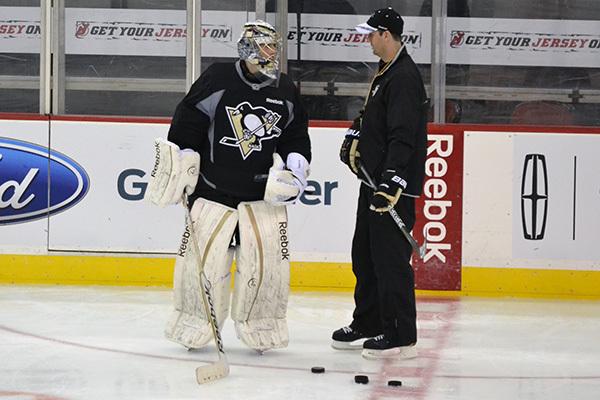 Fleury made the trip to New Jersey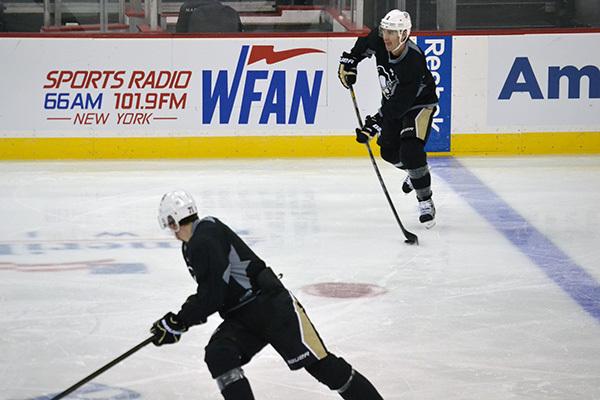 Duper and Geno working on a line together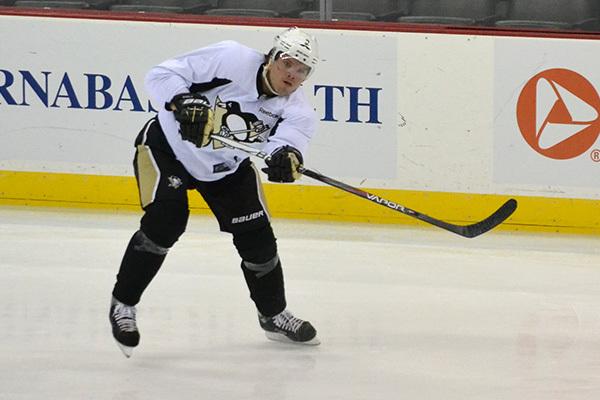 Douglas "Crankshaft" Murray moves the puck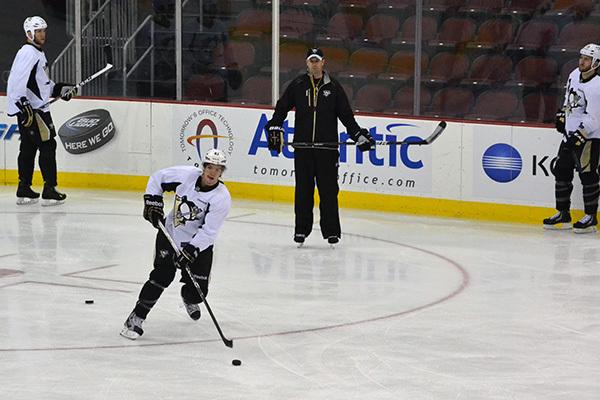 Assistant coach Todd Reirden watches Despres during a drill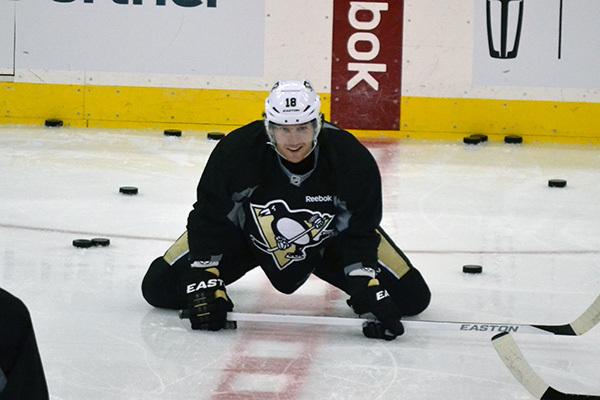 Nealer looks happy to be back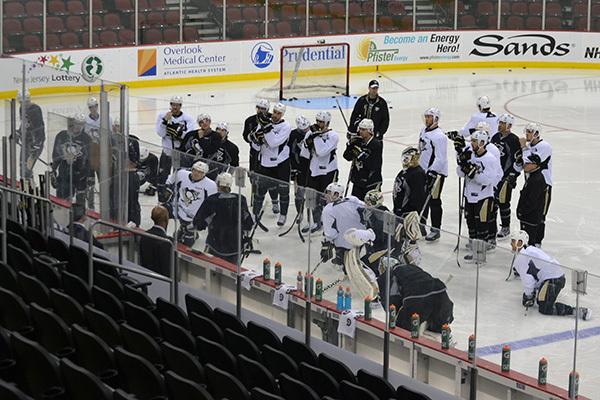 Group shot
--Michelle Crechiolo and Sam Kasan
---
MORNING SKATE INFO
Defenseman Paul Martin and winger James Neal are on the ice for morning skate. Martin has missed the last 11 games with a broken hand and Neal has missed the last seven games with a concussion. However, defenseman Brooks Orpik (lower body) was absent from practice. Orpik left Pittsburgh's last game against the Sabres on Tuesday after the first period and did not return. Coach Dan Bylsma said after the game he would be re-evaluated.
Here are the lines/D-pairs the Penguins utilized at morning skate...
Dupuis-Malkin-Iginla
Morrow-Jokinen-Bennett
Kunitz-Sutter-Cooke
Glass-Adams-Kennedy
Letang-Eaton
Despres-Engelland
Murray-Niskanen
Martin-Bortuzzo
--Michelle Crechiolo
---
GAME PREVIEW
The Devils were officially eliminated from playoff contention on Sunday, the first time in six years a Stanley Cup Finalist has failed to make it out of the regular season the following year (they fell to the Los Angeles Kings in six games in 2012).
The Devils, who have won two of three against the Penguins this year, began the season with a scorching 8-1-3 start – but their play started to decline in mid-February. That's right around when they lost Hall of Fame goaltender Martin Brodeur, who went down with a back injury Feb. 24 – pulling himself from a scheduled start against Winnipeg that day after warmups. He missed a total of 13 straight games (10 due to injury and three serving as a backup). The Devils went 3-8-2 in his absence.
Full preview here.
--Michelle Crechiolo

---
START THE DAY
Good morning hockey fans! The Penguins are in New Jersey to play the Devils tonight at Prudential Center for their final road game (and second-to-last overall game) of the regular season. Pittsburgh will be looking to rebound from a 4-2 loss to Buffalo on Tuesday that snapped a seven-game winning streak.