2-1-1 | 4 Points 1-1-1 | 3 Points
Penguins Report: Game Day at Winnipeg

Friday, 01.25.2013 / 10:36 AM / Penguins Report
Pittsburgh Penguins



Lovejoy in, Vokoun starting tonight

Verizon Game Day Report
Pens lines/D-pairs
Quotes from the locker room
PensTV locker room interviews
Ultimate Highlight - Season Open
Jets line combos/D-pairs
Pens practice pics
Jets practice pics
Jets-Pens preview
"Here it's December every day..."
---
ULTIMATE HIGHLIGHT
Pretty awesome video piece put together by PensTV staff. Best part is Bourquie yelling, "Buckle up, baby! Are you kidding me?!"
--Sam Kasan
---
LOCKER ROOM(S) SOUND
COACH BYLMA
SIDNEY CROSBY

BEN LOVEJOY

ANDREW LADD
--Sam Kasan
---
VERIZON GAME DAY REPORT
It's freezing in Winnipeg, but I still braved the elements to bring you the Verizon Game Day Report (although I'm sure you Winnipeg natives think the cold weather is no big deal).
--Sam Kasn
---
QUOTES HEARD AROUND THE LOCKER ROOM...



--Michelle Crechiolo
---
LOVEJOY IN, VOKOUN STARTS
Defenseman Ben Lovejoy confirmed that he will be in the lineup tonight against the Jets. "I'm excited to be in the lineup," he said. "It's been a while since I played a game. My job is to be ready when called upon. I try to be the best player on the ice in practice. Time has come. I'm going to get a game tonight."
Lovejoy was paired with Deryk Engelland this morning, and that's who he said he will be skating with tonight.
"Ben is a guy who's an NHL defenseman and has not been able to get in the first three games," head coach Dan Bylsma said. "He's going to get an opportunity to get in tonight. We think he's going to add to our team and help us win a game tonight."
Bylsma also said Tomas Vokoun will start in goal tonight against Winnipeg and Marc-Andre Fleury will play on Sunday in Ottawa. Bylsma cited Vokoun's 5-12 career record against the Senators as one of the reasons he will play tonight.
NOTE:
Bylsma said he would like to see more consistency from young blueliner Simon Despres in his play, defending and demeanor on the ice. "As a young defenseman, I think in each of the games he's done some really good things and he's also had some blips and some inconsistencies in his play. He's had good periods and followed it up with puck decisions and executions that weren't as good. He's played good for us. He's helped us play some good hockey here early on. but Ben Lovejoy is going to get a chance tonight."
--Sam Kasan
---
MORNING SKATE PHOTOS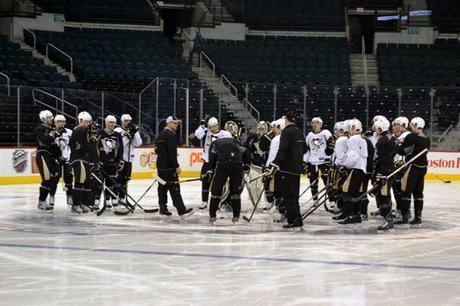 Pens gather at center ice around coach Bylsma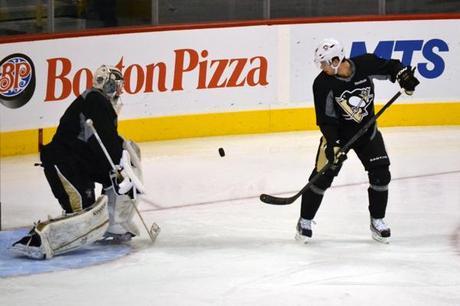 We've got TK trying to lift the puck past Fleury...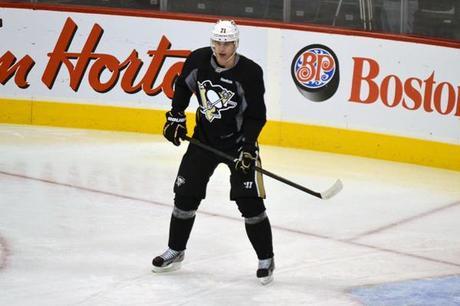 Geno posted up by the net...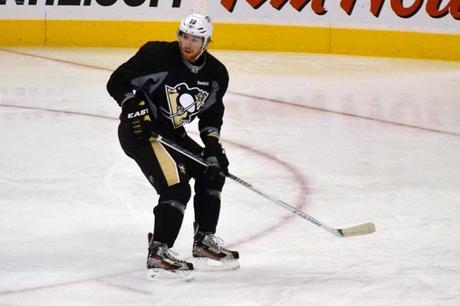 And Neal going to the cage to complete the linemate photos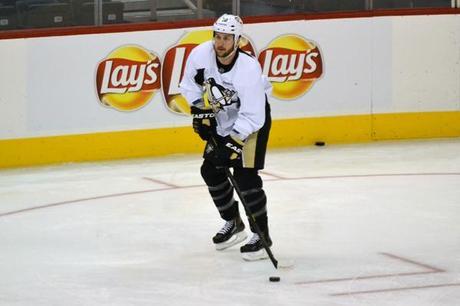 Tanner Glass spent last season with the Jets. Today he is facing his former team for the first time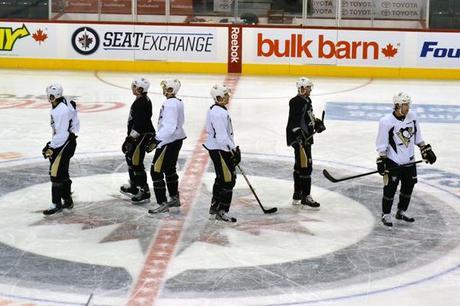 Pens D-men waiting in line on the Jets logo
And to close out this morning's photos, let's take a look at this sequence of photos capturing a pretty goal by No. 87.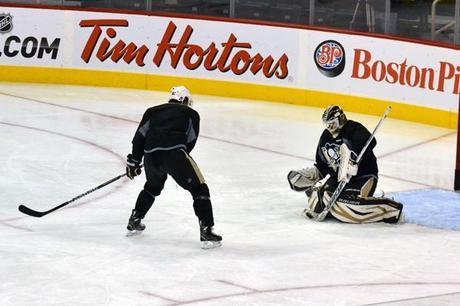 Vokoun makes the initial stop, but...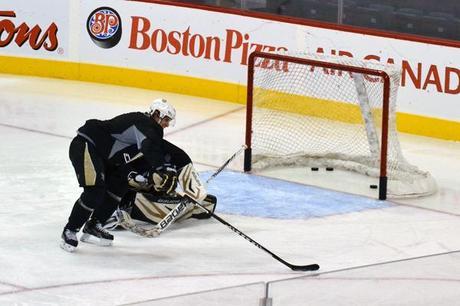 Crosby collects his rebound and swings it around the goalie...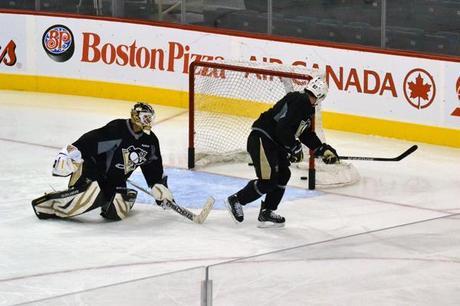 Backhanding it into the open net.
--Sam Kasan
and Michelle Crechiolo
---
PENS LINES/D-PAIRS
The Pens switched up their bottom two defensive pairings at the morning skate. Lovejoy skated with Engelland, while Despres went with Bortuzzo. The forward combinations remained the same from Thursday's practice.
Kunitz-Crosby-Dupuis
Kennedy-Malkin-Neal
Cooke-Sutter-Glass
Tangradi-Vitale-Adams
(Jeffrey)
Orpik-Martin
Niskanen-Letang
Engelland-Lovejoy
Bortuzzo-Despres
--Sam Kasan
---
JETS LINES/D-PAIRS
Looks like the Jets are using the same combinations they did in their last game...
Ladd-Antropov-Little
Kane-Jokinen-Wheeler
Ponikarovsky-Burmistrov-Wellwood
Wright-Slater-Thorburn
Enstrom-Byfuglien
Stuart-Hainsey
****some-Postma
(Redmond)
--Michelle Crechiolo
---
JETS PICS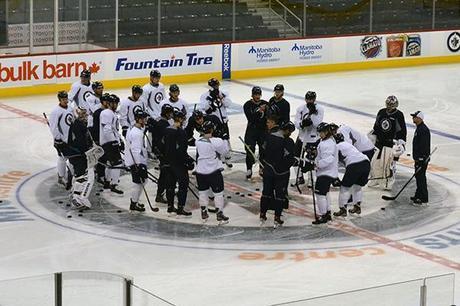 Team meeting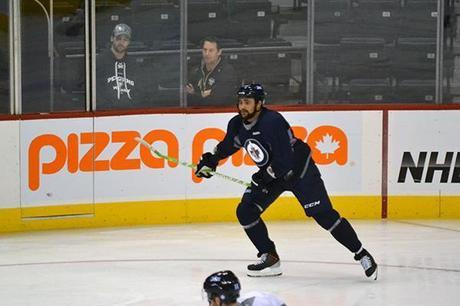 Dustin Byfuglien skates while Pens D-man Deryk Engelland and strength coach Mike Kadar look on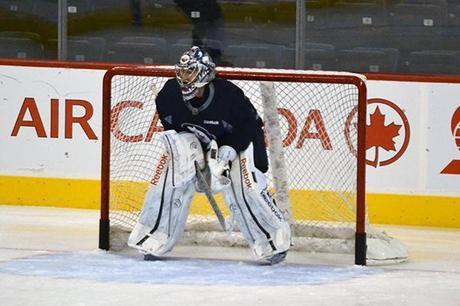 Ondrej Pavelec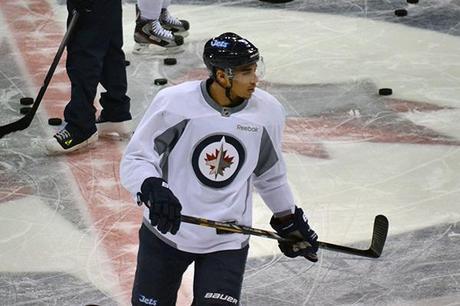 Evander Kane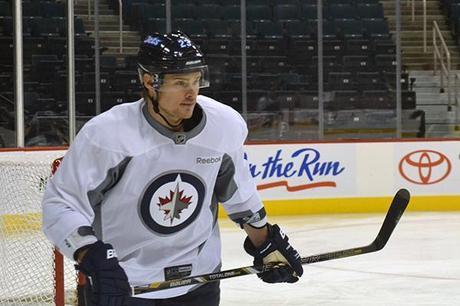 Former Pen Alexei Ponikarovsky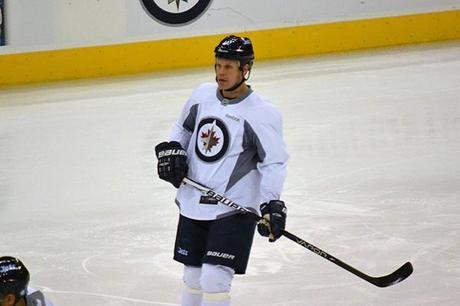 Olli Jokinen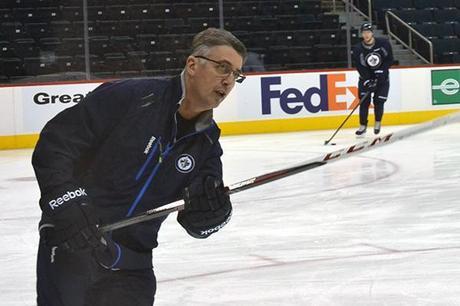 Jets coach Claude Noel
--Sam Kasan
---
PENS-JETS PREVIEW
Michelle Crechiolo brings you PensTV Scouting Report on the Jets and Wes Crosby adds a preview of tonight's matchup below.
After a fourth place finish in the Southeast Division in their first season since relocating from Atlanta, the Winnipeg Jets return the same core pieces who are one year wiser.
The Jets were led by left winger Evander Kane's 30 goals and right winger Blake Wheeler's 64 points in 2011-2012, leading to Winnipeg finishing a respectable 12th among NHL teams in both goals per game (2.7) and power play percentage (17.9).
Full game preview here.
--Sam Kasan
---
START THE DAY
Good morning Pens fans! The team arrived in Winnipeg Thursday after a three-plus hour flight and were welcomed by -6 degrees F. The temperature is supposed to dip to -20 for today's game day, an 8 p.m. EST battle between the Pens and Jets at MTS Centre.
The Jets hit the ice at 11:30 a.m. EST, while the Pens will skate at 12:30 p.m. Check back for the latest updates from both team's morning skates.
Pittsburgh enters tonight's game having gone 15-2 in last 17 meetings against the Jets, during that stretch the Pens have 71 goals for an average of 4.18 per game. The Pens are hoping to open the season with three straight road victories for the second time in three years. Pittsburgh began the 2010-11 season with three straight road wins and a four-game unbeaten streak (3-0-1).
Music Video Of The Night
for 419... some Crash Diet..