28-9-0 | 56 Points 17-15-3 | 37 Points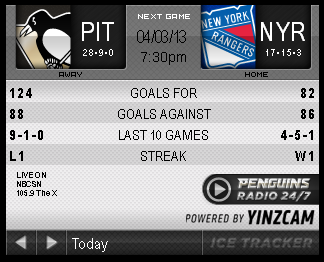 What to Watch For: Pens vs. Rangers

Tuesday, 04.02.2013 / 2:48 PM / Features
By Wes Crosby



Comment

Print
PENGUINS (28-9-0) vs. RANGERS (17-15-3)
WHEN:
April 3, 2013 - 7:30 p.m. |
WHERE:
CONSOL Energy Center
WATCH:
ROOT SPORTS |
LISTEN:
Penguins Radio 24/7, 105.9 FM
---

While the Penguins sit comfortably atop the Eastern Conference standings, the New York Rangers are in a tough battle for the East's final playoff spot with the cross-town rival Islanders. The front end of a home-and-home series between the Penguins and Rangers at Madison Square Garden Wednesday will pit two of the league's most stingy defenses against each other.
The Rangers come in sporting a 2.37 goals against average, sixth in the NHL, just a few notches below Pittsburgh's 2.33 GAA. Henrik Lundqvist has been exceptional as usual this season, carrying a 2.19 GAA and .922 save percentage, while defensemen Michael Del Zotto, Dan Girardi and Ryan McDonagh have frustrated the East's best forwards.
But King Henrik has struggled mightily in three losses to the Pens this season, allowing over four goals per game.
New York's blue line seemed to suffer a monumental blow when a puck struck Marc Staal in the eye in the Rangers' 4-2 win over the Philadelphia Flyers on March 5, but his fellow defensemen have solidified the Blueshirts' back line in his absence, owning a 2.36 GAA in the last 14 games.
While the Rangers have done an excellent job of shutting down opposing offenses, they have not found the firepower necessary to fully capitalize on their defensive play. Even with the addition of Rick Nash, the Blueshirts rank dead last in the NHL, averaging 2.26 goals per game.
Nash has pulled his weight, leading New York with 30 points (13G-17A), and Derek Stepan, who is second on the team behind Nash with 27 points (12G-15A) has also impressed. Nash and Stepan have been on fire for the past month, racking up a combined 33 points (17G-16A) in the last 15 games. But Nash has scored just one point, a goal assisted by Stepan on Jan. 20, in three matchups with the Pens.
The Rangers' cupboard has been pretty bare beyond Nash and Stepan, especially with Marian Gaborik scoring just two goals in his last 22 games. The 31-year-old forward is having his least productive season of his four-year stint with the Rangers, putting up 19 points (9G-10A) in 35 games. Projected across a full 82-game schedule, he would be on pace for 21 goals and 46 points, which would be the lowest totals since his rookie season with Minnesota in 2000-01.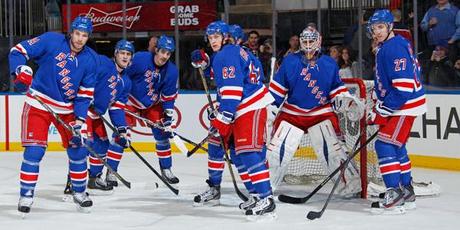 (Getty Images)
---

Rick Nash – Derek Stepan – Ryan Callahan
Mats Zuccarello – Brad Richards – Marian Gaborik
Carl Hagelin – Brian Boyle – J.T. Miller
Chris Kreider – Darroll Powe – Taylor Pyatt
Michael Del Zotto – Dan Girardi
Ryan McDonagh – Anton Stralman
Roman Hamrlik – Steve Eminger
---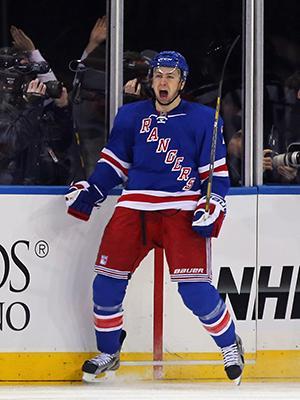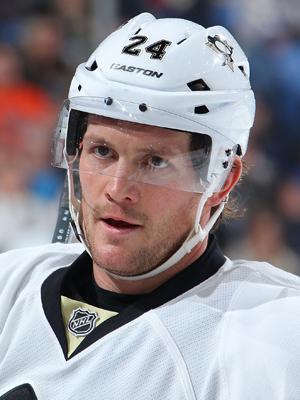 (Getty Images)

RANGERS: DEREK STEPAN
Stepan and Nash' partnership has been the Rangers' primary source of offense this season and they'll most likely need to find the back net in order for New York to win. Stepan is in just his third NHL season, but is coming off of a 51-point campaign and has only gotten better. The 21-year-old was nearly unstoppable, earning four points (1G-3A), in the Rangers' 5-2 win over Philadelphia on March 26 and netted the game-winning goal in their 4-2 win over the Winnipeg Jets Monday.
PENGUINS: MATT COOKE
The Penguins' defense has drastically improved from the first two months of the season and a lot of that has to do with the insurance the teams' forwards have provided to the blueliners. Cooke has been dynamite in this aspect over the last month and could have another solid performance against a struggling Rangers offense. The 13-year NHL veteran played a pivotal role in Pittsburgh's 2-0 win over the New York Islanders Saturday, wreaking havoc while the Pens killed on a 5-minute major coupled with a lengthy 5-on-3 and scoring the game-winning goal. Cooke is definitely not a slouch on the offensive end either, as he's racked up 16 points (6G-10A) this season.
---


PENGUINS:
F Sidney Crosby, broken jaw
D Kris Letang, lower body
D Paul Martin, broken bone in hand

RANGERS:
D Michael Sauer, concussion
D Marc Staal, eye
KIPPER'S SONG FOR THE GAME:
Semisonic - Chemistry. Always liked Semisonic outside of their biggest hit "Closing Time". Songs like Down in Flames and F.N.T are great pop/rock Gem's from the late 1990's.... felt the title of this song matched up with the Pens needs for this game and going forward