23-8-0 | 46 Points 13-14-3 | 29 Points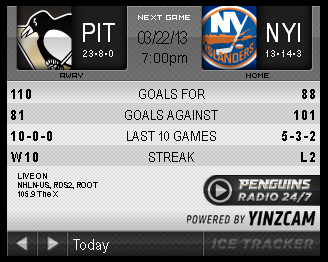 Penguins Report: Game Day at NY Islanders

Friday, 03.22.2013 / 9:59 AM / Penguins Report
Pittsburgh Penguins


Lineup updates from Bylsma
Pens recall Trevor Smith
Morning skate info
Penguins pics
Pens' quotes
PensTV interviews
Pens-Isles preview
Malkin Insta-photo
Twitter Q&A: Letang
Adrenaline...
---
PENS RECALL SMITH
The Pittsburgh Penguins have recalled forward Trevor Smith from Wilkes-Barre/Scranton of the American Hockey League, it was announced by executive vice president and general manager Ray Shero.
Smith, 28, currently ranks second on WBS in goals (18), assists (23) and points (41) while appearing in all 64 games this season. The veteran forward has recorded four points (1G-3A) over his last three games.
Full release here.
--Michelle Crechiolo
---
PENSTV INTERVIEWS
SIDNEY CROSBY
BROOKS ORPIK
COACH BYLSMA
--Michelle Crechiolo
---
VERIZON GAME DAY REPORT
Sam and I have everything you need to know heading into tonight's game.
--Michelle Crechiolo
---
THEY SAID IT...



--Sam Kasan
---
LINEUP UPDATES
Coach Dan Bylsma said following morning skate that Evgeni Malkin and Kris Letang both will NOT play tonight versus the Islanders. They are both still day-to-day.
Though Matt Cooke was absent from morning skate, he WILL play tonight.
Tomas Vokoun is starting in goal.
--Michelle Crechiolo
---
PENS PICS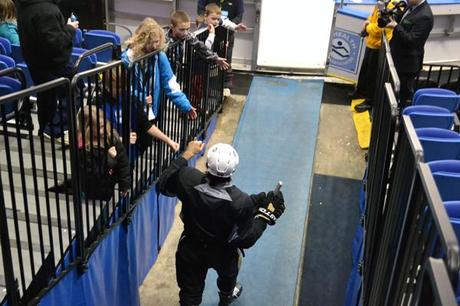 Adorable photo: Kris Letang fist bumps a line of kids as he heads onto the ice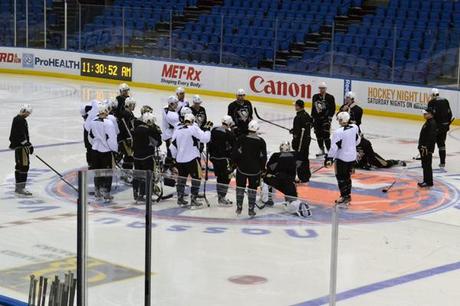 The players gather around coach Bylsma at center ice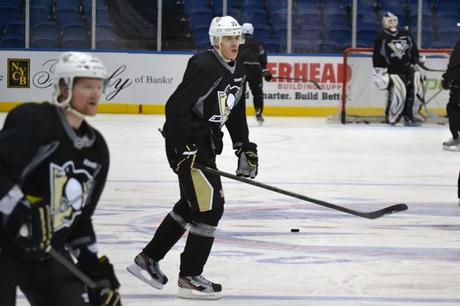 Evgeni Malkin participated in the skate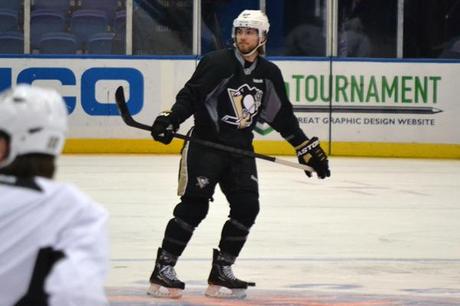 As did Letang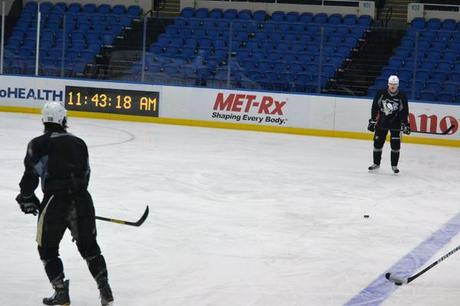 The two of them passed the puck around while their teammates worked on special teams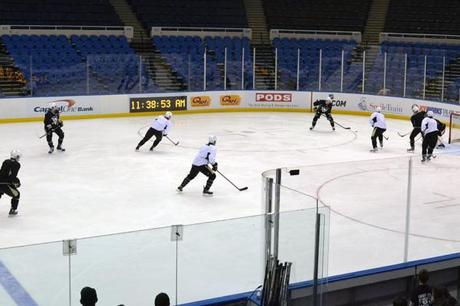 Loving the time clock on the boards!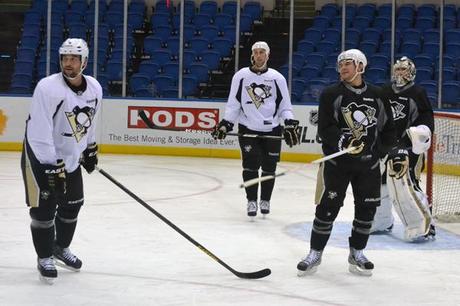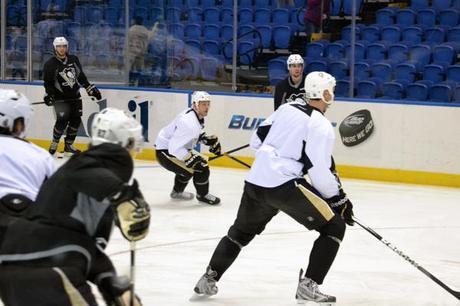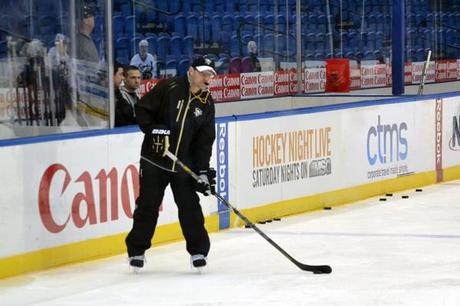 Cool reflection of the players in the glass
--Michelle Crechiolo and Sam Kasan
---
MORNING SKATE INFO
Matt Cooke was the only player missing from the team's morning skate session. Injured players Evgeni Malkin and Kris Letang were on the ice. Malkin took Cooke's spot in line rushes.
Kunitz-Crosby-Dupuis
Bennett-Jeffrey-Neal
Malkin-Sutter-Kennedy
Glass-Vitale-Adams
Orpik-Martin
Niskanen-Eaton
Despres-Engelland
Letang-Bortuzzo
Neither Letang or Malkin took part in the main special teams work. But they did work a few drills on the point of the second 5-on-3 unit.
--Sam Kasan
---
MALKIN WINS AT LIFE
Evgeni Malkin posted a picture on his Instagram (emalkin71_) that is too cute not to post. Enjoy.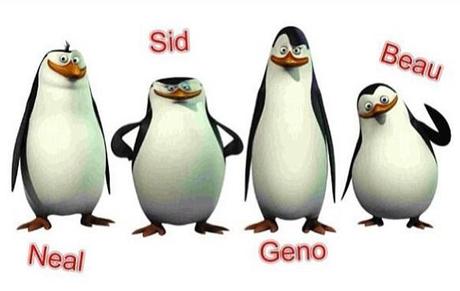 --Sam Kasan
---
TWITTER Q&A: KRIS LETANG
--Sam Kasan
---
GAME PREVIEW
As always, the Islanders offense is led by 2009 first-overall pick John Tavares. He recorded career highs last season in goals (31), assists (50) and points (81) and is having another marvelous year. Tavares paces the club with 18 goals and 32 points. The Penguins will want to keep him off board, considering the Islanders are 1-9-1 when he is held without a point.
New York got a boost to their lineup Thursday night with the return of forward Michael Grabner. He injured his shoulder in the last contest against the Penguins and hadn't played until Thursday.
Full game preview here.
--Sam Kasan
---
START THE DAY
Good morning from Long Island! The Pens will hit the ice at Nassau Coliseum today at 11:30 a.m. for their morning skate. They're looking to extend their winning streak to 11 games when they take on the New York Islanders tonight at 7 p.m. New York is coming off a 5-2 loss at home to Montreal Thursday night.
KIPPER'S SONG FOR THE GAME
Dream Theater's "On the Back Of Angels"... I needed to give my legs a work out today, and while some people will do leg weights and exercises.. I hit the drums and jam along to songs that are very "leg intusive". Dream Theater is about as tough as it gets because they go from speed to rudiments etc.. It's a great work out of the thighs, calfs, etc..