2-0-0 | 4 Points 1-1-0 | 2 Points
Penguins Report: Game Day vs. Toronto (Home Opener Edition)

Wednesday, 01.23.2013 / 9:22 AM / Penguins Report
Pittsburgh Penguins



Pens lineup info
What to watch tonight vs. Leafs
Locker room sound
Post-morning skate quotes
Morning skate pics
Leafs morning skate pics
Martin starts strong
"I'm going to make this place your home..."
---
GAME DAY REPORT
Sam breaks down what to expect from tonight's home opener against the Maple Leafs (with help from Kris Letang and coach Bylsma). To steal a line from Sam, happy game day everyone!

--Michelle Crechiolo
---
SOUNDS HEARD AROUND THE LOCKER ROOM
COACH DAN BYLSMA

SIDNEY CROSBY

JAMES NEAL

TANNER GLASS

--Michelle Crechiolo
---
LEAFS MORNING SKATE PICS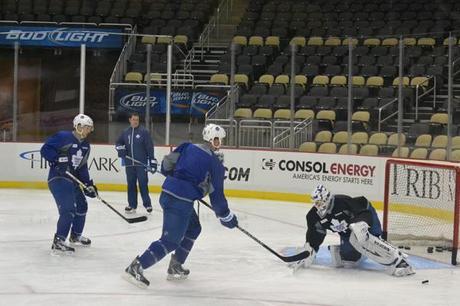 Ben Scrivens tending goal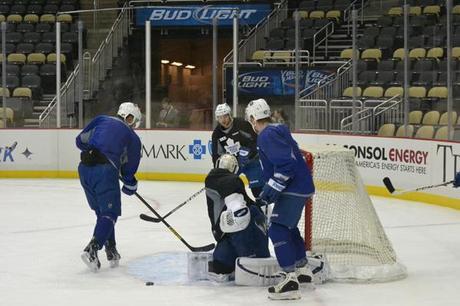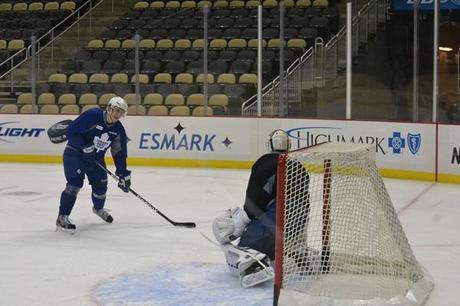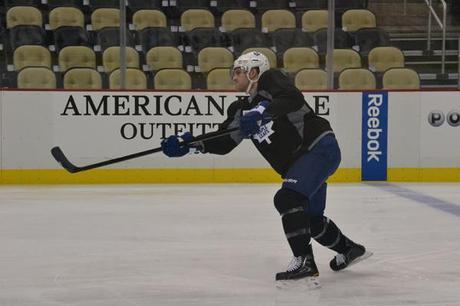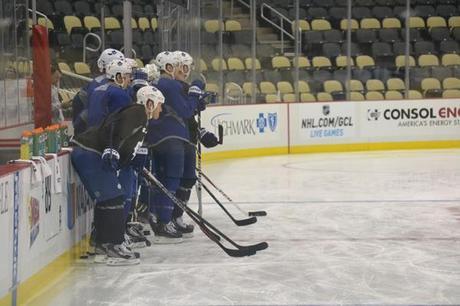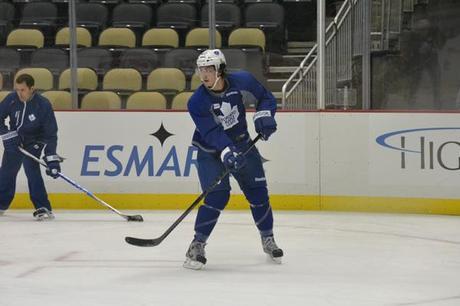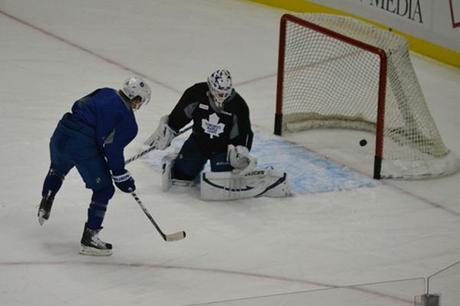 Kessel sneaking one past Scrivens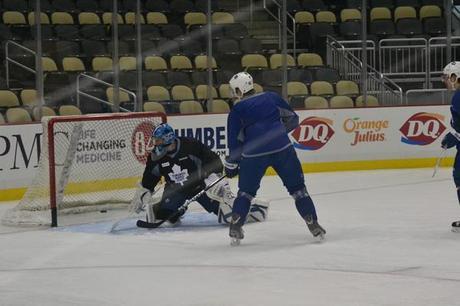 James Reimer down at the other end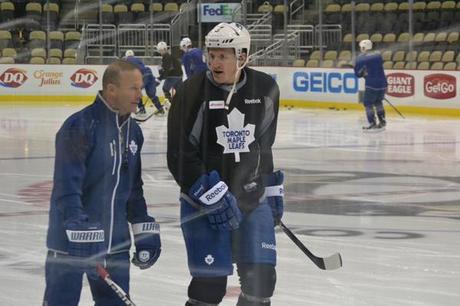 Captain Dion Phaneuf skates with asst coach Greg Crocin
--Wes Crosby and Michelle Crechiolo
---
QUOTES HEARD AROUND THE LOCKER ROOM







--Michelle Crechiolo
---
MORNING SKATE PICS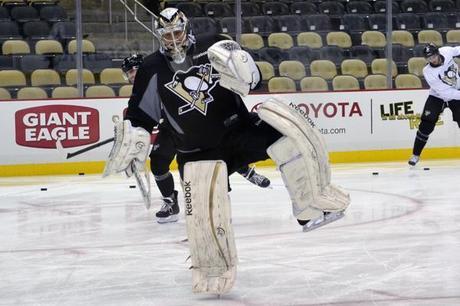 Fleury doing Gangnam Style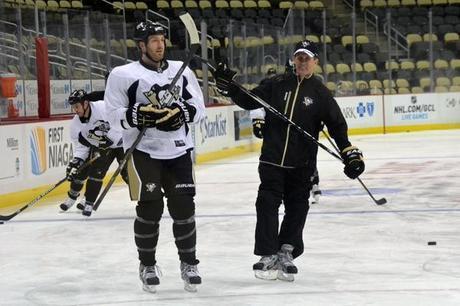 Orpik and asst coach Tony Granato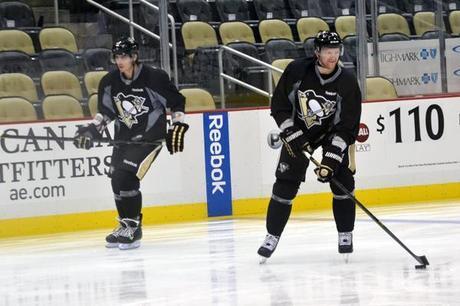 Niskanen and Martin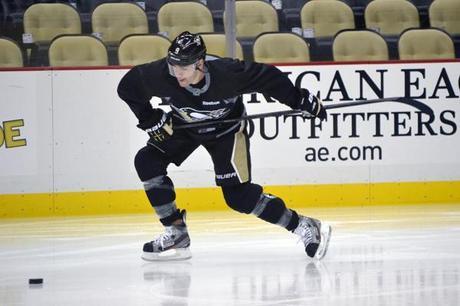 Dupuis winds up...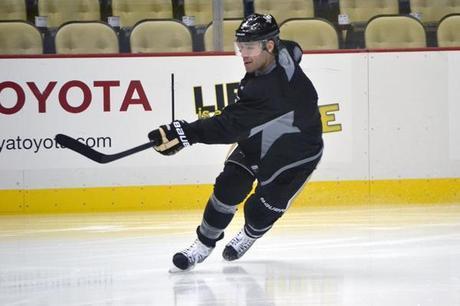 ...and follows through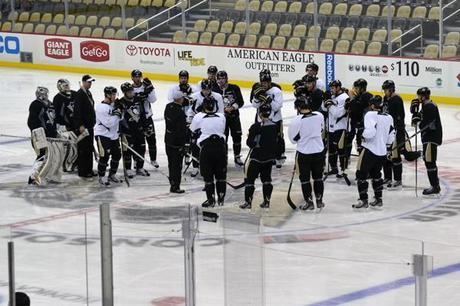 Group meeting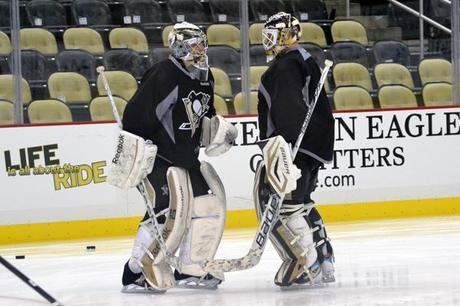 Goalie conversation
--Michelle Crechiolo & Sam Kasan

---
MORNING SKATE INFO
There appear to be no lineup changes judging by the line combinations and defensive pairings...
Kunitz-Crosby-Dupuis
Tangradi-Malkin-Neal
Cooke-Sutter-Kennedy
Glass-Vitale-Adams
(Jeffrey)
Orpik-Martin
Niskanen-Letang
Despres-Engelland
Bortuzzo-Lovejoy
UPDATE:
Following morning skate, head coach Dan Bylsma said Marc-Andre Fleury will get the start in goal and there are no injuries of note to his lineup.
--Sam Kasan
---
MARTIN STARTS STRONG

"I've always been confident in my abilities. I think last year when things weren't going my way, I've always been hard on myself and expected a lot out of myself. Certain times (I) definitely got frustrated with the game and with myself. I think this year a different mindset will serve me well."
Martin, 31, returned to Pittsburgh for training camp determined to have a better year for the team. And his new mindset certainly served Martin well through the Penguins' opening weekend, as he got off to the strong start he wanted in wins over the Flyers and the Rangers while anchoring Pittsburgh's shutdown defense pairing with Brooks Orpik.
Full story here.

--Sam Kasan
---
WHAT TO WATCH FOR VS. TORONTO
Lupul, Bozak and Kessel remain together this season to provide Toronto's most potent offensive threat, but the rest of the line combinations seem to be fluid. During practice on Tuesday, new addition James van Riemsdyk – who spent the last three seasons with Philadelphia – moved up to left wing on the second line with center Mikhail Grabovski (who had 23 goals and 51 points last season) and right wing Nikolai Kulemin. That puts Clarke MacArthur (20 goals, 43 points) on the third line with Marlies call-ups Nazem Kadri and Leo Komarov.
For a full scouting report on the Leafs and things to watch for in tonight's game click here.
--Sam Kasan
---
START THE DAY
Good morning Pens fans! Today the Pens open the season at home with a 7 p.m. tilt against the Toronto Maple Leafs. This will be the first contest held at CONSOL Energy Center since April 20, 2012 (not counting the Black and Gold Game). Fans have been patiently waiting for over nine months to watch hockey in Pittsburgh.
The team will hit the ice at 10:30 a.m. for their morning skate. We'll be tracking to bring you tonight's lineup, line combinations, defensive pairings and starting goaltender, as well as any other tidbits we pick up along the way. So stay tuned to the Pens Report throughout the day for continuous updates.
And within a few hours, Hall of Fame broadcaster Mike Lange's voice will ring out over the airwaves, "It's a hockey night in Pittsburgh!"
Song Of Night
This song is for the Toronto Maple Leafs -- Kipper