19-8-0 | 38 Points 15-11-1 | 31 Points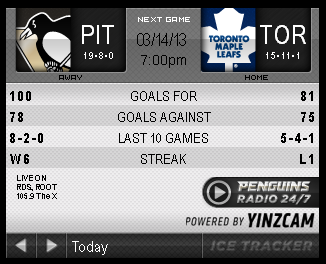 Penguins Report: Game Day at Toronto
Thursday, 03.14.2013 / 10:34 AM / Penguins Report
Pittsburgh Penguins


Pens' skate alignment
Fleury in net; No update on Malkin
Game day comments
PensTV interviews (87, 44, Coach)
Letang committed to success
Pens pics
Leafs pics
Pens-Leafs preview
Twitter Q&A with Fleury
"Bittersweet, bittersweet..."
---

VERIZON GAME DAY REPORT
All the updates out of Toronto...
--Michelle Crechiolo

---
PENSTV INTERVIEWS
Sidney Crosby

Brooks Orpik

Coach Bylsma

--Michelle Crechiolo
---

COACHSPEAK WITH DAN BYLSMA...
Head coach Dan Bylsma had a few notes from his post-skate media chat:


Fleury starting in net
Lineup will be game-time
No update on Malkin's exercise level for the day
--Sam Kasan
---
THEY SAID IT...




--Sam Kasan
---
PENS PICS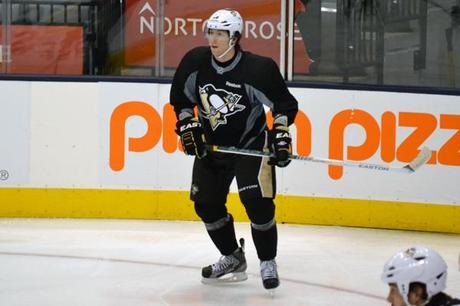 James Neal, the pride of Whitby, Ontario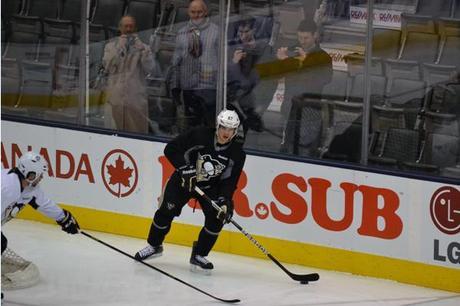 Crosby has an audience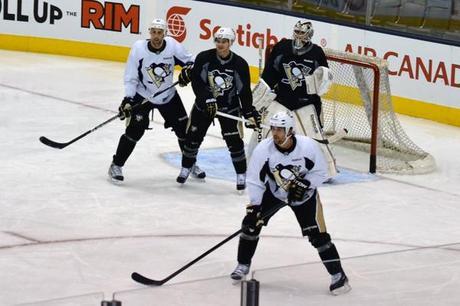 Kunitz in the blue paint while Bortuzzo and Engelland play D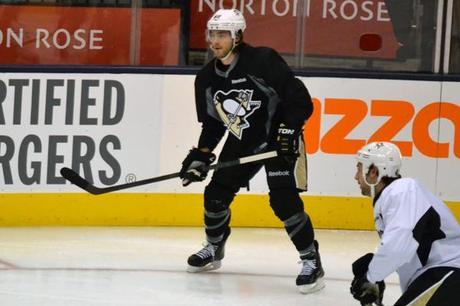 Make sure to check out our feature on Kris Letang and his commitment to success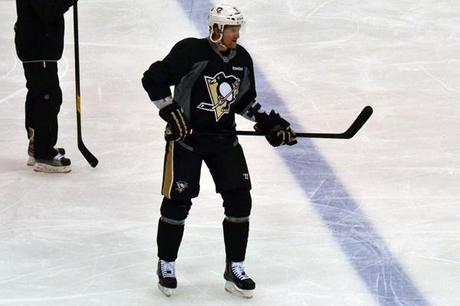 Paul Martin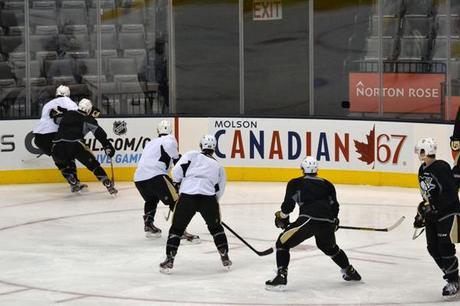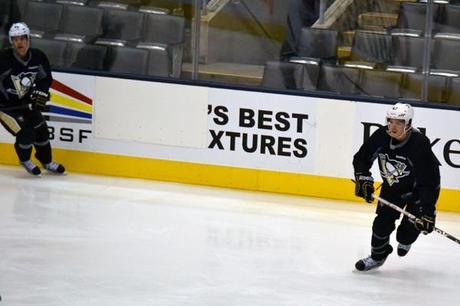 I cropped the photo this way to get TK in it. He's back at practice after getting yesterday off due to illness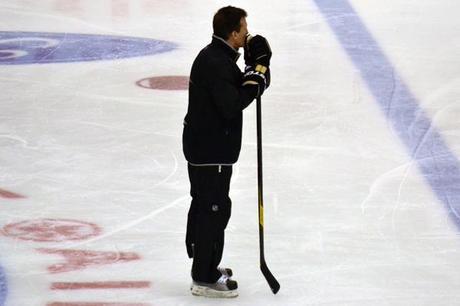 Assistant coach Tony Granato calmly watches a drill
--Michelle Crechiolo and Sam Kasan

---

PENS' SKATE INFO
It looks like Simon Despres will be back in the lineup tonight, judging by the defensive pairings. Although I haven't gotten official word yet. Kennedy was back on the ice after missing yesterday's practice with an illness.
Kunitz-Crosby-Dupuis
Bennett-Jeffrey-Neal
Cooke-Sutter-Kennedy
Glass-Vitale-Adams
Orpik-Martin
Despres-Letang
Niskanen-Engelland
Eaton-Bortuzzo
--Sam Kasan

---

LEAFS PICS
The Maple Leafs held an optional morning skate at Air Canada Centre. Fifteen players took part, which includes both netminders. Ben Scrivens will get the nod in goal for the Leafs.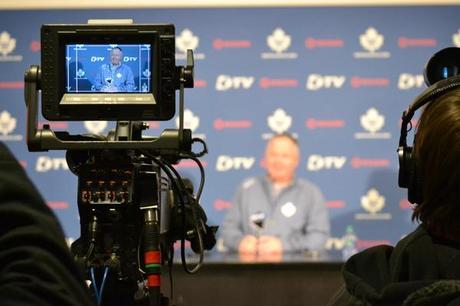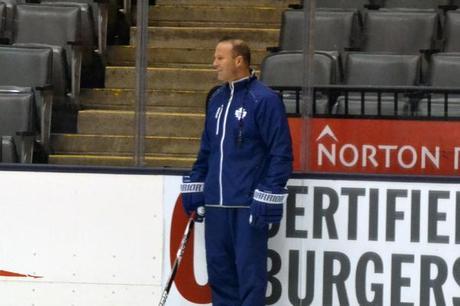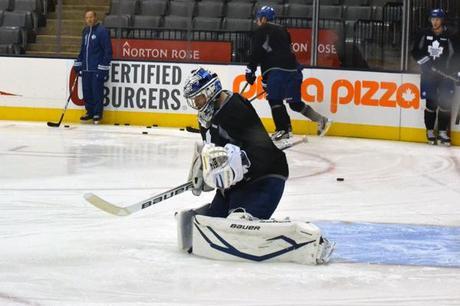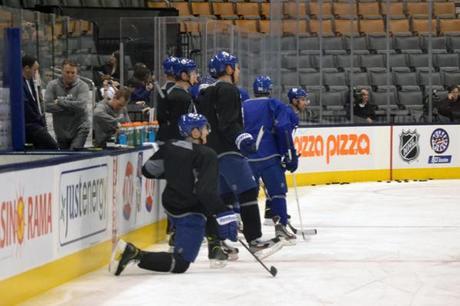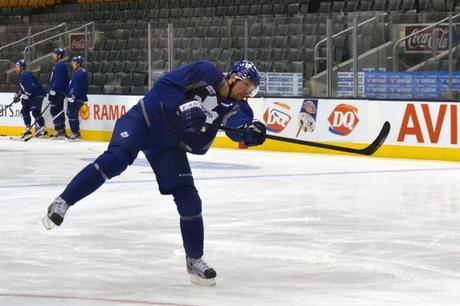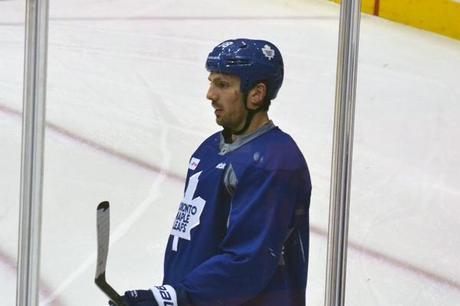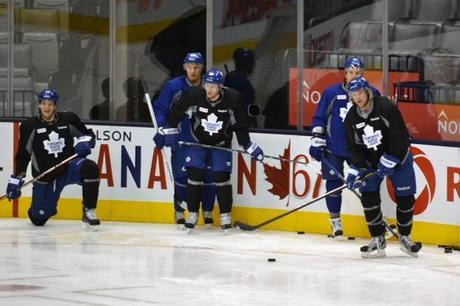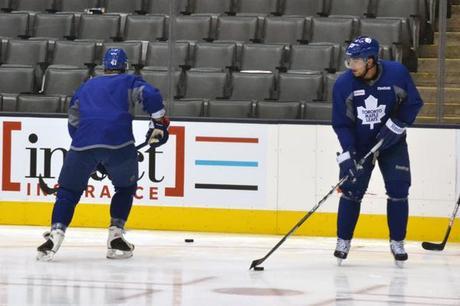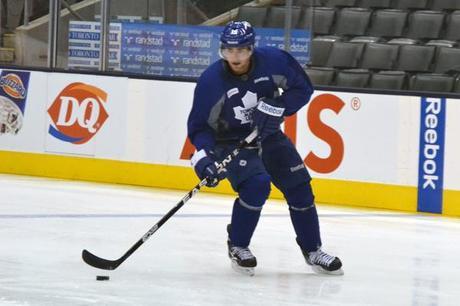 --Sam Kasan
---
TWITTER Q&A WITH MARC-ANDRE FLEURY
--Sam Kasan
---

LETANG COMMITTED TO SUCCESS
"I'm trying to do my best to bring offense to the team," he said. "Obviously joining the rush, making plays, putting the puck on net like last night. It just happened to be like that, but it's fun to have a streak going with the team."
It's easy to think a player like Letang, with the sheer athletic ability and talent he possesses, could just show up to the rink to practice and play games and he'd be just fine.
But what's truly special about Letang, 25 years old and in his sixth full NHL season, is his continued dedication to strengthening his game and the amount of work he puts in to be the player that we see being involved offensively while still being strong defensively. He works at it. Every single day.
Full story here.


--Sam Kasan
---

GAME PREVIEW


The Leafs offense has been led by rookie Nazem Kadri. The seventh-overall selection in the 2009 NHL Draft is tied for the team lead with 25 points (11G-14A) on the season, and has been their most consistent scoring threat. Kadri, 22, had his seven-game scoring streak snapped by Pittsburgh in their previous matchup. During that stretch he posted six goals – including a hat trick against the NY Islanders – and 11 points. He's gone pointless in his last two games, so he may be due to get back on the scoresheet.
James van Riemsdyk leads the club with 14 goals. He's a big body and constant presence at the net. Phil Kessel hasn't been filling the net with his usual regularity – only nine goals on the year – but he has been setting up scores. He leads the team with 16 assists, and is tied for the team scoring lead at 25 points. Kessel potted two goals against the Winnipeg Jets Tuesday night, so he's heating up.
Full preview here.
--Sam Kasan

---

START THE DAY
The Pens will hit the ice at Air Canada Centre at 11:30 a.m. for their morning skate. They'll take on the Maple Leafs for the second time in six days at the ACC tonight at 7 p.m. The Leafs have the ice at 10:30 a.m. for their own morning skate. Stay here for all the updates on tonight's game.
KIPPER'S SONG FOR THE GAME
Cauldron - all or nothing. Oldschool sounding metal with a kick *** oldschool looking metal video from 2012 :yo: