13-7-0 | 26 Points 9-8-1 | 19 Points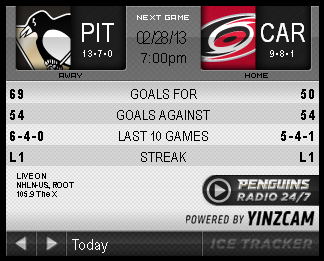 Penguins Report: Game Day at Carolina

Thursday, 02.28.2013 / 10:00 AM / Penguins Report
Pittsburgh Penguins



Comment



Print

Verizon Game Day Report
Jordan Staal speaks to media
Brandon Sutter on returning to Carolina
Staal's best moments as a Pen
Malkin trick shot
PensTV interviews
Pens lines/D pairs
Locker room quotes
Pens-Canes preview
'Canes morning skate pics
Pens morning skate pics
Pens go radioactive
March Mustache Boy
Twitter Q&A
"I threw a wish in the well..."
---
PENSTV INTERVIEWS
Jordan Staal
Brandon Sutter
Sidney Crosby
Coach Bylsma
--Michelle Crechiolo
---
VERIZON GAME DAY REPORT

--Sam Kasan
---
TWITTER Q&A
--Sam Kasan
---
GENO'S TRICK SHOT
Evgeni Malkin skated back in Pittsburgh again today. And there is video evidence to prove it. In fact, head coach Dan Bylsma said, "The video of Evgeni Malkin today is sufficient for an update."
If you want to see something absolutely amazing, more amazing than the half-court basketball shot. Check it out below.
It reminds me of Crosby's pyramid puck shot Reebok commercial.
--Sam Kasan
---
THEY SAID IT
Quotes from the locker room heading into tonight's big game...





--Michelle Crechiolo
---
SUTTER SPEAKS
Sutter talks about how weird it is coming into this arena as a visitor...
On if the first few days after the trade were hard:
Yeah, I think a lot of players have to go through it. it's something you don't expect. It's tough. It definitely takes a few days to wrap your head around it and it takes a lot of time to kind of get comfortable with it. It's tough at first. I think the hardest part is obviously not being able to see all the same guys and all your friends and things like that. but at least I get a chance today to see them and hopefully beat them out there. it should be a fun game and I'm looking forward to seeing some guys.
On if he has an advantage matching up against Eric Staal:
Yeah, I've obviously played a lot of battles against him in practice. Maybe that helps (laughs). I think I know what he's all about. He's obviously a very good player and very strong on the ice. So it'll be fun to match up against him. I'm looking forward to playing against the guys and hopefully things go well.
On who's the one guy he's got to keep an eye on to keep from coming after him:
(Laughs) I don't know, it's hard to say. I don't know what to expect. It'll be different. I think it'll be fun, too. At least get a little bit of a battle out there with them and see how it goes. We're looking for a good game from our team and we've got to try and get back winning here. It's a good night to do that.
On Gleason being back in the lineup:
I'm pretty good buddies with him, too, so it'll be different. It'll be weird. But once we get in the game, hopefully things just kind of stay the way they are and I'll just keep playing.
On if there's nerves:
Yeah, for sure. It's different. It is much different than going in any other rink, for sure. Going to take a few deep breaths before the game. Once you get playing, it'll probably get a little bit easier.
On where this ranks in terms of excitement for the season:
I think obviously the first game you play with a new team is probably the first. After that, probably this one. It's kind of the one you look at the calendar as soon it comes out. Look at the schedule and you kind of mark it off. It is going to be a little different but I'm looking forward to it.
On being a visitor in the building:
It's weird. It's very weird. It definitely feels awkward coming down the other side than what you did for a few years. It is different, but once we get into the game here I hope everything kind of just smooths out and the emotion kind of takes control of itself and I can just worry about playing.
--Michelle Crechiolo
---
PENS MORNING SKATE PICS
These are dominated by Brandon Sutter and Zach Boychuk for some reason. I can't imagine why...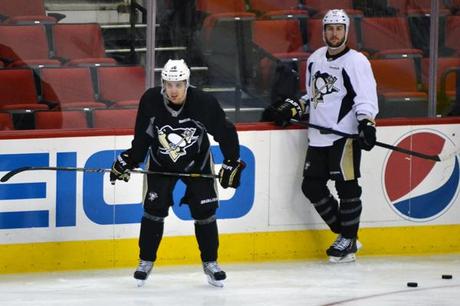 Sutter on the Hurricanes' home ice for the first time as a Penguin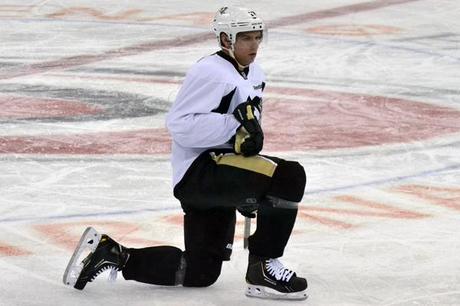 Same for Boychuk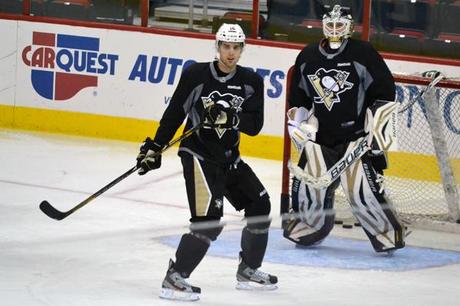 Being back in Carolina for the first time is surely emotional for Sutter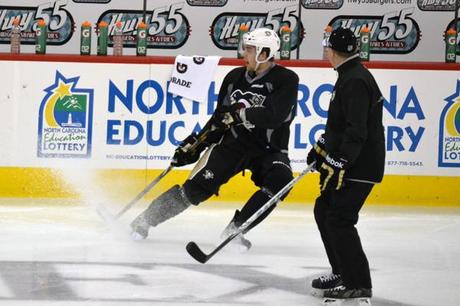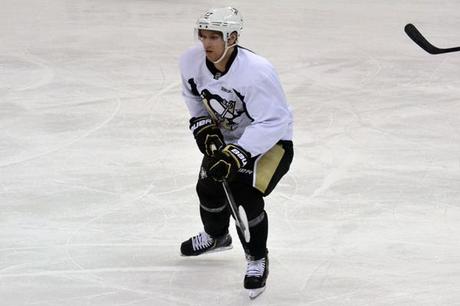 --Michelle Crechiolo and Sam Kasan
---
PENS MORNING SKATE INFO
Here are the lines and D-pairings the Pens used at morning skate…
Kunitz-Crosby-Neal
Bennett-Sutter-Dupuis
Cooke-Jeffrey-Kennedy
Glass-Vitale-Adams
Orpik-Martin
Niskanen-Letang
Engelland-Bortuzzo
Eaton-Despres
--Michelle Crechiolo
---
STAAL SPEAKS
We caught up with Jordan Staal following his morning skate (definitely odd seeing him in red, white, gray and black). He's certainly eager to hit the ice tonight and play his former team...

Here's more of what Jordan had to say...
On playing against the Penguins:
It's definitely something I'm looking forward to. When the calendar came out there are a few games you look to see, when we play each other first. I'm just excited about playing and competing against those guys. It's going to be a good matchup for our team.
On his transition in Carolina:
It's been great, easy. I've had a lot of help from the whole organization and the players here made it easy on my transition. It's been a lot of fun. I'm really enjoying it.
On playing with his brother:
It's been a lot of fun. To play with your brother at this level is a dream come true and it's been a lot of fun.
On having an expanded role:
I'm getting to play with Jeff Skinner and Patrick Dwyer. It makes my role better offensively. I'm counted on more playing that second line, more power-play time. I'm still the same Jordan Staal, playing the way I can and doing what I can. I haven't really changed much.
On what it will be like playing against his former teammates:
It will be fun competing against friends and wanting to beat them. It'll be a good matchup tonight.
--Sam Kasan and Michelle Crechiolo
---
CANES MORNING SKATE PICS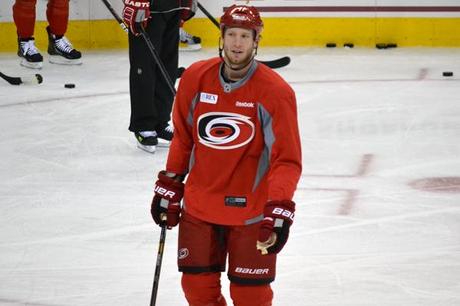 How does old friend Jordan Staal look wearing red? (Looks weird to us)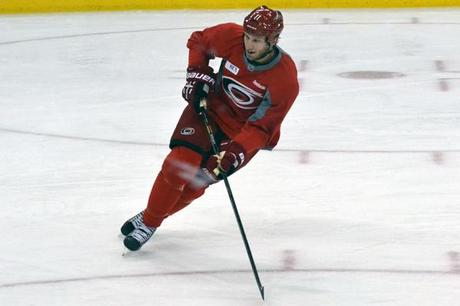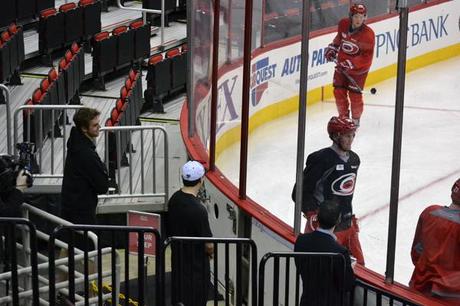 Former 'Canes and current Pens Brandon Sutter and Zach Boychuk watch their old team practice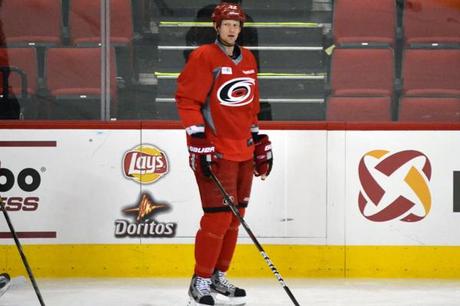 Eric Staal, brother of Jordan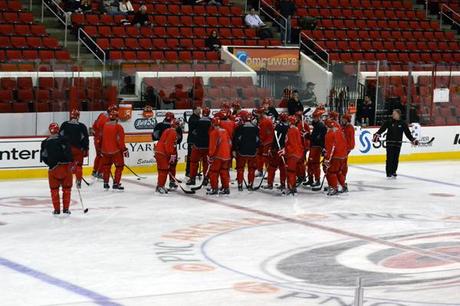 --Michelle Crechiolo and Sam Kasan
---
MARCH MUSTACHE BOY
Matt Niskanen handed off his crown as Mustache Boy at Wednesday's practice, a title he held for all of February and half of January. After tonight's game he will be allowed to shave. You may already know who the latest victim will be, if not I won't spoil it for you. The video is below...
--Sam Kasan
---
PENS GET RADIOACTIVE
The Pens released 2 new commercials that can be seen on a local television near you. For a peek, here are the new commercials set to "Radioactive" by Imagine Dragons. Solid music pick. I'm currently obsessed with this song.
--Sam Kasan
---
GAME PREVIEW
The matchup we've been waiting for is finally here. The Penguins will face old friend and teammate Jordan Staal and the Carolina Hurricanes for the first time this season on Thursday at PNC Arena.
For lack of a better word, it's going to be – well, weird – seeing Staal in red and white as he became an integral part of Penguins history after spending six NHL seasons in black and gold. Staal, now 24, was taken second overall in 2006 by Pittsburgh – the first draft selection by then newly-hired general manager Ray Shero – and broke into the league as an 18-year-old rookie. He went on to become part of the successful three-center model with Sidney Crosby and Evgeni Malkin, but more importantly he was a key member of the Penguins' 2009 Stanley Cup championship team
.
Full report here.
--Sam Kasan
---
STAAL'S BEST MOMENTS WITH PENS

Center Jordan Staal may wear red now as a member of the Carolina Hurricanes, but he was an integral part of Penguins history. Staal played his first six NHL seasons in Pittsburgh, and was instrumental in helping the team claim two Eastern Conference championships and a Stanley Cup title in 2009.
Staal faces off against his former teammates for the first time Thursday in Carolina. Until then, here's a look back at his best career moments from his days in a Penguins' sweater.
Click here for Staal's best moments.
--Sam Kasan
---
START THE DAY
Today is the much anticipated first matchup between the Penguins and Hurricanes. Fans have been waiting for this game ever since the NHL Draft in Pittsburgh last June, when the Penguins traded Jordan Staal to Carolina in exchange for center Brandon Sutter, Brian Dumoulin and the eighth-overall pick (Derrick Pouliot).
The Canes have the ice at 10:30 a.m. We'll talk to Staal following. The Pens hit the ice at 11:30 a.m. for their morning skate.
KIPPER'S SONG FOR THE GAME
There's a good reaosn why I omit this part when I copy and paste this stuff from the Pens website. Sam Kasan has to be one of the most musically retarded people given the job of selecting music that I've seen. Most of his choices are ****ty avant garde weirdo shoe gazing bands or he puts up stuff like "Call me maybe" today :facepalm:
With that said, I'm going with "Glad to see you go" by The infidels... the title says all about what I think about Jordan Staal. Infidels were a regional band back in the early 90's. Youtube doesnt have the original version of this song which is more punk and rock, they've obviousl;y mellowed with age :D