13-6-0 | 26 Points 5-9-4 | 14 Points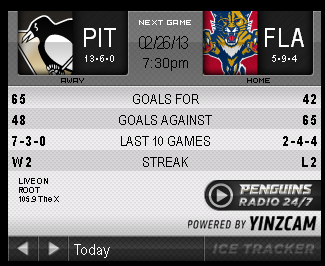 Penguins Report: Game Day at Florida

Tuesday, 02.26.2013 / 10:54 AM / Features
Pittsburgh Penguins



Comment



Print

Verizon Game Day Report
Vokoun starts and more
Pens morning skate details
PensTV locker room interviews
Pens practice pics
Pens' quotes
Pens-Panthers preview
Weiss out tonight
Plays of the week
"Some day you will get the best of me..."
---
VERIZON GAME DAY REPORT
It's sunny and gorgeous down in Florida today, so Sam went to the beach to give us all the latest game day updates. Love it!
--Michelle Crechiolo
---
PENSTV INTERVIEWS
Tomas Vokoun

Sidney Crosby

Mark Eaton

Coach Bylsma
--Michelle Crechiolo
---
THEY SAID IT...



--Sam Kasan
---
UPDATES FROM BYLSMA
Following morning skate, coach Dan Bylsma had a few updates...
Tomas Vokoun will get the start in goal tonight against his former team
Mark Eaton will not play vs. the Panthers
Right now Evgeni Malkin, who is out with a concussion, is following protocol and is simply resting. No off-ice workouts for Malkin and no timetable on when he'll resume workouts
--Michelle Crechiolo
---
PENS PRACTICE PICS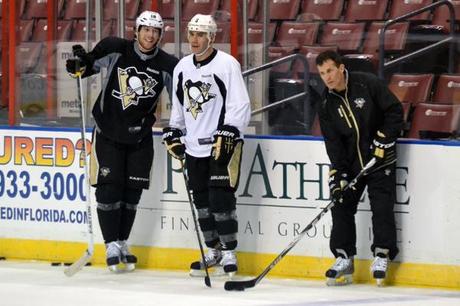 Great pic of Neal, Dupuis and Tony Granato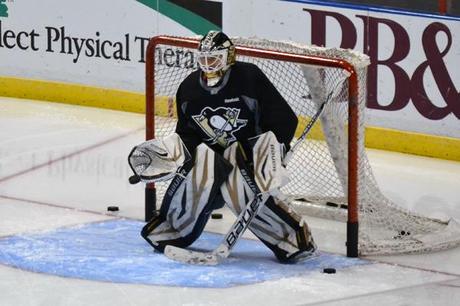 Tomas Vokoun played 248 career games with Florida from 2007-11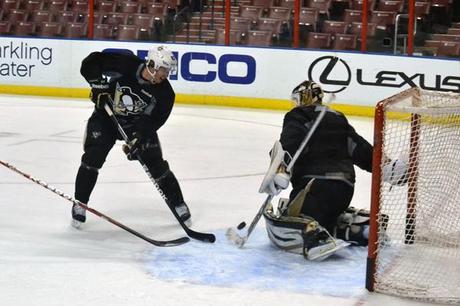 Crosby drives to the net hard while Vokoun guards the cage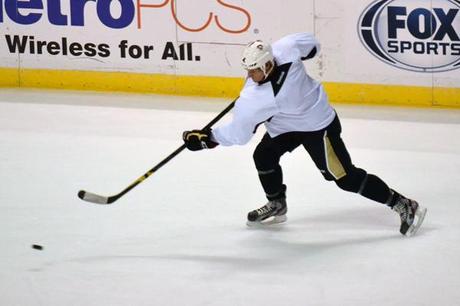 Mark Eaton signed a one-year deal with the Pens yesterday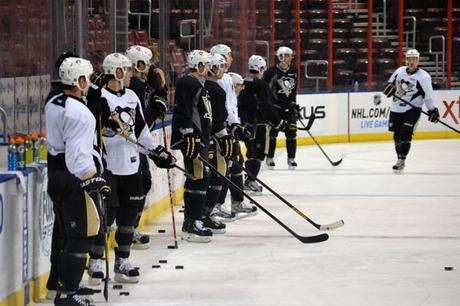 Group shot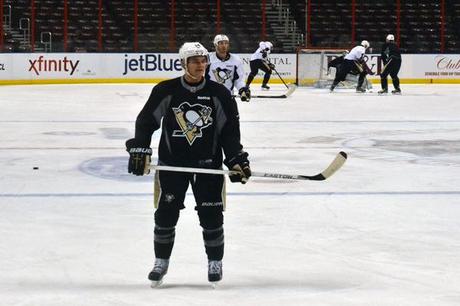 Chris Kunitz waits patiently for the drill to start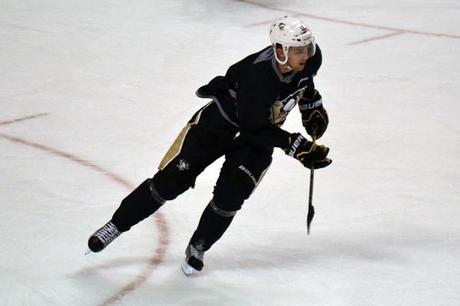 Brandon Sutter flies up the ice
--Michelle Crechiolo and Sam Kasan
---
WEISS OUT

--Sam Kasan
---
MORNING SKATE INFO
The Pens used the following lines and D-pairs at the morning skate...
Kunitz-Crosby-Neal
Cooke-Sutter-Dupuis
Bennett-Jeffrey-Kennedy
Glass-Vitale-Adams
(Boychuk)
Orpik-Martin
Niskanen-Letang
Engelland-Despres
Eaton-Bortuzzo
Top power-play:
Letang-Martin
Crosby-Kunitz-Neal
--Sam Kasan
---
PLAYS OF THE WEKK
It's Monday. So it's time to look back at the best plays of the previous week.
--Sam Kasan
---
GAME PREVIEW
Home isn't so sweet for the Panthers, as they haven't won there since Jan. 31. They lost their fifth straight game at the BB&T Center on Sunday when they fell to the Boston Bruins, 4-1. Overall, the Panthers have won just two of nine home games this season. That can't have them feeling confident heading into Tuesday's game, as they will be hosting one of the league's best road teams in the Penguins. Pittsburgh has an 8-2 record on the road, which ranks second in the league behind the Chicago Blackhawks and first in the Eastern Conference.
Another takeaway from Sunday's game is longtime Panther Stephen Weiss getting benched in the third period. Panthers coach Kevin Dineen started Weiss between Jonathan Huberdeau and Peter Mueller to start, but the line experimenting didn't work and the Panthers' all-time leader in games played found himself on the bench. Weiss has consistently been at or near the top of the team's points list during his 11 seasons with the Panthers, but right now has just one goal and three assists through 14 games this season.
Full story.
--Sam Kasan
---
START THE DAY
The Pens are in sunny Florida for a 7:30 p.m. showdown with the Florida Panthers at BB&T Center. Pittsburgh will hit the ice for an 11 a.m. morning skate at BB&T. The Panthers are holding their morning skate at their practice facility.
KIPPER'S SONG FOR THE GAME
Today's song is "Back to the Bullet" by Saraya. Loved this song and album when it came out. Sucks that the music video os a rock mix compred to a more poppier mix on the cd and I can't find it :mad: .
How Sandi Saraya's looks didn't get this band ahead is beyond me. Cute as hell brunette, good pop/rock song and instead we were gettiong Alannah Myles :facepalm: