0-1 1-0
Wandy, Bucs aim to even series vs. Jackson, Cubs
By Paul Casella / MLB.com | 4/1/2013 8:05 PM ET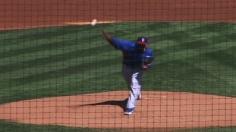 Jackson on strong start to spring, goals for season
If the World Baseball Classic was any indication, Pirates left-hander Wandy Rodriguez is in line for yet another strong start to the season when he toes the rubber Wednesday night against the Cubs at PNC Park.
Rodriguez routinely turns in solid outings out of the gate, carrying a 2.95 lifetime ERA in April during his eight-year career. He seemed to channel that early-season success for the Classic as well, going 1-0 with a 0.96 ERA in two starts while helping the Dominican Republic win the title.
"He definitely got himself prepared for the Classic," Bucs pitching coach Ray Searage said. "We were keeping track of him, and he got himself ready a month earlier."
Despite preparing for the season a month earlier than usual, the Pirates are hoping Rodriguez is in his normal opening-month form when he takes the mound opposite Edwin Jackson on Wednesday. Last season, with the Astros, Rodriguez allowed just six earned runs over 31 1/3 innings (1.95 ERA) over five April starts..
"I wasn't even aware of that, but that sounds good," said Pirates shortstop Clint Barmes. "It's very important that you get off to a good start, it's definitely what we need to do, and it's not surprising at all out of Wandy. He's got very good stuff, and when he's on, he's tough to handle."
The Pirates will be looking to rebound from Monday's 3-1 loss when they take on Jackson in his Cubs debut. Jackson, pitching for his eighth team in 11 Major League seasons after signing with the Cubs this offseason, went 10-11 with a 4.03 ERA in 31 starts with the Nationals last season.
Though the right-hander has pitched for three teams in the last two seasons alone, he has proven to be a reliable starter throughout his career. In his final Spring Training tuneup Friday, both the good and bad extremes of Jackson's game were on full display.
Along with conceding five runs on five hits, a walk and a hit batter, Jackson notched nine strikeouts in just four innings. After giving up a three-run homer in the second, Jackson turned into the pitcher the Cubs hope to see all season, retiring nine of the next 10 and striking out the side twice in a three-inning span.
"[The way he pitched] after that homer," said manager Dale Sveum, "we've got to get that out of him on a day-to-day basis."
Cubs: Barney starts season on DL
Opening Day didn't exactly go as planned for second baseman Darwin Barney. Instead of taking his spot in the Cubs infield, Barney was placed on the disabled list before to Chicago's 3-1 season-opening victory over the Pirates.
Barney, last year's National League Gold Glove winner among second basemen, is on the DL retroactive to Sunday with a deep laceration on his left kneecap suffered Saturday while tracking down a pop fly in the club's final exhibition game. He will be sidelined at least two weeks.
"You take five stitches anywhere else on the body, he would've been playing," Sveum said. "It's right on the middle of the kneecap, and any time you bend it right now, it would rupture the stitches. It's unfortunate. He'd be playing if it was on the shin or something like that. Unfortunately, it was right on the kneecap."
Barney missed just six games last season, hitting .254 with 26 doubles, four triples, seven homers and 44 RBIs in 156 games. Brent Lillibridge filled in at second base on Monday, going 0-for-3 with three strikeouts before being lifted for Alberto Gonzalez, who also struck out in his lone at-bat.
Pirates: Hurdle confident Martin will cut down opposing runners
It was no secret that all too often last season, once an opposing runner reached base, he quickly moved into scoring position by swiping second base with little opposition from the Pirates.
Manager Clint Hurdle made that a focal point this spring, working with both his pitching staff and new catcher Russell Martin to cut down on last season's 90-percent (174-of-193) success rate of opposing base stealers.
"I keep hearing about this and that from last year. But it's a new year," Martin said. "I have confidence in my ability to get rid of the ball, and my arm strength, so hopefully the work we put into it as a pitching staff is going to make us more confident, and we won't even have a question anymore."
Though the Cubs were 2-for-2 on stolen base attempts in Monday's season opener, Hurdle is confident his pitching staff and catching corps will put up a much stronger fight as the season progresses.
"One of the takeaways [from Spring Training] has to be the attention to detail in this area," Hurdle said. "Guys have bought into it, and they now know it is a weapon that will make everybody better. I think we made good progress with it."
Worth noting
• Cubs outfielder Alfonso Soriano is just 5-for-41 with 12 strikeouts in his career against Rodriguez. The .122 average is Soriano's worst against any pitcher whom he's faced more than 35 times.
• The Cubs and Pirates have tied the season series each of the last two years, winning eight games apiece in 2011 and '12.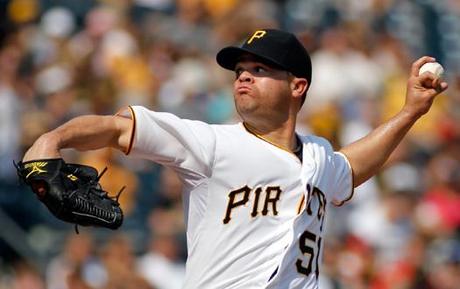 Wandy Rodriguez, LHP
0-0, -.-- ERA
If there is a Pittsburgh pitcher already in midseason form, it is this veteran lefty, after helping pitch the Dominican Republic to the World Baseball Classic title. Rodriguez had a 2.25 ERA in three 2012 starts against the Cubs.
Expanded Stats
Career Stats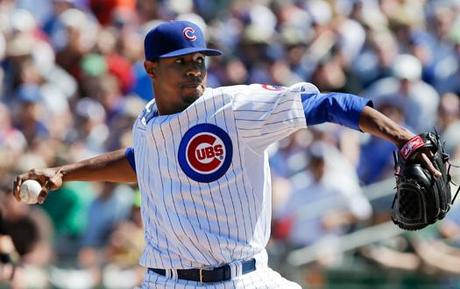 Edwin Jackson, RHP
0-0, -.-- ERA Jackson -- signed to a four-year, $52 million deal -- is one of the more durable pitchers, averaging 199 innings over the last five years.
Expanded Stats
Career Stats