11-5-0 | 22 Points 7-9-1 | 15 Points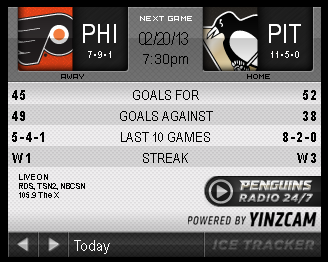 Penguins Report: Game Day vs. Philadelphia

Wednesday, 02.20.2013 / 10:00 AM / Penguins Report
Pittsburgh Penguins



Comment



Print

Verizon Game Day Report
Roster/Lineup updates
Vokoun starting in goal
Morning skate deets
Locker room quotes
Pens' top line producing
PensTV interviews
Pens-Flyers preview
Pens pictures
Flyers pictures
Two thumbs up for Sid-Sational
"I. Hate. Everything about you..."
---
VERIZON GAME DAY REPORT
--Sam Kasan
---
SOUNDS HEARD AROUND THE LOCKER ROOM
Sidney Crosby


Tomas Vokoun


Kris Letang


Mark Eaton


Claude Giroux
--Sam Kasan
---
VOKOUN STARTING
Marc-Andre Fleury started six of the last seven games for the Penguins, but tonight it's Tomas Vokoun who will be in goal for Pittsburgh against the Flyers.
When asked if starting Vokoun tonight was because of a previous schedule or because of some other rationale, Bylsma responded, "I would say that we're a little bit off the script at this particular time for various reasons. Marc has been playing a lot. He's been playing well and maybe got one more game in our rotation because of that. Tomas hasn't played for a while. We wanted him to play against Philly at some point in time in this season and it's this game here at home."
This will be Vokoun's first time experiencing the Penguins-Flyers rivalry, but the veteran goalie said after morning skate that he's not thinking about that at all. His focus is on his own game and what he can do on the ice to help his team be successful.
"I just got here," he said. "I haven't been part of it. So for me, it's a game. I never get caught up too much in the rivalries and stuff like that. You go into every game and you want to do well. You want to win the game no matter who you play against. Obviously there's some history between these teams being from the same state and all that. I'm sure you get a little bit more caught up in it once you're a part of it.
"For me, just coming in, it's a game I want to do well in. I want to help the team win. That's as far as I'm concerned."
--Michelle Crechiolo
---
FLYERS PICS
The orange and black has invaded CONSOL Energy Center...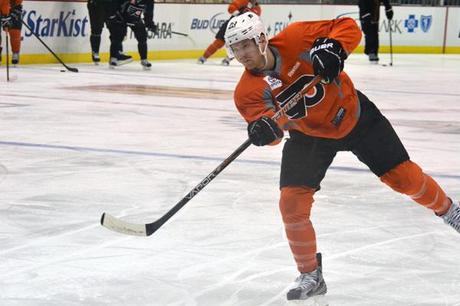 Captain Claude Giroux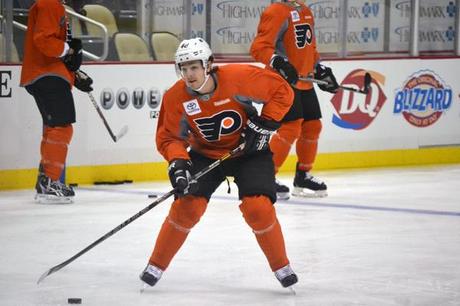 Danny Briere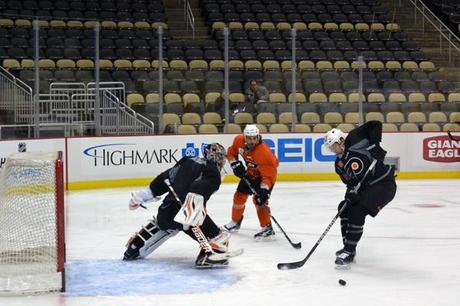 Bryzgalov slides over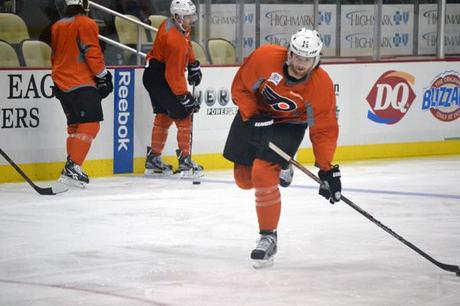 Sean Couturier
--Michelle Crechiolo and Wes Crosby
---
THEY SAID IT





--Michelle Crechiolo
---
PENS PICS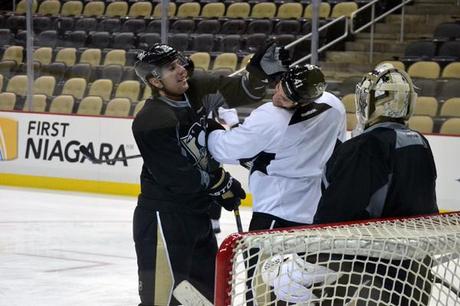 Neal gives Bortuzzo a facewash in front of the net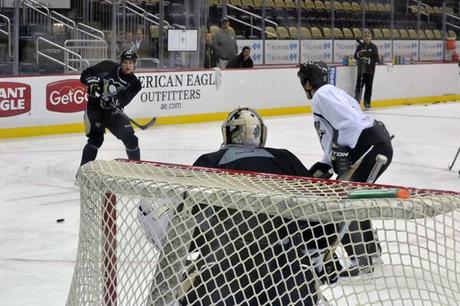 Crosby attacks the goal while Engelland and Fleury defend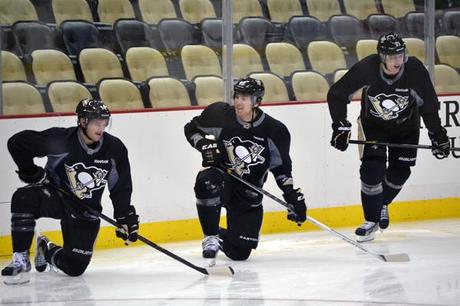 Neal and Malkin stretch alongside their former liney Kunitz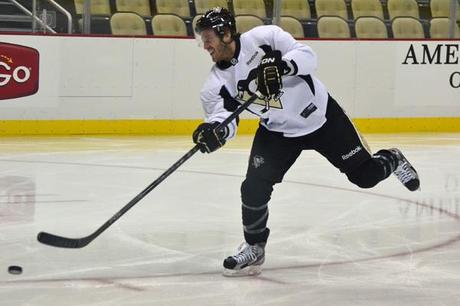 Vitale rips a puck at the net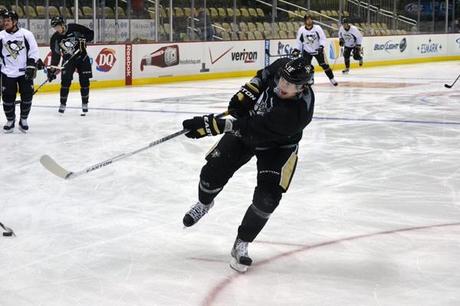 So does Neal (he's in a lot of photos today)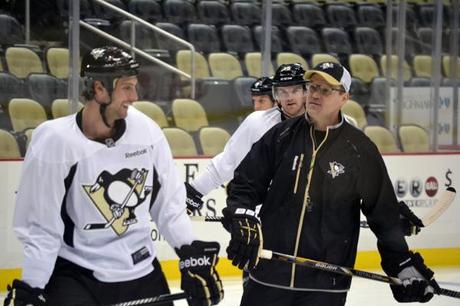 Bortuzzo and coach Bylsma
--Michelle Crechiolo and Wes Crosby
---
LINEUP UPDATES
Head coach Dan Bylsma had a couple of notes regarding the team's roster...
Vokoun starting in goal.
Tonight's lineup is game-time decision.
No injuries to report.
Eaton is not signed or part of 23-man roster. Just skating and practicing with team for few days
--Sam Kasan
---
MORNING SKATE INFO
The Pens welcomed a new/old face for the morning skate. Defenseman Mark Eaton, who was released from his PTO with WBS this morning, joined the club for the skate. Eaton played four seasons for the Pens from 2006-10, and won a Stanley Cup with the club in '09. Eaton was always a class act with the organization, always worked well with the media and a go-to quote after a tough loss. A true quality guy, nice to see him on the ice again.
Pens lines for the morning skate...
Kunitz-Crosby-Dupuis
Cooke-Malkin-Neal
Bennett-Sutter-Kennedy
Glass-Vitale-Adams
The groups did rushes of three, so the defensemen weren't in pairs.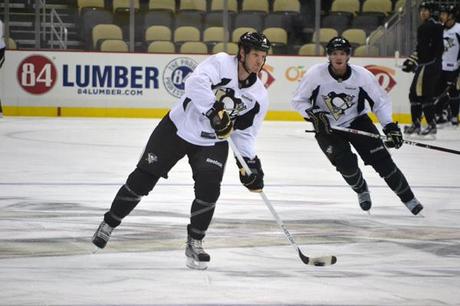 --Sam Kasan
---
SID-SATIONAL

Coming soon to a theater near you...
--Sam Kasan
---
TOP LINE
The Pens best line so far this season has been the triumvirate of Chris Kunitz, Sidney Crosby and Pascal Dupuis. Michelle Crechiolo talked to the guys about why they've been so successful.
In the last 11 games, they have combined for 45 points (15G-30A) for an average of 4.09 points per game. The three of them have scored 40.5 percent of the Penguins goals since Jan. 29 (15 of 37).
Both Crosby and Kunitz ranked among the NHL's top-10 leading scorers as of Tuesday. Crosby ranked second with 24 points (7G-17A) – just one point behind top point-getter Thomas Vanek – while Kunitz ranked eighth (6G-13A). Dupuis' seven goals and 12 points are impressive totals as well.
So what continues to make this line work so well together and produce so much offense?
Full story here.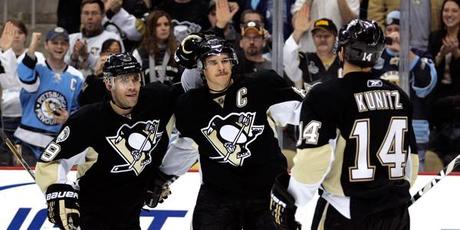 --Sam Kasan
---
GAME PREVIEW
Coach Peter Laviolette has had to continuously shuffle his lines due to injuries. Right now, their biggest loss is top-line winger Scott Hartnell, who is recovering from a broken foot. Sam Carchidi of the Philadelphia Inquirer reported that Hartnell, who scored 37 goals last season and is a key net-front presence on the Flyers power play, will not play Wednesday but is possible to return later this week. The Flyers signed veteran forward Mike Knuble to a one-year deal after Hartnell went down, and he's got five points (3G-2A) in 13 games.
Full preview here.
--Sam Kasan
---
START THE DAY
Pens. Flyers. Need I say more? I will anyway, because I'm paid to do so. The Pens host heated cross-state rival Philadelphia tonight at CONSOL Energy Center at 7:30 p.m.
Pittsburgh will hit the ice at 10:30 a.m. for their morning skate, followed by the Flyers at 11:30 a.m. Stay tuned here for all the latest news and updates to get you ready for tonight's bitter showdown.
KIPPER'S SONG FOR THE GAME
Started thinking about the Philadelphia flyers and how they haven't won squat in over 35 years and "Wasted Years" by Iron Maiden pops in my head. I would have to say that those have been a lot of wasted years for the Flyers, choking and failing