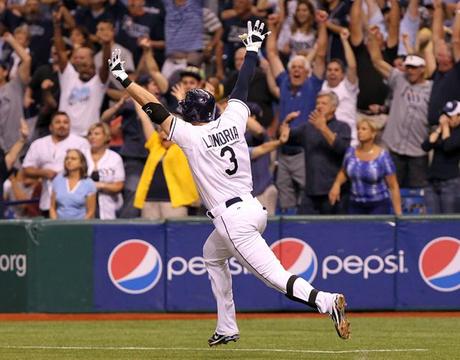 On Wildcard Wednesday, I had dinner with a psychic. To be clear, I do not believe in such things as healing powers and visions and auras and, well, psychics. The psychic, a bewitching woman with a mess of blonde hair and crystal clear blue eyes, knew this. My amusement, skepticism, and outright cynicism. The psychic is a very good friend of mine and a fellow attorney. While I do not buy into such crap, at least on an academic level, I am beyond curious about what she claims to see. As we caught up over steak sandwiches and baybreezes, I anxiously checked scores on my Blackberry, but never thought to ask her – the visionary before me who believes in destiny to a fault – if she sensed anything special was about to unfold. I am not sure that anyone in the world could have predicted what would happen. Game 162, 2011: The Best Night of Baseball Ever.
After dinner, I rushed back to my apartment. While I did not learn the fate of any baseball team, I was later informed that my dead mother is trying to communicate with me through my best friend/gay husband. Totally normal. And not creepy at all. To be honest, I really wish I had learned this earlier, because I am certain that mom probably said something along the lines of, "Jesus Christ, it is just baseball. I do not understand why you aren't watching Revenge instead. You know it was shot in Wilmington, right? Really, there must be a better way you can spend the next five hours of your life. You have no idea what it was like to sit in the bleachers all those years, in freezing temperatures, just to watch you run around in a square. But you got your athleticism from me, you know; I was a phys ed teacher at one point. Still, we did not force you to play the flute and attend arts and crafts classes and laughable attempt to get you to join Girl Scouts just so you would continue to obsess about this sport that takes forever to play. Listen, I have dinner plans with Farrah Fawcett and Princess Di, so I have to fly. Ugh, fine. All of the animal teams will win. But the Native Americans, oh it is so sad. They will be used, beaten, and extinguished…again. This time, not by disease, but by bigger assholes than Christopher Columbus. And I like the Stingrays too, but that Joe Maddon really needs to cut his hair."
I gave up on the Yankees-Rays game after Mark Teixeira hit his grand slam. I don't think I have ever been so pissed off at a Yankee home run in my entire life. Disgusted, I flipped back to ESPN, where the Red Sox were still torturing me in a 3-2 game. But then the skies opened up and the rain poured down. I believe in Biblical omens much like I believe in psychic powers. Nevertheless, I refused to watch the Yankees usher Boston into the playoffs, so that led me to the MLB Network, where Craig Kimbrel – Rookie of the Year for Joe Girardi's Braces – was in the midst of a blowing a heart-wrenching save for the Braves. His baby-face looked exhausted, exasperated, and overworked. I felt badly for perhaps 45 seconds, before going back to YES due to lack of better options.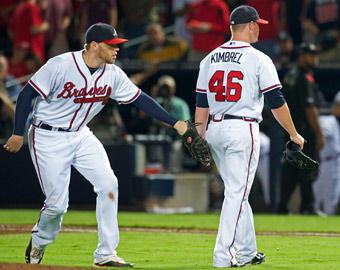 And, holy mother of god, the Rays somehow scored six runs in the eighth inning and were now only down by one. I frantically searched the internet to find out how this ridiculousness happened. The Rays had two hits up until that point, two hits! Amazed, I read reactions on Twitter, just as the Cardinals sealed up their 8-0 victory. Now in the ninth inning, the Rays were down to their last out and they sent up Dan Johnson to the plate. My first thought was, "Weird, he looks like Owen from Grey's Anatomy." My second thought was, "Dan Johnson? Really?!" After all, Dan Johnson is a baseball lifer, who has nearly 1,000 games in the minor leagues and was playing in Japan only two years ago; Dan Johnson had a .108 batting average and had not gotten a hit since April; and Dan Johnson had only ten hits all season, with one home run. I do not normally doubt Joe Maddon, but at that point, I was pretty much petrified. With two strikes, Dan Johnson then proceeded to lace a brain-exploding homerun just inside the right-field foul pole to tie the game at 7-7. I almost peed my pants.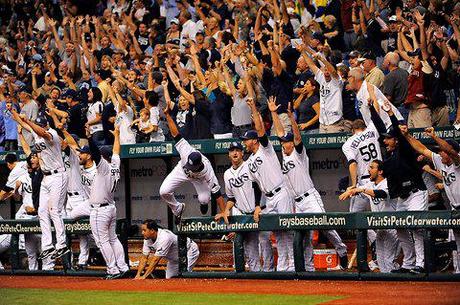 Shortly thereafter, the Sox-Orioles game resumed in Baltimore. I was having a minor panic attack trying to figure out how to get a picture-in-picture on my big screen so that I could watch both games, but I ultimately failed, thereby causing me to flip back-and-forth between channels like Rain Man. Eventually, the Braves were painfully taken out in the 13th inning on a pathetic broken-bat single by former teammate Hunter Pence. I respect the Braves, the longevity of their relevance and success, but they totally deserved this; their bats disappeared and their infallible bullpen fell apart. At this point, I had the Yankees ruining Scott Proctor's career for the second time, pitching him until he dropped or the Rays eventually took the game we were subtly trying to hand them. I had a feeling that it was not a matter of if, but when, the Rays would seal the deal and – at the very least – guarantee a Game 163. So I decided to stick with the ninth inning of the Red Sox game.
My precious Orioles were down to their last three outs, the bottom of their order was up, and Jonathan Papelbon looked like he was throwing fire. I was annoyed, waiting for the inevitable fist pump and infuriating smirk as he walked off the mound. He struck out the first two batters and looked, literally, like flames would come out of his nose. It reminded me very much of Roger Clemens and Curt Schilling, both of whom I also detest. Then Chris Davis knocked a two-out double. Followed by Nolan Reimold's ground-rule double that tied the game. I was ecstatic. You could see the looks of dread and fear on the faces of the Red Sox, and I felt my own dread turn to hopeful glee. I quickly checked on the Yankees to make sure they hadn't fucked this up for me, but the game was still tied. Back with my nemesis Jonathan, I watched Robert Andino, who had screwed the Red Sox last week, step up to the plate with the game on the line. Win or lose, the Orioles had genuinely impressed me; unlike the Red Sox, they were playing like they this game meant everything to them. They were laying it all out on the field. And that is when the Curse of the Great Andino was instilled into baseball lore. I stood up from the couch as I watched his sinking liner to left field sink…and sink…and the underachieving neck-tatted Carl Crawford slide…and the ball seem to go into his glove…but wait, is that a flash of white on the grass…did he drop the ball?...oh my god, he dropped the ball, he didn't fucking catch that clearly catchable ball!....this is almost fitting considering his horrendous season….but are the Orioles really….no…oh my god, they are….THE ORIOLES JUST WON THE DAMN GAME. I allowed myself a moment of pure shock, I watched the replay, and then rewound it again, the stunned and horrified look on Papelbon's face enough to sustain me for life. It was better than sex.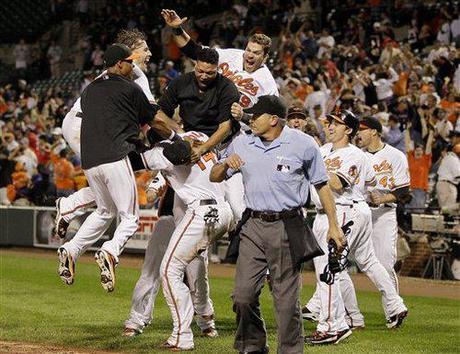 I flipped back to the Yankees-Rays game to find Evan Longoria stepping out of the batter's box. He was distracted by the 46 fans left at The Trop, who were going insane as the final score of the Red Sox game was announced. And when he stepped back in, mere minutes after Boston collapsed, he laced a line-drive homerun that just made it over the wall in left field. He raised his arms as he ran to first, and the Rays poured out of the dugout, jumping around like little kids. It was unbelievable, unpredictable, unscriptable, and simply magical. With one violent hack and his second home run of the night, Evan Longoria ended the Red Sox season, propelled his team into the playoffs, and made baseball history, joining the ranks of the once incomparable Bobby Thompson and his Shot Heard 'Round the World.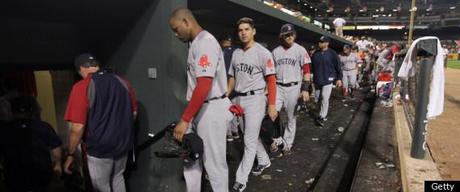 There would be no need for Game 163. And I am not sure that we could have handled it. As humans. Across baseball, Game 162 had enough anxiety inducing, heart breaking, career changing, and miracle making moments for an entire season, let alone one night. It was, by far, the best night of baseball I have ever watched. And I could not be happier for the Tampa Bay Rays. Stuck in an awful stadium, with a $41 million payroll, a roster full of nobodies, a pathetic fan base, a superstar (and juiced) DH who abruptly retired during the first week of the season*, down nine games in September, their season down to the last strike, the Rays had no business making the playoffs. But they did. And I adore them for it. I find the Rays charming, much like the Butler Bulldogs. There is so much to admire about tenacity and heart and hustle. About professional athletes wearing collegiate letterman's jackets on road trips. Or training a chubtastic furball to mingle in your student section. There is so much to be said about chemistry, which the Red Sox clearly lacked this season. So if Brad Stevens is the Harry Potter of college basketball, then Joe Maddon is my Dumbledore. The Rays earned this. And while it is nice to revert to being a normal Yankees fan again, I will say this: if Justin Verlander knocks us out of the playoffs, Tampa Bay has found their biggest supporter for the rest of 2011.
*I cannot believe Manny didn't just serve his suspension. He would have been in the midst of the greatest playoff race ever, against his former club.  Maybe he and his wife beating ways would have been the wedge that tore the Rays apart. But maybe he would have saved them long before Game 162.  Now he wants to un-retire, he still has to serve his suspension, and he needs to convince a team to sign him with this suspension, after he hasn't played baseball in a year.  Manny, you should really stop being so damn Manny.  
Unbelievably, Wildcard Wednesday began with a psychic. And it somehow ended with the stars aligning, destiny unfolding into sheer perfection, and the Red Sox imploding into a fatalistic and all-too-realistic hell. It turned me into a believer. Good god, baseball is the greatest game on earth. And anyone who thinks otherwise did not see Game 162.