7-8 13-2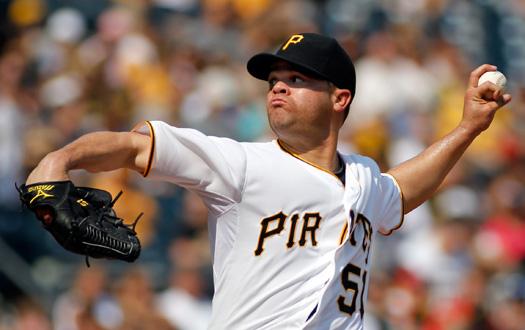 Wandy Rodriguez
, LHP
1-0, 1.00 ERA
Rodriguez was scratched from an outing Sunday because of a strained left hamstring, but he was able to make it through a bullpen session on Wednesday. Rodriguez left the April 8 game in Arizona after just 2 1/3 innings when he injured his hamstring.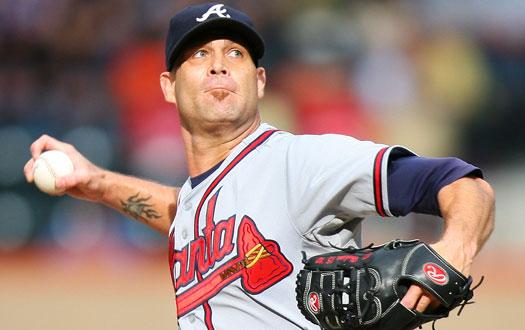 Tim Hudson, RHP
2-0, 2.50 ERA
Hudson has allowed just two earned runs and seven hits while totaling 13 2/3 innings in his past two starts. As his arm strength has improved the past couple weeks, his cutter, splitter and curveball have been more effective.
Hudson takes on Bucs with major milestone in sight
By Andrew Simon / Special to MLB.com | 4/19/2013 1:00 AM ET


On June 13, 1999, a 23-year-old Tim Hudson picked up his first career win, pitching seven stellar innings for the A's, who beat the Dodgers in Oakland.
Almost 14 years later, the right-hander is still going strong, and on Friday night in Pittsburgh, he will have the opportunity to reach a significant milestone, going for victory No. 200 when the Braves play the second of a four-game series.
At 199-104 for his career, he can become only the third active pitcher to reach the 200 plateau, joining the Yankees' Andy Pettitte (247-142) and the Phillies' Roy Halladay (200-102), who hit the mark on Sunday.
"I feel like it's pretty important," said Hudson, who has notched 107 of those victories in nine seasons with the Braves. "But realistically, I'm going to go about my business the way I always do. There's no added pressure. I'm just going to try to give us a chance to win.
"It's really nothing I ever thought of. The first time it ever really crossed my mind was when I got my 150th win, [on May 1, 2010]. I thought, 'Man, I'm just 50 from 200. That's not really that long if I stay healthy.' Those are just things you think about. Anything can happen. But you've got to have a little luck go your way and keep your preparation level at a high level, and you've got to be on some teams that win."
Hudson has been on his game in his last two starts, holding the opposition to two runs on seven hits in 13 2/3 innings. He will be trying to continue the Braves' early-season success; Atlanta won Thursday's series opener after seeing its 10-game winning streak end on Wednesday. The Braves are 13-2 and haven't lost a game in which they've scored at least one run.
The Pirates went into the series having won six of eight games since a sweep at the hands of the Dodgers dropped them to 1-5. Pittsburgh scored two runs during that series but has hit the ball better of late.
Although the Bucs lost on Thursday, there were two bright spots: home runs by catcher Russell Martin and third baseman Pedro Alvarez, both of whom have been mired in season-long slumps.
"There's not one guy there that we can't beat," Pirates manager Clint Hurdle said. "It's amazing what a difference a week makes; we're coming out of Los Angeles, wondering if we are going to hit. We'd love to do what we did last year for a couple of months, where we had everybody in play on offense."
Hurdle will counter Hudson with lefty Wandy Rodriguez, who will be making his first start since straining his left hamstring on April 8, when he lasted only 2 1/3 innings against the D-backs. Rodriguez, who made it through a bullpen session on Wednesday, threw 6 2/3 scoreless innings against the Cubs in his only other start, on April 3.
Braves: Another chance for Laird
Gerald Laird will start his second straight game on Friday, the first time this season he has caught consecutive contests. The veteran, who went 0-for-1 with a walk on Thursday, is 4-for-7 with a double in his career against Rodriguez.
The club's other catcher, Evan Gattis, will play his second game at first base a day after smacking his fifth home run, this one as a pinch-hitter. Chris Johnson will play third, pushing Juan Francisco to the bench. Francisco is a career .176 hitter against left-handers.
• Center fielder B.J. Upton started Thursday's game with his first leadoff home run as a member of the Braves and the ninth of his career.
Pirates: Jones on a roll
Garrett Jones hit safely in his 10th consecutive start on Thursday, going 1-for-2 with a double and two RBIs. That left him 14-for-34 in those starts and 11-for-24 in his last eight games overall.
• Left fielder Starling Marte went 0-for-5 on Thursday to snap his 10-game hitting streak. Marte, who has hit safely in 12 of his 15 games, was 19-for-43 with three doubles, two triples and a home run during the streak.
Worth noting
• Hudson leads all active pitchers with 113 starts of at least seven innings and no more than one run allowed. That accounts for 27.7 percent of his career outings.
• Current Pirates are hitting .198 with no home runs and a .267 slugging percentage in 116 at-bats against Hudson, who is 3-3 with a 2.55 ERA at PNC Park.
• Rodriguez has a 3.41 ERA in 12 career games against the Braves.