10-5-0 | 20 Points 6-8-1 | 13 Points
2986bc9f3e8d4210ac08232.png

Penguins Report: 2/16/13

Saturday, 02.16.2013 / 5:26 PM / Penguins Report
Pittsburgh Penguins



Comment



Print

Practice info
Stopping Vanek
Fleury misses record
PensTV interviews
Practice pics
Quotables
Ultimate Bangarang
Start the day
---
ULTIMATE HIGHLIGHT
Gotta give a shoutout to my man Darren for putting together this awesome video below. Best part is his use of Skrillex's "Bangarang." #Dubstep
--Sam Kasan
---
LOCKER ROOM SOUND
Dan Bylsma

Marc-Andre Fleury
Paul Martin
--Sam Kasan
---
QUOTES HEARD AROUND THE ROOM



--Sam Kasan
---
PRACTICE PICS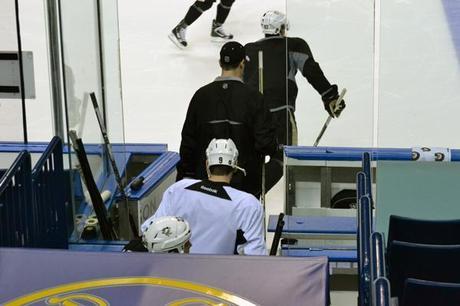 Players coming out for practice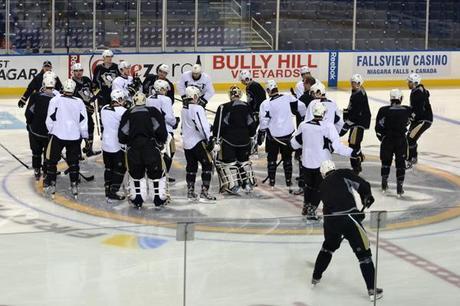 Coach Bylsma goes over the practice plan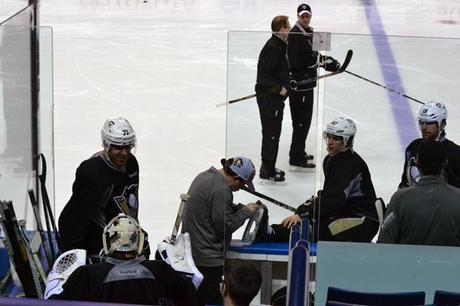 Crosby gets his skate sharpened while Neal looks on and Malkin chats with Fleury. A lot talent in that small radius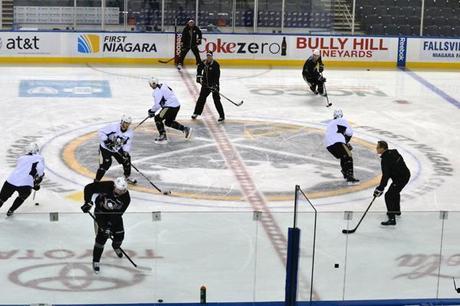 Puck work in the neutral zone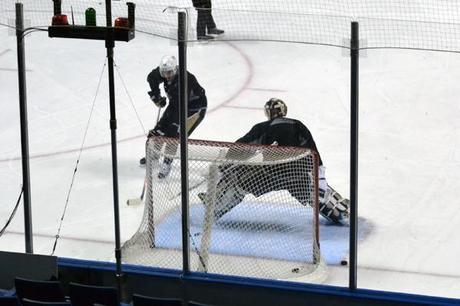 Vokoun lunges but cannot make the save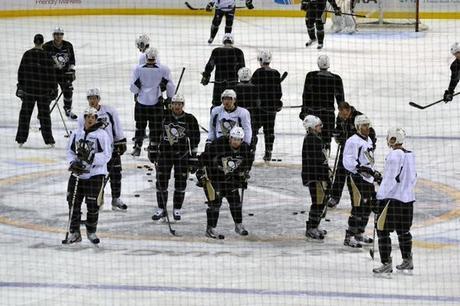 Lined up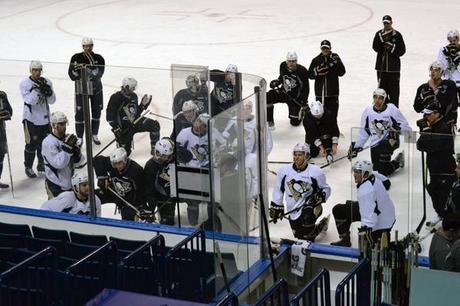 Instruction time
--Sam Kasan
---
RECORD DELAYED
Marc-Andre Fleury has 22 career shutouts. He needs one more to pass Tom Barrasso and become the club's all-time leader. It appeared that was going to occur Wednesday night in Winnipeg. However, with just 1:35 to play in the game the Jets' Andrew Ladd scored to break the bid. Fleury did still come away with a victory.
"I was a little disappointed but what matters is that we got two points. That's the bottom line," he said.
Fleury made 26 saves and it wouldn't be outrageous to state that he stole two points for the Penguins that evening.
"When nothing's going in you feel comfortable, confident," Fleury said. "That was fun to play. When nothing is going in, that's a good time to play hockey."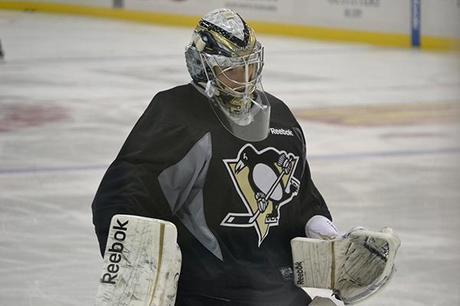 --Sam Kasan
---
WIDE SPREAD VANEK
There's no doubt that the best player in the NHL at the start of this season is Sabres forward Thomas Vanek. He leads the league in goals (11) and points (23). In fact, he scored all 11 goals and 23 points in the opening 11 games of the season. Although he's been held pointless in the last three contests, that's probably even more reason for the Penguins to be concerned.
"Vanek started off extremely hot," head coach Dan Bylsma said. "It's not something new. He's a dangerous player, skilled player, makes plays, scores goals. … He's a dangerous guy that we're going to have to watch."
The Penguins top defensive pairing consists of Brooks Orpik and Paul Martin. And Bylsma will likely match that pair against Vanek every time he can.
"He's deceivingly fast, has great hands, especially around the net as far as tipping and screening," Martin said. "He's smart. Finds right areas of the ice. As a defenseman you try to take away his time and space and limit his opportunities. It takes the whole group to realize where he is on the ice and try to shut him down."
--Sam Kasan
---
PRACTICE INFO
The Pens hit the ice at 2:45 p.m. for practice. The entire team was present and accounted for.
The combos and pairings haven't changed from Wednesday's game in Winnipeg.
Kunitz-Crosby-Dupuis
Cooke-Malkin-Neal
Bennett-Sutter-Kennedy
Glass-Vitale-Adams
(Jeffrey, Boychuk)
Orpik-Martin
Niskanen-Letang
Engelland-Despres
(Bortuzzo)
--Sam Kasan
---
START THE DAY
The Penguins woke up this morning in Winnipeg. They boarded a flight for Buffalo and headed straight from the airport to First Niagara Center for a late afternoon practice.
On Sunday the Pens will battle the Sabres in a 12:30 p.m. contest on NBC.
KIPPER'S SONG FOR THE GAME
Since today is my Birthday, and most Birthday songs absolutely suck... There' is this gem because anything Star Wars is :beer: (except Jar-Jar Binks)