9-5-0 | 18 Points 5-6-1 | 11 Points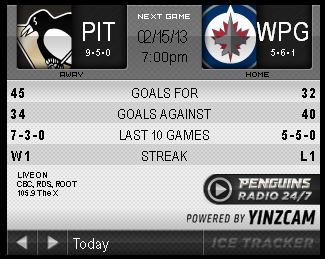 Penguins Report: Game Day at Winnipeg

Friday, 02.15.2013 / 9:00 AM / Penguins Report
Pittsburgh Penguins



Comment



Print

Bennett makes NHL debut tonight
Game Day Report
Orpik hits 600
Beau knows Winnipeg
Morning skate info
Bennett's freak hotel encounter
Photo of the day
Locker room sound
Pens-Jets preview
Tangradi talks
Tangradi at Jets skate
Pens pics
"Dear daddy, I write you..."
---
GAME DAY REPORT
Here's what you need to know about tonight's game in video form...
--Sam Kasan
---
PHOTO OF THE DAY
Provided by Pens equipment manager Dan Heinze.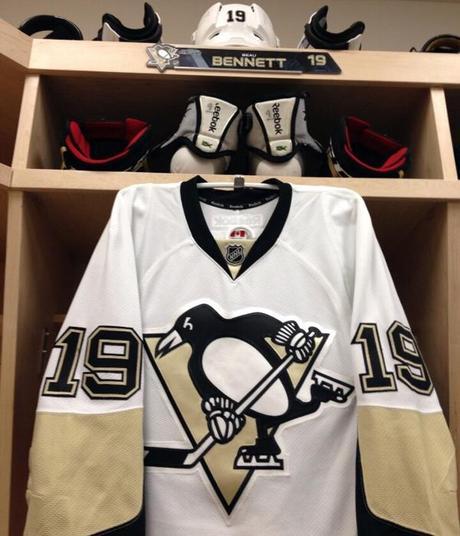 --Sam Kasan
---
PENSTV LOCKER ROOM SOUND
Dan Bylsma


Beau Bennett


Sidney Crosby


Eric Tangradi
--Sam Kasan
---
BEAU KNOWS WINNIPEG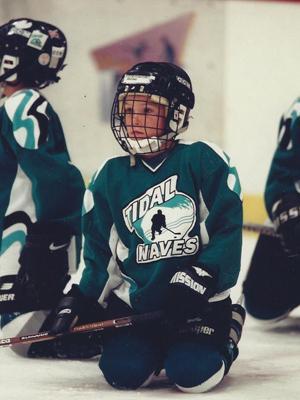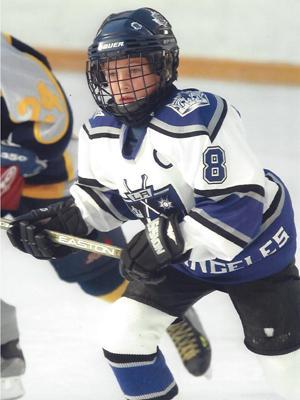 (Courtesy of Bennett's family)
It is notable that Bennett makes his debut against Winnipeg, the home of his grandmother (Grandma Bennett). His grandmother and her sister moved the family to California, and she still lives in Cali in the same house to this day. This is Beau's first time in Winnipeg. Grandma Bennett inspired Beau to play hockey by showing him pictures of hockey players from her time in Winnipeg. She will be watching tonight's game on TV.
Beau also said that he was named after the "Bo Knows" Nike commercial campaign featuring Bo Jackson. Oh, the memories. (Apparently Bo doesn't know hockey, according to Wayne Gretzky. But this Beau definitely knows hockey).
--Sam Kasan
---
orpis21513.jpgTonight Pens defenseman Brooks Orpik will play in his 600th-career NHL game, all with Pittsburgh. Orpik was the Penguins' first-round pick (18th overall) in 2000. He played in his first career game, wearing No. 29, on Dec. 10, 2002 at Air Canada Centre against the Toronto Maple Leafs. Orpik finished the game with 15:58 minutes of ice time and one shot on goal.
Orpik is only the 7th player to appear in 600 games for the Pens. And among defensemen, only Ron Stackhouse (621 games) has appeared in more contests. Orpik will likely pass Stackhouse this season to become the all-time leader in games played by a Pens blueliner.
Interesting note from Orpik's first-career game: Only five players that played that evening are still in the National Hockey League. Orpik, Alex Kovalev, Andrew Ference, Nik Antropov and Tomas Kaberle (Johan Hedberg was a backup in the game and did not play).
Another funny point made by Orpik, one thing he remembers most of that evening was laying out Leafs' Tom Fitzgerald - who would later become his coach and is now the Pens assistant to the general manager.
--Sam Kasan
---
BENNETT WILL PLAY
Beau Bennett is in!
Bennett said following the morning skate that he will make his NHL debut tonight in Winnipeg. Head coach Dan Bylsma said Bennett will start the game on the left side with Sutter and Kennedy.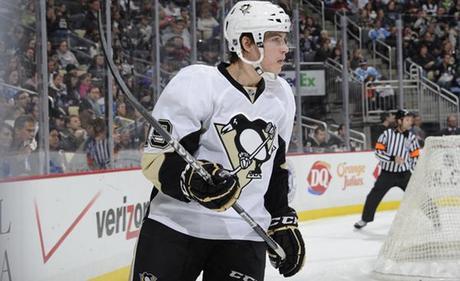 From the Black and Gold Game
--Michelle Crechiolo

---
MORNING SKATE PICS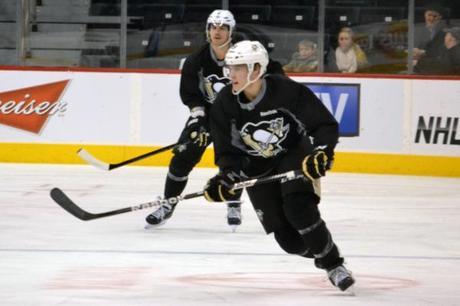 Beau Bennett heads down the ice with Matt Niskanen behind him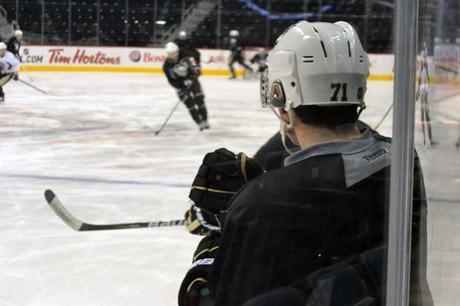 Practice from Geno's perspective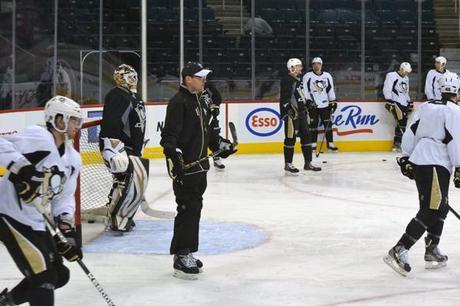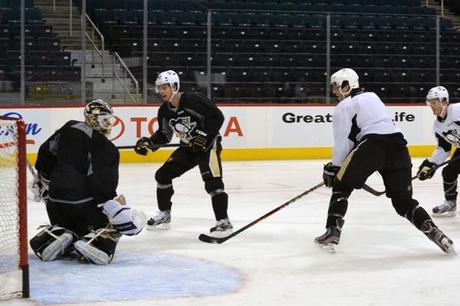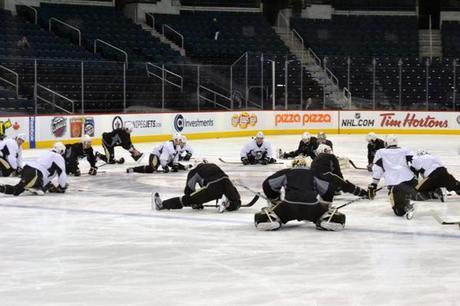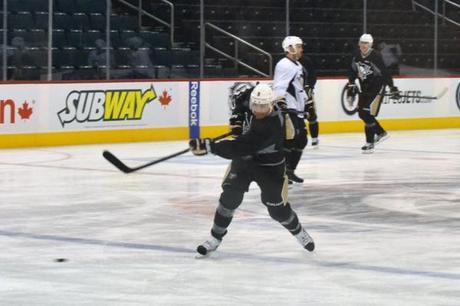 Dupuis rips a shot
--Michelle Crechiolo and Sam Kasan
---
MORNING SKATE INFO
The Pens had an optional morning skate this morning. Only Sidney Crosby and James Neal didn't participate. Evgeni Malkin and Brandon Sutter were back on the ice after taking maintenance days on Thursday.
--Michelle Crechiolo
---
TANGRADI TALKS
This morning was Tangradi's first skate with the Jets since he was traveling Thursday and couldn't make it to practice. He was swarmed by Pittsburgh media after morning skate, and as Sam jokingly said to him, "It's like you never left."
When asked about playing the Pens two days after being traded, Tangradi absolutely nailed it with his answer...fantastic quote right here:

Here's more of what Tangradi had to say...
On if he's going to try to score:
If I just focus on playing my game and playing north-south, hopefully good things will happen. It's not the number one thing in my head to score, but I'm just looking forward to getting an opportunity and playing my game.
On how the last couple days have been:
I think it was Wednesday (I was traded) but it feels like a long, long time. Wednesday I got the call and have had a huge smile on my face even to today. Yesterday was a long day of travel but no complaints here, I got a good night's sleep and just ready to put on the Jets sweater and go to work tonight.
On what he's been told about his opportunity with the Jets:
I've been told that it is an opportunity. I think I'm going to start with (Kyle Wellwood) and (Olli Jokinen) there on the left side. I'm just looking forward to it. It's up to me if I stay there or not. That's an opportunity I feel like I haven't been given in the past, so I'm looking forward to it.
--Michelle Crechiolo
---
FRENEMY
Former Pen Eric Tangradi skates with his new team, the Winnipeg Jets, at their morning skate. He's wearing jersey No. 27.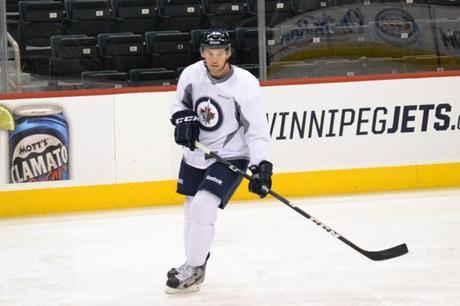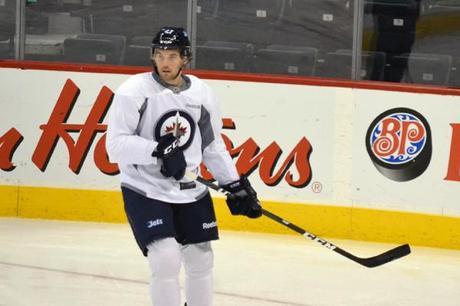 --Sam Kasan
---
MISTAKEN (ROOM) IDENTITY
Here's a fun little story that I'm sure you'll all enjoy regarding Eric Tangradi and Beau Bennett.
Anytime the Penguins arrive at a hotel on the road, all their keys are laid out on a table by the hotel staff. So the players, coaches, staff and media look for their names and grab their keys off the table – no big deal.
But when the players got to the hotel in Winnipeg, there was a key on the table marked "Tangradi." The other players assumed that since the trip was planned in advance that Bennett, who was recalled that morning, didn't have a room (he actually did have a room, but no one noticed his key). So the players handed Bennett the room key marked "Tangradi" and told him to take that room.
So Bennett, the wide-eyed rookie, headed up to "his" room. But there was a surprise awaiting him. After putting in his key and opening the door he found out someone was already in his room: Eric Tangradi.
As it turns out the Jets put Tangradi in the same hotel until he finds a place in the city. The Penguins did have a room for Bennett, but he didn't see his key. The hotel put Tangradi's room key out on the table going by the old list. Thus, a friendly face-to-face encounter by former teammates.
Needless to say, Bennett went back down to the front desk and grabbed his room key. No word yet if this time he opened the door to see Ben Lovejoy.
--Sam Kasan
---
GAME PREVIEW
The Jets got good news on Tuesday when defenseman Dustin Byfuglien returned to the lineup against the Flyers after missing the previous five games with an undisclosed injury. The big-bodied blueliner (6-foot-5, 265 pounds), who anchors the top pairing with Tobias Enstrom, has seven points in seven games and is a welcome addition back to their power play. The Jets may also be getting another talented big defenseman back in Zach Bogosian, who is day-to-day with a wrist injury and is a possibility to play on Friday. Those two plus Jets scoring leader Enstrom, who has 13 points (2G-11A), make Winnipeg's blue line dangerous offensively.
Full game preview here.
--Sam Kasan
---
START THE DAY
Today the Pens will hit the ice for a 10:30 a.m. morning skate (Central time) at MTS Centre. They'll battle the Jets at 6 p.m. CT (7 p.m. Eastern).
Winnipeg and newly acquired Eric Tangradi are scheduled to take the ice at 9:30 a.m. CT.
KIPPER'S MUSIC VIDEO FOR THE GAME
The Clash - Trian In Vain.
One of my Top 5 favorite all time songs and there's really no correlation between this song and the game tonight.