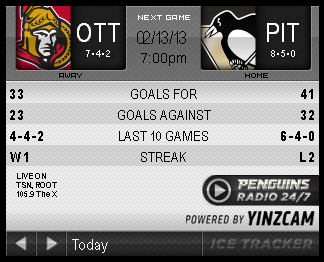 Penguins Report: Game Day vs. Ottawa

Wednesday, 02.13.2013 / 9:00 AM / Penguins Report
Pittsburgh Penguins



Comment



Print

Letang, Niskanen activated from IR
Game Day Report
Letang, Niskanen game-time; Fleury in net
Pens' lines and PP units
Player/coach quotes
PensTV sound
Anderson starts for Sens
Preview vs. Ottawa
Pens photos
"But you, you're not allowed..."
---
LETANG, NISKANEN ACTIVATED
The Penguins announced that both defensemen Kris Letang and Matt Niskanen were activated from IR. Both have missed games with a lower-body injury.
The activation meant the club was over the 23-man roster limit, so the Pens also re-assigned blueliner Dylan Reese to Wilkes-Barre/Scranton of the American Hockey League.
The Pens now have seven D-men on the active roster, including Letang and Niskanen. So one of the two will definitely be in uniform tonight. But it's also possible that both could return. We'll have to wait and see when coach Bylsma fills out his lineup card.

(Getty Images)
--Sam Kasan
---
GAME DAY REPORT
--Sam Kasan
---
PENSTV LOCKER ROOM SOUND
Kris Letang


Matt Niskanen


Sidney Crosby


James Neal
--Sam Kasan
---
SENS MORNING SKATE INFO
The Senators had a game last night against Buffalo, so their skate this morning was optional. Goalie Craig Anderson, who had a 42-save shutout against the Sabres, did not participate. But Senators beat writer Wayne Scanlan said Anderson will start again tonight.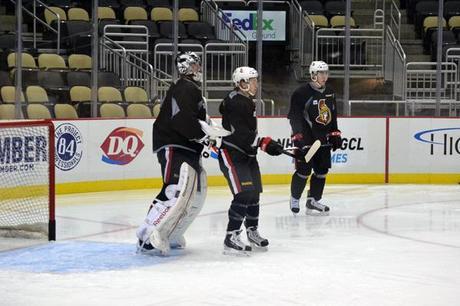 Backup goalie Ben Bishop was on the ice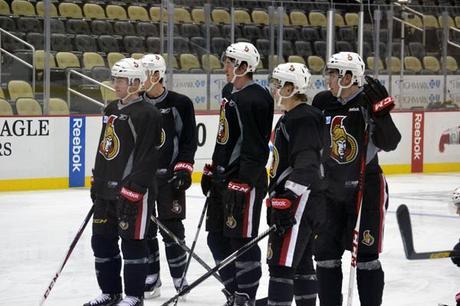 Very small turnout for the skate, as expected. Rookie Mika Zibenajad is on the far right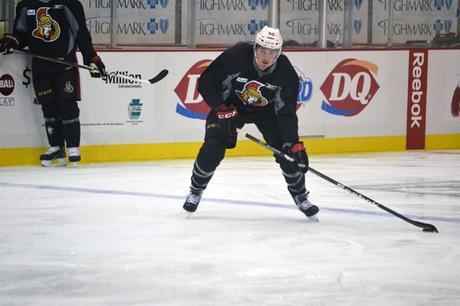 Defenseman Patrick Wiercioch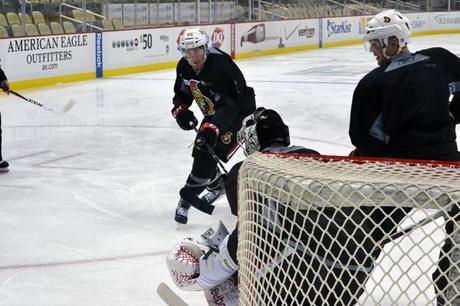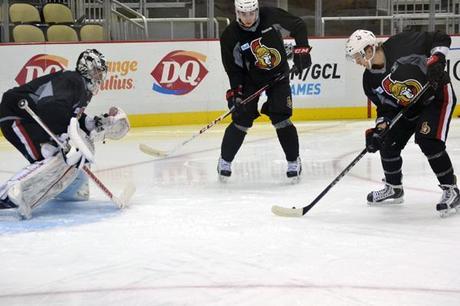 --Michelle Crechiolo and Wes Crosby
---
QUOTES HEARD AROUND THE LOCKER ROOM





--Michelle Crechiolo
---
PENS MORNING SKATE PICS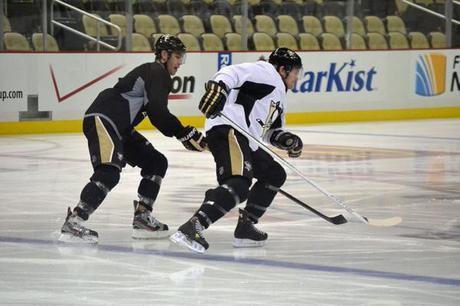 Dupuis and Cooke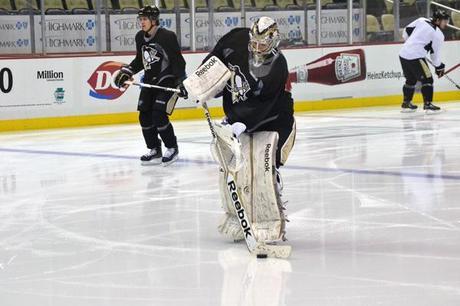 Fleury warming up (wonder where Kunitz is - he kept messing with 'Flower' during morning skate)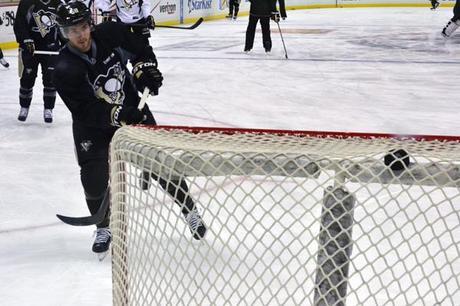 Letang wedges a puck in the top of the net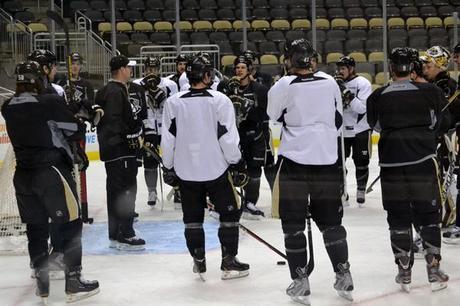 Gathering around coach Bylsma before line rushes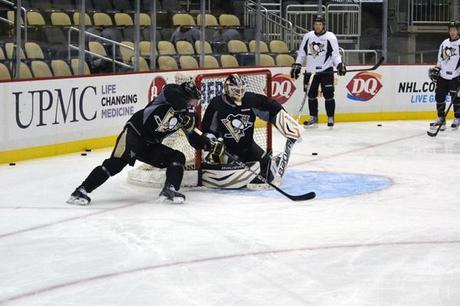 Crosby tries a wraparound on Vokoun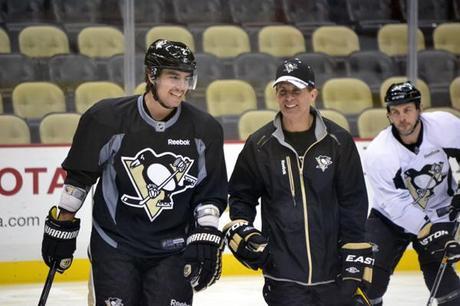 Favorite photo of the day - Matt Niskanen and assistant coach Tony Granato all smiles
--Michelle Crechiolo and Wes Crosby
---
COACHSPEAK WITH DAN BYLSMA...
Pens coach Bylsma said that defensemen Matt Niskanen and Kris Letang will be game-time decisions.
"Matt Niskanen and Kris Letang skated with the team again today and are moving close to being able and ready to play," he said. "We'll see with the doctor. They'll be game-time decisions. Our lineup will be game-time involving them."
Fleury starts in net.
--Sam Kasan
---
MORNING SKATE INFO
The Pens did three-man rushes the length of the ice from each end zone. Since they skated in 3s, the defensive pairings aren't determinable. But here are how the forward combos flushed out.
Kunitz-Crosby-Dupuis
Boychuk-Malkin-Neal
Cooke-Sutter-Kennedy
Glass-Vitale/Jeffrey-Adams
The top PP unit remained Martin, Malkin, Crosby, Neal, Kunitz. The second unit consisted of Letang and Niskanen on points with Sutter, Kennedy and Dupuis down low.
--Sam Kasan
---
GAME PREVIEW
The forward Ottawa needs to step up the most, winger Milan Michalek, is in the midst of a scoring slump that's seen him produce just two goals in 13 games. Michalek certainly misses Spezza, as he scored a team-leading 35 goals last season playing alongside him. But Michalek, a skilled sniper with size, was a proven goal scorer before coming to Ottawa and the team needs him more than ever. Forward Kyle Turris has also been slumping – after starting the season with four goals in four games, he hasn't scored in his last eight.
Top prospects Mika Zibenejad and Stephane da Costa have gotten big opportunities with the NHL club after being recalled from the American Hockey League following Spezza's injury. The 19-year-old Zibenajed, who was the sixth overall pick in the 2011 NHL Draft, started Tuesday's game between Michalek and captain Daniel Alfredsson. However, coach Paul MacLean said that da Costa, a prized free-agent signing out of Merrimack College, could get a look on that line at some point as well.
Full story here.
--Sam Kasan
---
START THE DAY
Tonight the Pens host the Ottawa Senators at 7 p.m. at CONSOL Energy Center. Pittsburgh will hit the ice at 10:30 a.m. for its morning skate.
The Senators played last night in Ottawa. Goalie sensation Craig Anderson made 42 saves to record his 21st career shutout in a 2-0 blanking of the Buffalo Sabres.
But the biggest attraction in tonight's game stands at under 8-inches tall...

KIPPER'S MSIC VIDEO FOR THE GAME
Eye to Eye by Slaughter. Leads fof their self titled debut album and the song IMO is the best one on the album. One of the things it possesses is an interesting Bass Line which is rare for that genre..