7-3-0 | 14 Points 2-7-1 | 5 Points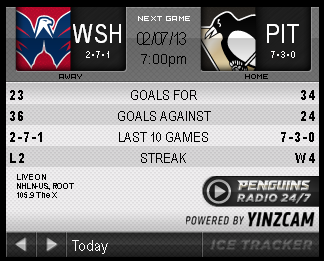 Penguins Report: Game Day vs. Capitals

Thursday, 02.07.2013 / 9:00 AM / Penguins Report
Pittsburgh Penguins



Pens lineup info
Bylsma on Letang and lineup
My take on Reese/Lovejoy
Pens quotes
PensTV locker room interviews
Pens pics
What to watch vs. Capitals
Caps locker room sound
Dan and Dan go fishing
Twitter Q&A with TK
"The tide is turning..."
---
VERIZON GAME DAY REPORT
--Sam Kasan
---
BEHIND ENEMY LINES
Alex Ovechkin


Nicklas Backstrom

--Sam Kasan
---
PENSTV LOCKER ROOM SOUND
Sidney Crosby


Dylan Reese


Robert Bortuzzo

--Sam Kasan
---
SOUNDS HEARD AROUND THE ROOM





--Michelle Crechiolo
---
COACHSPEAK WITH BYLSMA
Head coach Dan Bylsma said that Marc-Andre Fleury will be in net and the rest of the lineup will be game-time decisions.
Letang left the morning skate after only 20 minutes. When asked about Letang, coach Bylsma repeated that tonight's lineup is "game-time (decision)."
--Sam Kasan
---
PENS MORNING SKATE PICS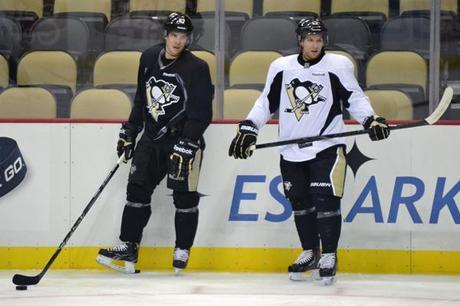 Crosby and Boychuk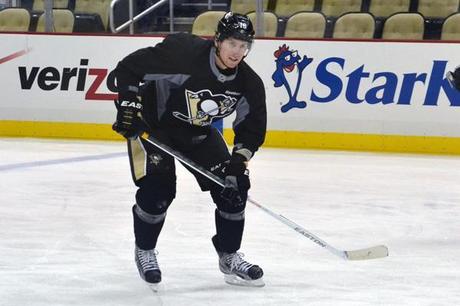 Neal shows the glare of a 40-goal scorer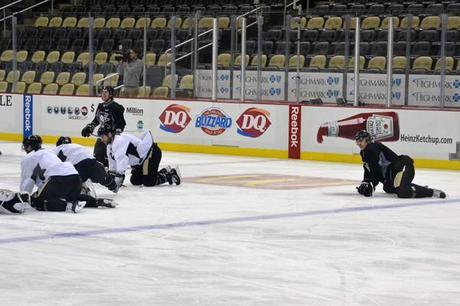 Malkin is a loner. I keep thinking of the song "All by myself...."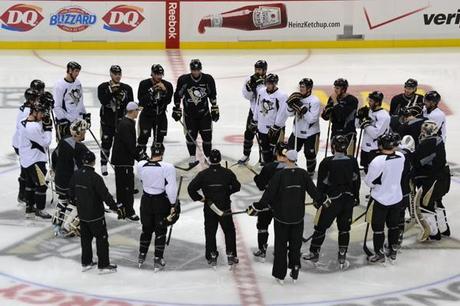 Team gathers at center ice for meet-and-greet with Reese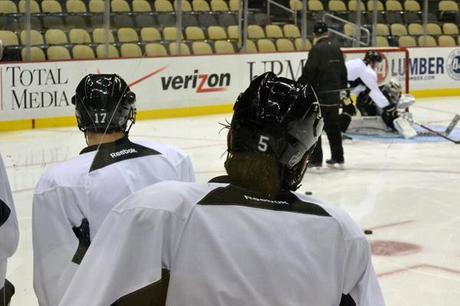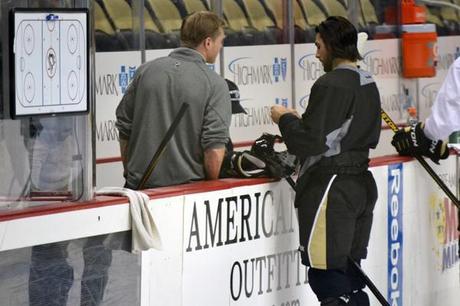 Letang lets the mane flow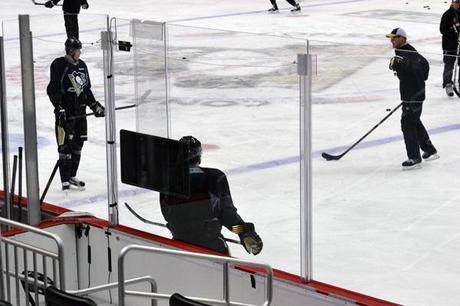 Coach Bylsma discusses the PP with Sid and Geno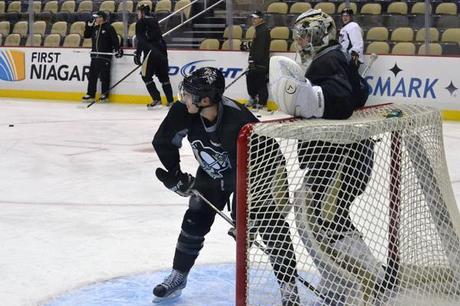 Kunitz working on that net front presence?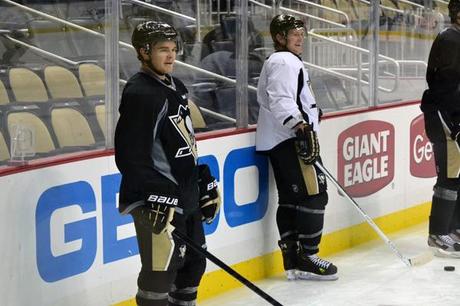 Cooke is all smiles
Engelland: How do you find Will Smith in the snow? Look for fresh prints
--Sam Kasan & Michelle Crechiolo
---
PENS MORNING SKATE INFO
Pens welcomed new defenseman Dylan Reese to the team with a center-ice stick tap. Everyone is in attendance minus Niskanen (lower body). No changes to the lineup.
Kunitz-Crosby-Dupuis
Boychuk-Malkin-Neal
Cooke-Sutter-Kennedy
Glass-Vitale-Adams
Orpik-Martin
Despres-Letang
Reese/Bortuzzo-Engelland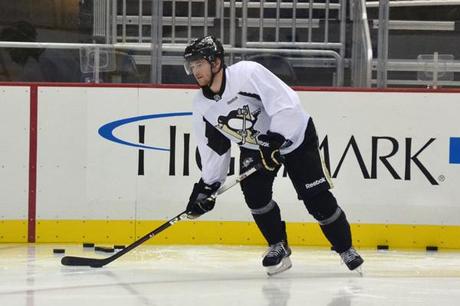 --Sam Kasan
---
LOVEJOY TRADED; REESE RECALLED
The Penguins traded defenseman Ben Lovejoy to Anaheim in exchange for a fifth-round pick in 2014. They followed that by recalling blueliner Dylan Reese from Wilkes-Barre/Scranton of the American Hockey League.
Reese, 28, will be a welcome addition to the Penguins' blue line. He is a solid, two-way defender with smarts and speed. He's a perfect fit for the way the Penguins want their defensemen to play. He has the intelligence to know when to join a rush to create an odd-man break, but also has enough speed to get back into a defensive posture if the puck were turned over or countered.
Reese's speed allows him to be solid in puck retrievals, and he's shown a good ability to quickly move the puck to his forwards (which is what you want to do with the talented forwards the Penguins boast).
My full take on the moves here.

--Sam Kasan
---
DAN AND DAN 'GON FISHING
Ever want to go fishing with Pens head coach Dan Bylsma? Well ROOT SPORTS' Dan Potash had that opportunity over the summer. Watch Potash awkwardly following Bylsma around and ask him annoying questions while he's trying to catch that night's dinner (I'm kidding, Potash is a good guy). Love Potash calling the fish a "fatty."
--Sam Kasan
---
TWITTER Q&A
Tweeters asked questions for Tyler Kennedy. And "TK" gave his answers to PensTV (with some help from James Neal).
--Sam Kasan
---
GAME PREVIEW

Michelle Crechiolo gives you a Scouting Report on the Capitals.

One positive for the Capitals has been the line of Wojtek Wolski, Mike Ribeiro and Ovechkin. They were a factor against the Penguins a few days ago, and so far they are the only combination to stay intact through some rearranging by Oates over the last few days. They've been strong in the offensive zone, being physical on the boards and around the net and creating time and space.
But overall, their best players are not being just that. Ovechkin and Backstrom both played in Europe during the work stoppage, so part of the problem may be adjusting back to the smaller rinks and different style of play. Ovechkin, who's switched to right wing after spending most of his career on the left, has recently been playing especially well away from the puck. But both of these players must find a way to put the puck in the back of the net and help their team win games
.
Full scope on Washington here.
--Sam Kasan
---
START THE DAY
Good morning Pens fans. The Pens will hit the ice at 10:30 a.m. at CONSOL Energy Center before taking on the Washington Capitals in a 7 p.m. tilt.
KIPPER'S VIDEO FOR THE GAME :
Beck's - Loser... for some reaosn this song kept popping into my head when I looked at the standings and saw the Capitals record and thought about Alexander Ovechkin