6-3-0 | 12 Points 4-3-1 | 9 Points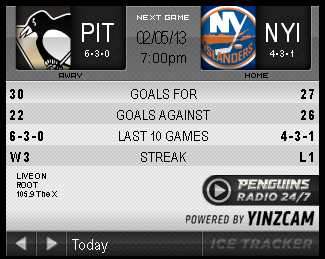 Penguins Report: Game Day at NY Islanders

Tuesday, 02.05.2013 / 10:45 AM / Penguins Report
Pittsburgh Penguins


Verizon Game Day Report
PensTV locker room sound
Quotes from the locker room
Pens pics
Isles pics
Game preview
Start the day
---
PENSTV LOCKER ROOM SOUND
CHRIS KUNITZ
KRIS LETANG
DERYK ENGELLAND
COACH BYLSMA
--Michelle Crechiolo

---
GAME DAY REPORT
Watch Katie O'Malley and Sam Kasan give all the game day updates heading into tonight's contest in Long Island.
--Michelle Crechiolo
---
QUOTES HEARD AROUND THE LOCKER ROOM





--Michelle Crechiolo
---
PENS PICS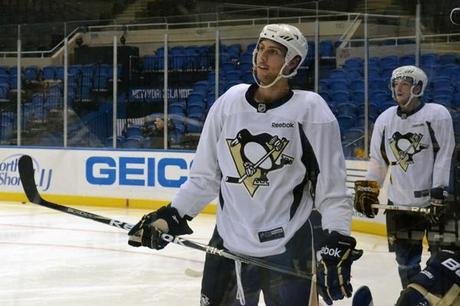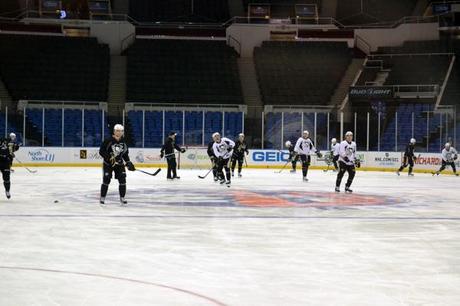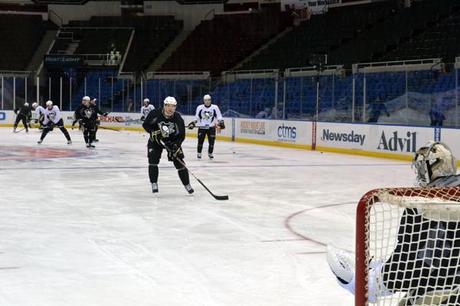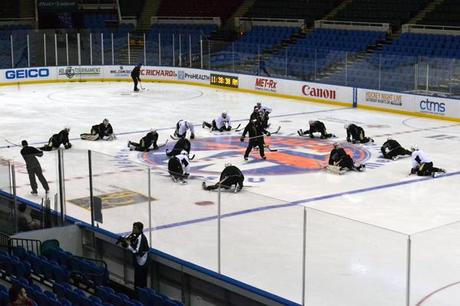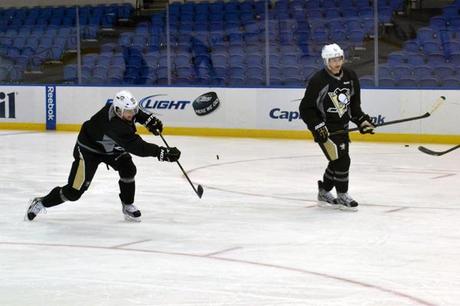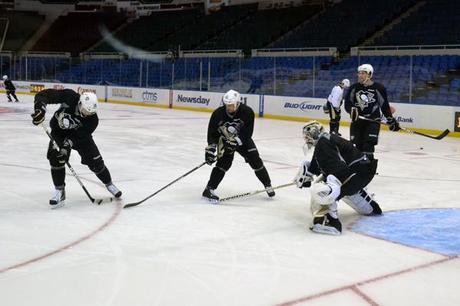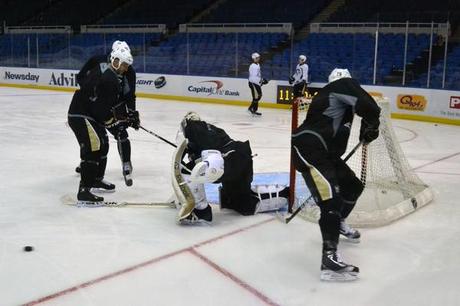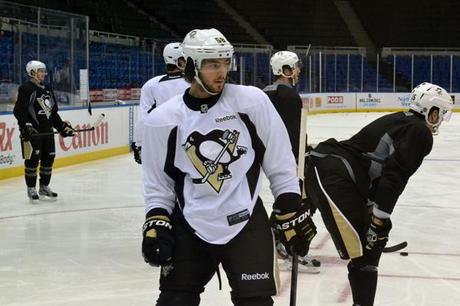 --Sam Kasan
---
PENS MORNING SKATE INFO
The Penguins' 11:30 a.m. morning skate is optional. The players participating are: Kunitz, Adams, Tangradi, Vitale, Kennedy, Boychuk, Jeffrey, Engelland, Bortuzzo, Lovejoy, Despres, Letang, Fleury and Vokoun.
--Michelle Crechiolo
---
TAKIN' A SEAT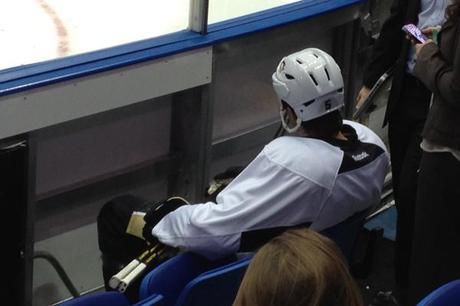 Deryk Engelland takes a seat while waiting for the Zamboni to finish cleaning the ice at Nassau Coliseum.
--Michelle Crechiolo
---
iSLES MORNING SKATE PICS
The home team hit the ice for a 10:30 a.m. morning skate.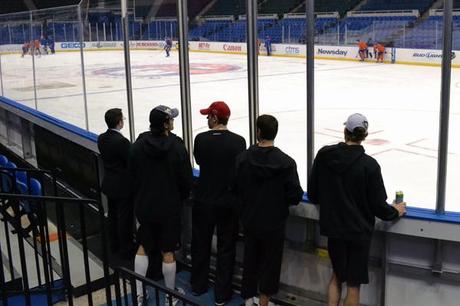 Some of the Pens took in the practice. Can you guess who is who from the backs of their heads? (I'll help you out with one - the guy on the far left is manager of team services Jim Britt. That would have been a tough one).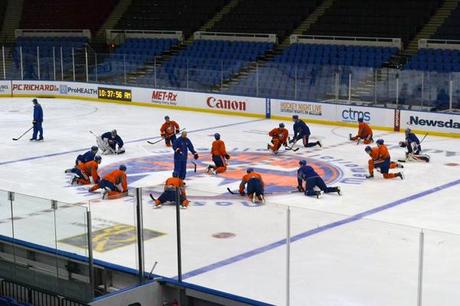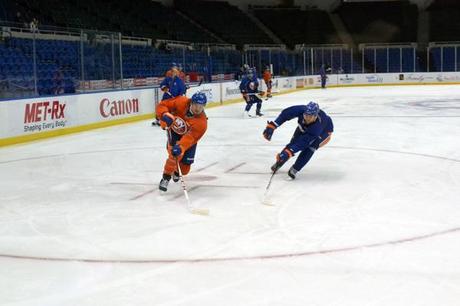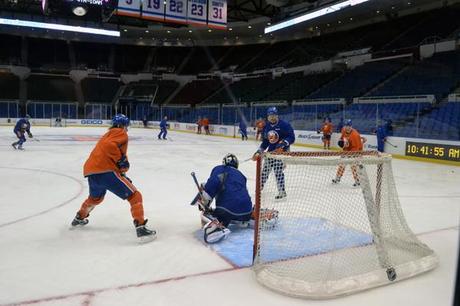 Denied!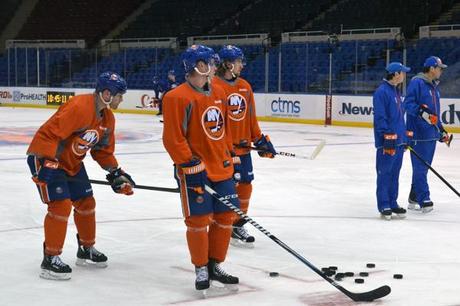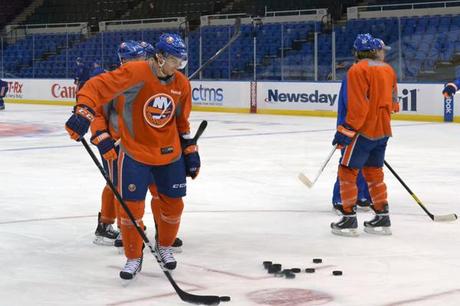 John Tavares gathers a loose puck. "Hey, you come back here!"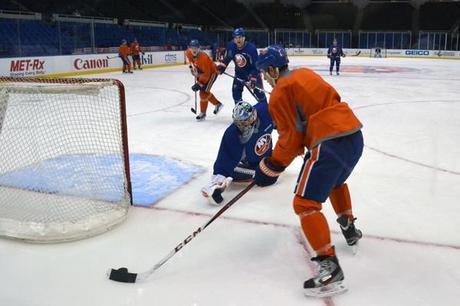 I wonder if goalie Rick DiPietro is thinking, "Nooooooo!" as he dives back to try and prevent his teammate from having the wide open net
--Michelle Crechiolo
---
GAME PREVIEW
The Islanders have been spectacular on special teams. Entering their last game, a Sunday matinee against the Devils, the Islanders were ranked first in the league in both power play and penalty kill. They've since dropped a few spots after going 0-for-7 with the man-advantage against New Jersey in a 3-0 loss, but still rank among the league's best in both categories. The Penguins saw firsthand how dangerous the Islanders' power play can be, as they converted both their chances last week in Pittsburgh. Forwards John Tavares, Matt Moulson, Frans Nielsen, Brad Boyes and defenseman Mark Streit make up a formidable first unit that moves the puck well and makes the right decisions with it.
Full details on what to watch in tonight's game.
--Sam Kasan
---
START THE DAY
The Pens are on Long Island for a showdown with the New York Islanders at Nassau Coliseum at 7 p.m. Pittsburgh dropped the last meeting between these two teams, 4-1, at home. Now they're hoping to even the score with a road victory.
The Pens will hit the ice at 11 a.m. for a morning skate. Stay tuned for the latest updates on injuries, lineup and more.
KIPPER's SONG FOR THE GAME :
Megadeth - Angry Again.
I usually don't give 2 ****s about lyrics or song titles, but I thought about how bad the Pens looked in their loss to the Islanders a few games ago and thought that the title to this Megadeth song described exactly what we hope the Pens will be coming into this rematch - "Angry Agian"