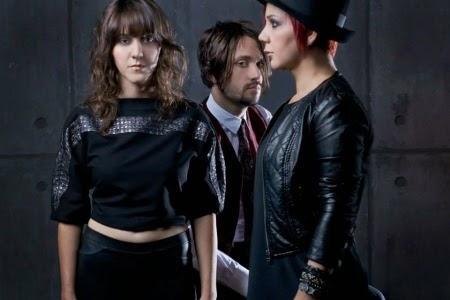 photo: Zoe Vincenti
Alternative rock trio Gambardellas look back to the Seventies on their new EP Ashes. Part glam and heavy metal they go for the grandiose and the slightly macabre.
Cutting the haunted house organ intro from title track Ashes to get some airplay might be a smart commercial move, but the song feels curtailed without it and the nice touch of the organ in the background for the remainder of the song doesn't make much sense any more. If they want to make an impression on the airwaves they should have gone for the catchy One In a Million or the funky blues Devils. The EP closes with for their cover of The Black Keys' I Got Mine, rearranged as slow moving stoner rock piece with a Black Sabbath arrangement.

Gambardellas:
Mauro Gambardella: vocals, drums, percussion
Glenda Frassi: guitars, backing vocals
Grethel Frassi: backing vocals, keys, percussion
Ashes is a self-released EP. Buy it from his website.
Tracks:
ashes
one in a million
devils
i got mine
Live dates:
05/09 Glu Glu Club, Vercelli, Italy
05/16 La Centrale, Pisa, Italy
05/17 Vox, Arluno, Italy
05/23 Il Circolo, Mariano Comense, Italy
05/24 Rock Town, Cordenons, Italy
05/30 Capita Cafè, Montichiari, Italy
06/13 Pork Factor, Concordia, Italy
07/06 Somenfest, Ome, Italy
07/31 Przystanek Woodstock Festival, Poland
08/14 Festa Democratica, Villadossola, Italy