Since I'm in the process of adding color to my living room, I figured I'd share with you all my newest adventure.  The gallery wall. You may remember some of the 'pops' of color I've incorporated into my living room space, such as my lamps, new pillows and painted accessories. I removed our old piece of art (which was a deep red, green, yellow and black) and attempted to find something interesting for that space.  I came up nothing.  So I figured I'd make my own art with a gallery wall. We don't have many family pictures around the house (which will be remedied soon, I hope) so I have a lot of leftover frames lying around.  They were the perfect source for my wall.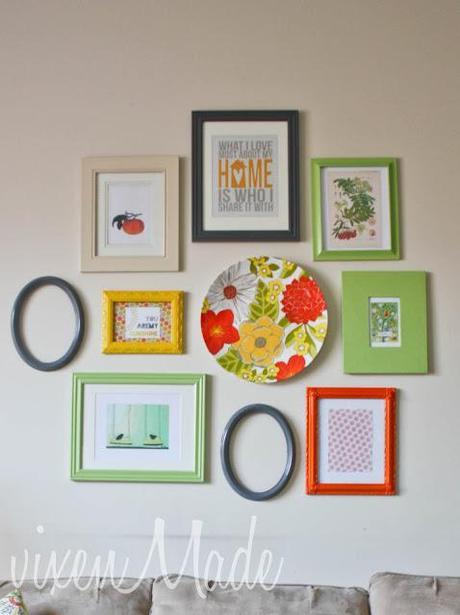 I simply painted them an assortment of green, orange, grey, cream and yellow and filled them with my favorite pieces. Well, I always like to do things on a budget.  So many of these were free!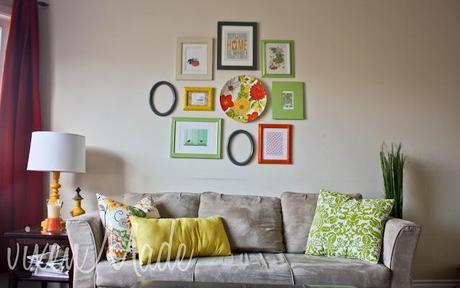 Let's start with the top piece from Eighteen 25, the top left from Vintage Printable, and top right from The Graphics Fairy. Beside the open oval frame is a printable from Kojo Designs and beside the plate, which was a clearance melamine plate--score!, I found on Pinterest. For the last row I used a bird printable from Feed Your Soul and the last one is scrapbook paper I had on hand (and yes, it's crooked, but since then has been fixed.  Ha!).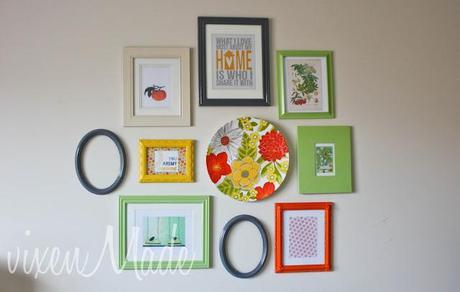 So as you can see, you don't need a lot of money to decorate your home!  Besides most of the frames I had on hand, I spent 6 dollars on the other thrift store frames.  The plate cost me $2.  I love me a bargain!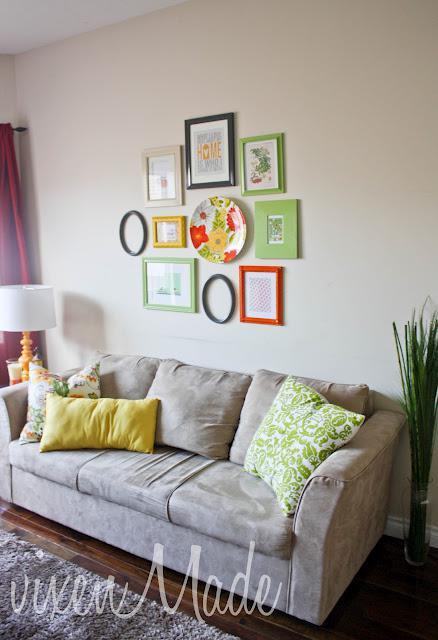 Hope I've inspired you!  Have a fabulous day.