www.charlesmccain.com
posted by author Charles McCain
Lest We Forget
Almost 100 trained fighter pilots from Czechoslovakia made their way to Great Britain after the Germans invaded their country and volunteered to fight for the RAF. They were among the most aggressive and highest scoring pilots in Fighter Command. On occasion, when out of ammunition, they would ram German aircraft then bale out.

Rudolf Ptáček, one of the many Czech pilots who had made their way to Great Britain to serve in the Royal Air Force, and the Spitfire he flew. Ptáček was killed in action against the Nazi Luftwaffe in March of 1942 in a fight over the English Channel.
Information below taken from an official RAF report on Rudolf Ptáček who crashed into the English Channel. Originally posted as "missing" he was later posted as "killed in action".
No. 602 Squadron Spitfire Vb BM148 W/O. Ptáček
Date: 28th March 1942 (Saturday)
Base: R.A.F. Redhill, Surrey
Location: English Channel, off France
Pilot: W/O (Warrant Officer) Rudolf Ptáček (he was one of the almost 100 Czech pilots serving in Fighter Command) R.A.F.V.R. (Royal Air Force Volunteer Reserve)
Missing
REASON FOR LOSS:
shot down by pilots of JG26, over the English Channel. His body was never recovered.
You can find the entire report here:
http://aircrewremembered.com/ptacek-rudolf.html
And the unit that shot him down: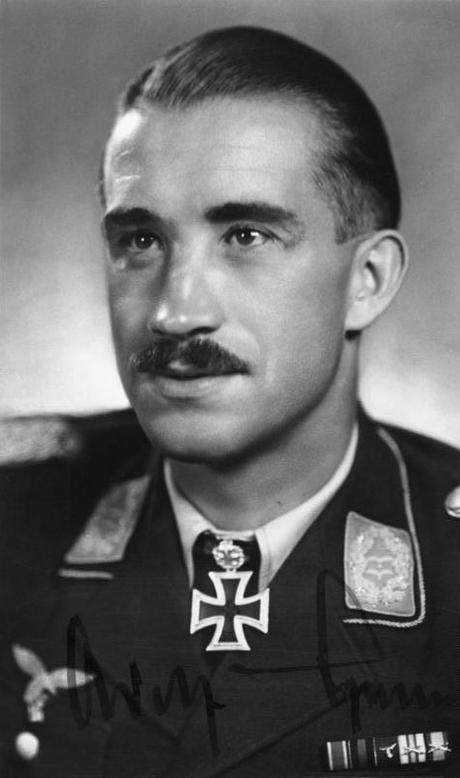 The photograph shows Galland in the uniform of a Lt. Colonel or Oberstleutnant wearing the Ritterkreuz, or Knights Cross.
(Photo courtesy of the German National Archive. Curiously, according to the Archive, the photograph was taken by Hitler's personal photographer, Heinrich Hoffman. Presumably then, Hoffman took the photo after Hitler had presented Galland with the Knights Cross, something Hitler usually did)
Jagdgeschwader 26 (Fighter Wing 26) was the most famous German fighter formation of the air war in the West. It was commanded from August 1940 through November of 1941 by the famous Adolf Galland, who was promoted to command the unit at age 28 while only a major. JG 26 compiled a reputation as a deadly foe.
In December 1941, Galland by then a full colonel, was promoted to General Commanding Fighter Pilots or General der Jagdflieger. He held this position until the end of the war. He is thought to be to the youngest man promoted to general officer of any country in World War Two. He survived the war and died in 1996.
You can find his obituary in the New York Times here: http://www.nytimes.com/1996/02/14/world/adolf-galland-top-aviator-for-the-nazis-is-dead-at-83.html
Czech RAF Pilot Dies in English Channel

Author Bio: My first novel, An Honorable German, about a heroic and conflicted German U-Boat Commander, was published in May 2009 right after I survived a bout with lymphoma. Through the Grace of God and the brilliance of Dr. Wydham Wilson, PhD, MD and his deputy genius, Kieron Dunleavy, MD, of the lymphoma team of the National Cancer Institute, I was cured and have spent the time since recovering and working on both my blog and future works.