Two great Android smartphones were presented recently this year, the HTC One and the Galaxy S4 which was featured on this blog by a full review.
Waiting for their release , we can already engage in a face to face comparison. Technology, material, design and features, what are their strengths, their weaknesses and which stands out most competition?
Galaxy S4 or HTC One.
2013 technique looks like a turning point in the world of mobile telephony. Galaxy S4 was highly anticipated and proved technically on the same level as its competitors. While each of the smartphones we compare today is one of the best, none is really more powerful than his competitor. There are a few small differences, but it is mainly at the level of functionality or technology that the differences become significant.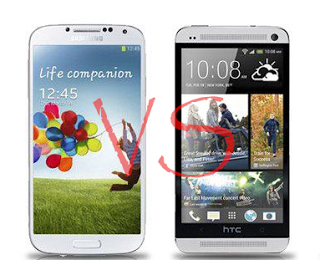 Design 
It's no secret that the first thing to attract you to a phone was and still is its look and design. Even before turning on a phone to discover its features or even his screen, it always starts with look and a touch. And HTC has showed
that they

made a real effort to appeal to users.
 
The HTC One presents an all-aluminum design with a slight bend on its back. You can feel an impression of quality with its pleasant finishes and its well studied grip. On the other hand, they might be regretting that this design has condemned battery access as well as a possible port of memory card. Two black dots for the HTC that could seriously handicap them if they did not give a good internal memory (up to 64 GB).
S4 Galaxy don't have such problem. Its look has not evolved since the previous model which was not recognized as the most beautiful of the smartphones. But then, it is the lightest, the finest, and most compact, but it is also the most "cheap". Its polycarbonate shell is not as strong as Samsung wanted us to believe. Fortunately, its slab glass Gorilla Glass 3 catches a little things by ensuring a good degree of robustness.
Ranking
Galaxy S4 before the HTC One under GeekBench 2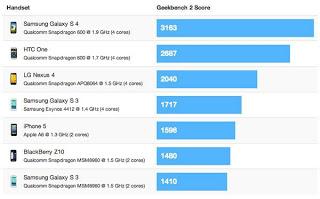 Galaxy S4 behind the HTC One under AnTuTu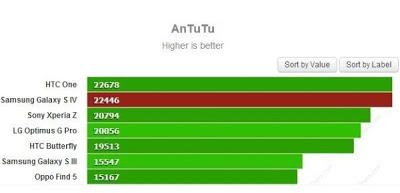 So as we have seen, Geekbench 2 benchmark puts the S4 Galaxy in first position before the HTC One (3163 points against 2687), whereas AnTuTu showed the opposite. So yes, the HTC One earned a short head only (22446 points against 22678), but still in the first position. Briefly, it's difficult to disentangle the two smartphones, although it would seem logical that with a
higher

frequency for a same processor, the S4 Galaxy takes the first place.
But let's keep away from any hasty conclusions, and wait until both smartphones are in action.
 
Picture and new technologies?

2013 will be the year of picture resolution, manufacturers are clear about it. Nokia with its technology
Pure View and

HTC with its Ultra Pixel are perfect examples.
Comparison of the size of the Ultra Pixel sensor and its competitors
 
Well Yes, it is here that HTC defeat the competitors. With a larger sensor and a lower pixel density, it captures more light and can therefore be more effective in the Dark environments. By most, thanks to its opening to f/2.0 (50% larger than that of the iPhone 5, 90% higher than the Galaxy S3, resulting in 300% brighter than the majority of smartphones) it is sensitive enough to overcome digital noise that taints many devices as soon as the light comes out. Finally and this is the icing on the cake, it has ultra responsive optical stabilizer which allows it to avoid blurred pictures in many situations. Indicatively there are stabilizers optical on the NPA and some Bridges.
For the photo part, HTC One takes thus advantage, through its Zoe application and its Ultra Pixel technology. We keep in mind that in terms of image definition remains less efficient than the S4 Galaxy.
 
Screens, precision and high definition

War of the screens has been a turf war between TV manufacturers for many years. It is therefore quickly spread to related devices such as smartphones and tablets. Thus, the 2013 trend was 5 inches and more slabs and the increase of pixel density. 
This round also goes to  HTC that tops the S4 Galaxy with a pixel density greater than that of the S4 Galaxy .
 
However, these feature is not enough to say that a screen is better than another. It should also consider the energy consumption, the display quality, contrast ratio and brightness. The victory is therefore not yet acquired.
At the moment, pending for the release both mobiles, I can only base my comparison on a general observation,
the S4 Galaxy

AMOled screens are known for their intensity of black but are less efficient in terms of brightness. Finally, coming to color level' s fidelity
, it is known that
Samsung
has regular
problems and
Galaxy
S4
is no exception
As
we have seen
recently, many
critics have
already prompted
the manufacturer to
correct this defect
via
a
calibration
free.
It
is possible that
competitors
take
advantage
of
this point. But still the S4 is the only smartphone with
AMOLED display for customizable calibration.
Battery life

at the time, it is impossible to answer the question of the autonomy of the HTC One and the S4 Galaxy. Galaxy S4 is the device with the larger battery (2600 mAh against approximately 2300 mAh for the other phone) and it has the same OS as the HTC One, only a bit faster. 
Difficult to say more, but  HTC One should worry a lot more than the S4 Galaxy  when it comes to battery life and performance.
In general nowadays, a smartphone's battery should last for 14 hours, a trend against which Google seeks to fight and which could distinguish it from others in the future Motorola XPhone.

Conclusion

In conclusion, it is clear to you that designating a winner is not really possible because both smartphones have their strengths and its weaknesses. 
HTC One suffers from some hardware deficiencies such as lack of memory card and a non-removable battery, but makes up for it on the features with some surprising picture.
Equally, the Galaxy S4 is also very dense in terms of functionality and won also the neck through his many innovations such as Smart Pause, Gesture or even S Voice Air. However it is blamed for its aging and cheap design that suggest a limited robustness.
So it is a bit hard to say which is going to be more popular. Please, share with me your opinion and let me know which one you would choose?