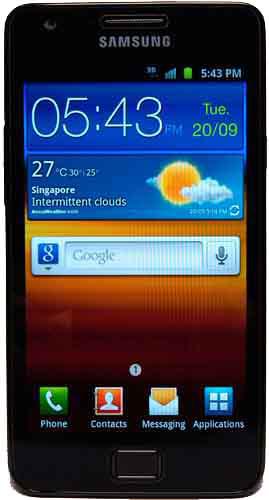 The Galaxy S II is one of the best devices on the market
Contents
Display 
Camera 
Internals(nerdy stuff) 
Wrap Up 
I've been a gadget geek for quite some time now. So when I launched a technology blog, I'll admit I wanted to get to do device reviews. While it isn't always the case, most other sites reviews seem kind of dry and technical. As a friend of my stated, the reviewers seem a bit entitled. They're reviews seemed jaded and biased. To really gain something from them you'd have to know the basic technologies they mention. They will mention the WVGA display and pixel density, but they don't really tell you what that means for you. I understand why they do it; they just cover the news and devices, they're not meant for the everyday reader. Most of these sites assume a certain level of technical knowledge from their readers. But where does the everyday reader/consumer go?
Right here of course. I'm currently trying to get the information about how I go about getting devices to review, so I can't do true hands on reviews. Instead, I think I'm going to start writing device profiles. This will cover the specs, the software and what they mean to you. I'll also go hands on a bit when I can get by a store that has them, but don't expect video or pictures with the device. But really, if that's what you're looking for, I'd be willing to bet dozens of sites have their reviews up right now.
Having said that, let's get to our first ever device profile. The device I have chosen for today is my personal favorite Android device out right now. I highly recommended it as my favorite iPhone alternative and it is one of the most advanced, as far as hardware is concerned, devices out right now. I am of course talking about the Samsung Galaxy S II. People who know me may believe I like this phone simply because it is a "Mason sized phone". While I do love the size of this beast, my infatuation with it goes so much deeper. But instead of glossing over it here, let's just dive into why I'm so thoroughly enamored with this device.
Hardware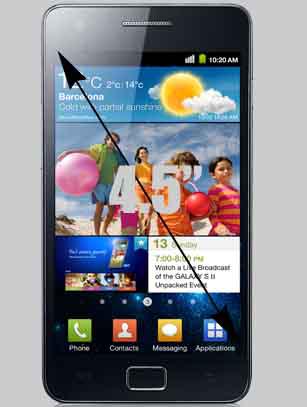 The Galaxy S II features one of the biggest displays on the market
The first thing you'll notice on this baby is the massive display. The AT&T version has a 4.3" screen; while the Sprint and T-Mobile versions go even bigger with 4.5" displays. All carriers versions have the beautiful Samsung Super AMOLED Plus touch screens at 480 by 800 pixels. AMOLED stands for "active-matrix organic light-emitting diode" and refers to the arrangement of pixels in the display. AMOLED displays offer higherrefresh rates, faster response times and consume less power. This equates to a smoother experience when flipping through menus or screens, a better picture for movies and longer battery life. It also means much richer black color production. AMOLED displays typically suffer from poor visibility in direct sunlight; but Samsung addressed that, so fear not.
So what does this display mean for you? It means you can view websites in all their intended glory. The massive screen gives you more real estate to work with when playing games as well. The Super AMOLED Plus display means deeper, richer blacks. So text pops off of the screen and videos have great contrast. Also, your pictures and videos look excellent. Speaking of videos, you can view HD videos in all their glory.
And speaking of pictures and video, this phone is renowned for it's incredible camera. The Galaxy S II line packs an 8 MP rear camera that also records full on 1080p video. And if you're into taking pictures of yourself, and if I've learned anything from Facebook, it's that everyone is, this baby also features a 2 MP front facing camera. This allows the Galaxy S II to take full advantage of the included Qik video chat software. The camera has an impressive amount of settings available and really needs to be witnessed to be appreciated. Unfortunately, I can't get the device to show you guys; but if you search "Galaxy S II review", you can see what I'm talking about.
I don't think I need to elaborate on why an awesome camera is good for you, but just in case I do, here we go. The biggest benefit of modern cameras, particularly the Galaxy S II's, is that they can easily replace point and shoot cameras. The same can be said for the camcorder. So if you need more reasons than incredible hardware, high praise and massive screen, you can actually replace old electronics with this one. So, instead of taking your camcorder, your camera and your phone with you to Timmy's game, Sally's recital or the family vacation, you can just grab your Galaxy S II and head out the door.
No good phone can ship out with substandard hardware, and the Galaxy S II definitely isn't guilty of that. At the core of the phone is a blazing fast 1.2 GHz dual core processor for Sprint and AT&T, and a 1.5 GHz dual core in the T-Mobile version. If you compare this with the previous Galaxy S phone's 1GHz single core processor, you get significantly better performance. The dual cores allow for excellent multitasking and lighting fast performance.
But what good is a powerful processor without memory. Remember, without sufficient RAM, your processor will still crawl when it should sprint. The Galaxy S II takes care of your memory needs with a full gigabyte of RAM. This means you're free to browse the web, listen to music and fire off texts and emails without fear of running out of memory. As I said above, this bad boy multitasks like no one else. And speaking of memory, the Galaxy S II packs 16 GB of internal storage, and allows for expansion via the micro SD card slot. If you are into music, movies and apps, this is a great phone for you. You'll have plenty of room for just about anything you want to bring with you.
Battery life has always been an issue for Android devices. Part of this is due to the larger processors in these devices, another part is due to the amount of programs that can run at once. The Galaxy S II, on AT&T and Sprint is powered by a 1650mAh battery, which provides between 5-9 hours of usage, depending upon who you ask. The T-Mobile version packs a bigger, 1800mAh battery; which surprisingly has a shorter life span than the smaller 1650mAh version. But this is probably due to the more powerful processor.
So what do these numbers mean for potential owners? They mean you'll get solid battery life, wicked fast performance and plenty of room for everything you like. The processor makes everything seem smoother and the user experience is incredible. The RAM ensures your processor always has the memory it needs to deliver the experience you expect from a high end phone. I've heard people say they've gotten over 10 hours of normal usage time from their phone, so unless you're job is to watch video on your phone, this should last you an entire day.
The Galaxy S II has already proven itself on the world market; selling over ten million units in it's first five months. That many people can't be wrong. These people are justified in their purchase, in my mind, because of all that this phone has to offer. It is at the top of the cell phone class in terms of processor, RAM, display and camera. There are other awesome devices out there, and I plan on covering them soon. But this phone, for me, stands alone at the top of the mountain. Samsung really hit it out of the park with this one. You can find this baby on AT&T, Sprint and T-Mobile and it will set you back $200 with a two year commitment, or $600-$700 without tethers. Well, that's a wrap on our first device profile. I hope you guys see some of the reasons I named the Galaxy S II as my top iPhone alternative. Thanks for reading and if you know someone looking for a new phone, please pass this one along.