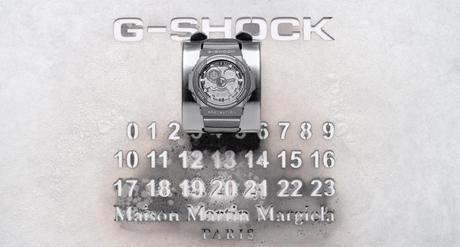 It is not a mistery that I'm a fan of Maison Martin Margiela, this not because the fashion status it has but more about the creativity of their designs. I see every MMM design as a timeless collection piece. The latest design to be collected from us is the new collaboration with Casio. 
Celebrating the 30th anniversary of the G-SHOCK watch, Maison Martin Margiela has designed the GA-300, a new model which is strongly characterized by the stylistic vision of both brands.
A feature of the collaboration model G-SHOCK GA-300 bt Maison Martin Margiela is the removable bracelet in silver leather, a touch of luxury to the design of the product. The look is skeletal with transparent dial allowing to have a look at the internal mechanisms. Topped off with an ultra-durable case this watch is characterized by a unique metallic silver both on the case and on strap. The logo Maison Martin Margiela "0 to 23" is engraved on the back of the watch, the long leather strap and the metal buckle. 
On the occasion of the 30th anniversary of G-SHOCK , the watches available are only 3000 marked with a progressive identification number, will be sold in 300 selected stores worldwide and priced at €300. A real collectors piece.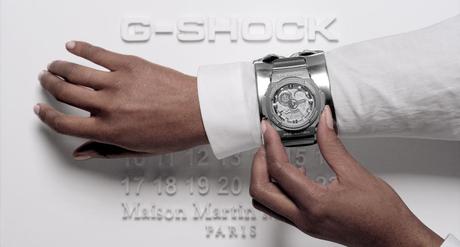 Non è un mistero che io sis una fan di Maison Martin Margiela, questo non vei dello status del brand nel mondo della moda ma per di più per la creatività nel loro design. Aggiungi anche quel velo di mistero che circonda il brand e avete tutta la mia attenzione. Personalmente guardo ogni design di MMM come un pezzo   senza tempo da collezionare. L'ultimodesign che si aggiunge alla mia wishlist da collezione è la nuova collaborazione che la casa di moda Belga ha sviluppato con Casio.
Per celebrare in grande stile il  30 ° anniversario del famoso orologio G-SHOCK, Maison Martin Margiela ha progettato il GA-300, un nuovo modello che è fortemente caratterizzato dalla visione stilistica di entrambi i marchi.
Una caratteristica del modello 
G-SHOCK GA-300 bt Maison Martin Margiela
 è il bracciale removibile in pelle argentata, un tocco di lusso al design del prodotto. Il look è scheletrico ed il quadrante trasparente per consetire di guardari i meccanismi all' interno dell'orologio. Completato da una cassa ultra-resistente questo orologio è caratterizzato da un singolare colore argento metallizzato sia nella cassa che nel cinturino.
Il logo Maison Martin Margiela "0 to 23" è inciso sul fondello dell'orologio, lungo il cinturino in pelle e sulla fibbia in metallo.
In occasione del 30° anniversario di G-SHOCK saranno disponibili solo 3.000 orologi, contrassegnati da un numero identificativo progressivo, in vendita in 300 selezionati punti vendita in tutto il mondo e con il prezzo di €300. Un vero pezzo da collezione.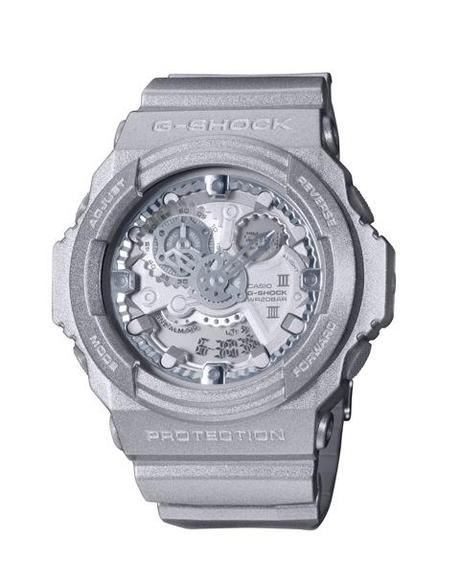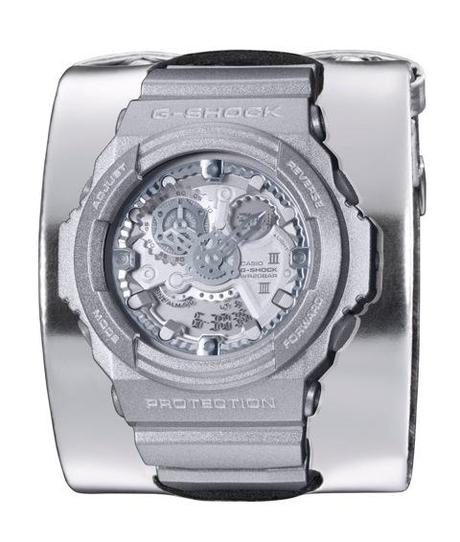 - Design -
Silver Leather removable bracelet.Case and bracelet in metallic silver. Transparent LCD.Engraved Maison Martin Margiela Logo  "0 to 23" .- Design -Bracciale in pelle argentata removibile.
Colorazione argento metallizzato di cassa e bracciale.
Display a cristalli liquidi trasparente con look scheletrico.
Logo Maison Martin Margiela "0 to 23" inciso.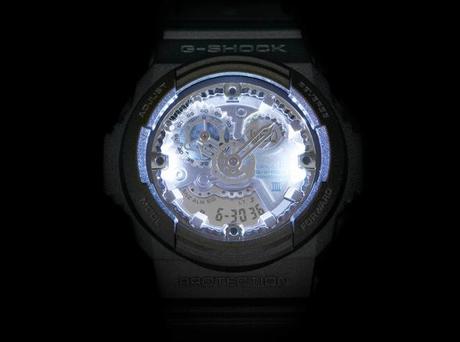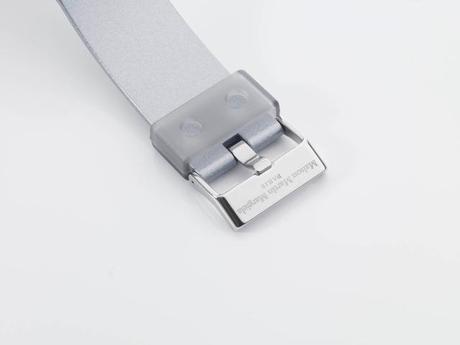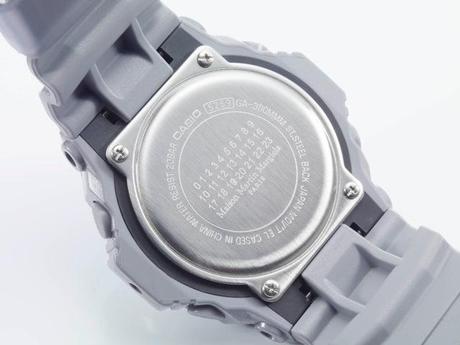 - Technical data -
Stopwatch function -1/1000 sec.-100h
World Time function
Super LED illuminator
Shock resistance
Water resistant to 20 BAR
- Caratteristiche tecniche -
Funzione cronometro -1/1000 sec.-100ore
Funzione Ora Mondiale
Super illuminator LED
Resistenza agli urti
Impermeabilità fino a 20 BAR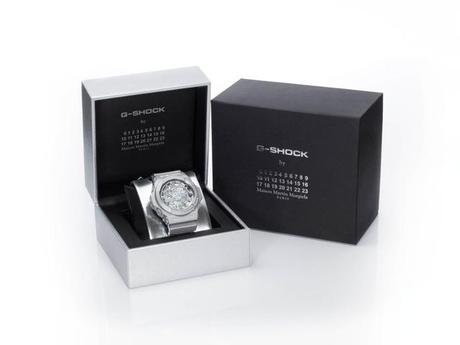 - Quantity -
Limited edition of 3.000 pieces (worldwide)
- Quantità -
Edizione limitata, 3,000 pezzi (in tutto il mondo)