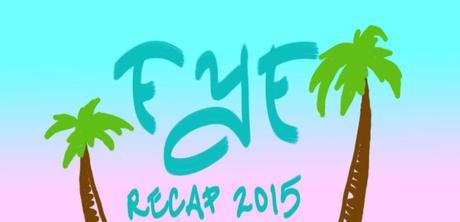 Photos by Erik Rojas, Graphics by Olivia Angst
With tons of hype this year, FYF Fest was not one to miss. Possibly the most impressive move pulled by the festival was the way they handled lineup changes. With just two days to go before gates opened, Frank Ocean cancelled his headlining slot. And who did they replace him with? None other than Kanye West. Quite an impressive last minute adjustment if we do say so ourselves. The lineup was not just packed with talent, but was crazy diverse, ranging from up and coming singer songwriters to hip hop legends and electronica's finest producers.
Set in the center of Los Angeles on USC's campus, this location is ideal for music lovers not looking to camp or go insane, but to enjoy some major acts and then head back home. With four stages and a dance area, the festival is fairly walkable, especially with a new and improved pathway for better access to the mainstage. While the festival was fairly jammed, it wasn't too overwhelming. Other than the end of night sheep herding to the exit, there was never insanity, mostly just tons of opportunities for admiring LA street fashion.

Despite a ridiculous amount of celebrity appearances (Rhianna at Kanye, Dev Hynes at Solange, Lorde at Flume) possibly the most out there, and fitting to the setting, was Blink 182 drum god Travis Barker at Run the Jewels. With an already amazing, high-energy, crowd bouncing set, things hit a whole new extreme when Barker came onstage. Blending vibes that appeared throughout the festival, the coming together of punk rock and hip-hop was the perfect unforeseeable treat.
The all female rock group Savages performed late at night within the eerily lit dome of the Trees Stage. It was rock and roll witchcraft. From their tight instrumentals to lead singer Jehnny Beth's perfect pitch, this show was nearly flawless. Beth climbed out into the crowd, walking on top of their shoulders, while Ayse Hassan proved her insane chops on the bass. Anyone who wasn't obsessed with this London foursome before this set, definitely was afterwards.
Leaving the festival everyone was talking about the last minute pull-off by bookers at FYF – nabbing Kanye after Frank Ocean dropped out only a few days before the festival. Despite an initial reference to Frank Ocean's disappearance, West put on a humble, incredible and stunt free show. The crowd went insane for favorites like "Black Skinhead" and "Stronger", and really lost their cool when West handed the microphone to Rhianna, who lent vocals to "FourFiveSeconds" and "All of the Lights". In the last ten minutes (the brevity of which was noted several times by the rapper), West ripped out a "hit a minute" including "Golddigger", "Can't tell me nothing" and ended by lying on stage singing "Only One". With his performance quality, we're pretty sure he could have lain on the ground the entire time and none of us would have complained.

Brooklyn boy Mac DeMarco is known for his adoring personality and odd antics. Leading up to their packed mid-day set, the boys of the band strummed their guitars, and tested vocals with weird messages to the crowd, making fans laugh and drawing in those who before were only walking by. If we have to wait a while for anyone to work out some technical kinks, we'd like it to be Mac DeMarco.
Philly rockers Hop Along have been on the rise this year, and it is more than deserved. With insanely strong vocals and a sweet and approachable onstage persona, their catchy tunes made for the perfect mid-afternoon set. There are bound to be huge, huge things coming for this always evolving band.
Los Angeles natives HEALTH put on a crazy loud, bass heavy, creepily lit show that made fans of hard rockers and indie rockers alike. There's something mesmerizing about an act that is kind of scary, but is mostly just awesome.
Despite a few setbacks (the singer arrived 20 minutes late), Solange looked beautiful and fierce in a long, red dress. The highlight of her set came when Dev Hynes and Moses Sumney joined her for a song, adding to the beauty (in looks and vocals) on stage
While Chet Faker reached for it, no one can take sexiest or smoothest away from R&B legend D'Angelo. With a perfectly tight backing band, multiple outfit changes, and a voice like butter, D'Angelo had the entire crowd melting. Proof that despite having disappeared for a while, this insanely talented musician isn't going away anytime soon.


ALVVAYS


Bloc Party








Chet Faker







Dinosaur Jr





Flume





Goldroom






Hop Along




Joyce Manner





Kanye West



La Femme







Mac Demarco



Melody's Echo Chamber




Metz







Neon Indian






Purity Ring


Run the Jewels











Savages






Shlohmo






The Drums






Title Fight






Toro Y Moi