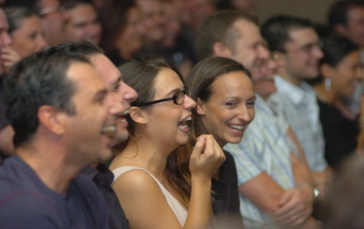 In the other blog I contribute to, I posted a very funny article about church bulletin FAILS.  I got it from an email sent to me by a friend, and I couldn't help but laugh out loud.
Here's some of the funnies in that article, which totally shows the need for proofreaders:
•   Ladies, don't forget the rummage sale. It's a chance to get rid of those things not worth keeping around the house. Bring your husbands.
•   Don't let worry kill you off - let the Church help.
•   Eight new choir robes are currently needed due to the addition of several new members and to the deterioration of some older ones.
•   Low Self Esteem Support Group will meet Thursday at 7 PM .. Please use the back door.
•   A bean supper will be held on Tuesday evening in the church hall. Music will follow
•   Irving Benson and Jessie Carter were married on October 24 in the church. So ends a friendship that began in their school days.
There a lot more where that came from.  My article has over 20 of these church bulletin fails, and what's so hilarious is that all of them, bloopers and all, were actually used/announced.  You can see them by clicking here.
(This blog site, Lessons Of A Dad is mostly about parenting, marriage, and other topics aimed to develop the reader's mind, body, and soul.  However, I don't mind putting out the funnies every once in a while.  I'd consider it an honor if you'd follow or subscribe to this site.  You can also go to my Facebook page here, and I'm also on Twitter at @lessonsofadad)