The Funky Giraffe Bibs  have a wide range of unique designs with practicality and affordability in mind. These designs are exclusive to Funky Giraffe and you will not be able to find these designs anywhere else as these truly are genuine.
They sent me 4 bibs to review having seen the designs online I was intrigued. I must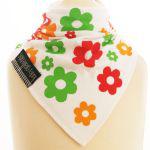 admit I am very pleased with their products each bib is made with 'love'. The product is very well made and certainly will be long lasting.
The bibs are made to fit snugly ensuring baby feels at ease yet being secure enough so that they cannot be pulled off. The beautiful bibs are so stylish that the designs can suit any outfit, making them not only useful but a great fashion accessory too.
Baby can wear the bib for hours, which are ideal when teething, ensuring a dry chest at all times, and ultimately a happier baby.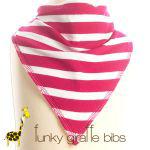 Bandana bibs not only look great, made from soft cotton with a fleece backing, these will always keep baby dry. They are becoming very popular and are affordable too.
They have a bib to suit every occasion.
They currently are selling 5 bibs for £10.60 with free postage.
Visit http://funkygiraffebibs.co.uk/ to place your order now.