If like me you love funky baby items you'll love the new item I was asked to review. The item was sent to me from Ebay user jonny-cotton.
A baby vest with the slogan 'I've just done 9 months inside'. They have a wide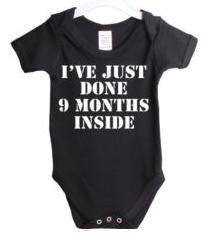 variety of slogans available including I love boobies (just like my daddy), Jedi in training, I only cry when ugly people hold me.
Check them out at http://stores.ebay.co.uk/revolution-shirtz
These baby vests would make ideal gifts for birthdays,christening and Christmas
Or why not purchase for for an alternative gift at Easter.
Ages range from newborn – 12-18 months.
All baby vests are brand new and top quality cotton and having washed this item I can confirm that the print hasn't faded or peeled away from the vest and will last a life time.
They retail at £6.99 per a vet. Post and package is £1.00 per an order not per an item.