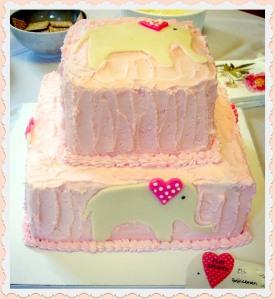 I decorated the cake with fondant elephants to match the invitations. You can (kind of) see one of the invites in the lower right-hand corner.
I've got to get something off of my chest.  (We're all friends here, right?)  I offered to make a little cake for my friend's baby shower.  When I learned that she had been craving Funfetti cake, I panicked.  I thought this meant that I might have to consider using a box mix.  Yikes.  I'm a die-hard scratch baker.  It's who I am.  Yet, I refused to stand in the way of a pregnant woman and her cake cravings.  What to do?
After a little recon, I felt a wave of relief when I learned that Funfetti is simply a white or vanilla cake with rainbow sprinkles mixed into the batter.  Whew.  I've spent, literally, years of my life experimenting with different white cake recipes.  Thank goodness I've got a good one.  It's so light and airy, that it borderlines as a dense Angel Food. Yet, it's moist and has a good vanilla flavor.  This recipe is amazing, whether you decide to toss in the rainbow sprinkles or not.
Sometimes, I think pictures (or at least my pictures) don't really show you that a cake is beyond good.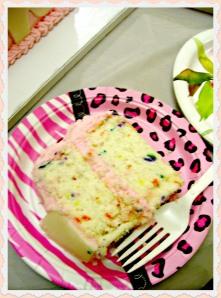 I wish that you could reach into your computer screen and snag a little taste.  I have no doubt that you'd want another bite of this cake, particularly when it is paired with this smooth, creamy Vanilla Buttercream.
Now, when it comes to buttercream, I fully realize that cakers usually fall into one of two camps.  Either you prefer a non-crusting recipe, like this Vanilla Buttercream, or you only use crusting recipes, like my "Bakery Style" American Buttercream.  Choose whichever recipe best suits you.  Either will pair nicely with this yummy Funfetti cake.
Yep, I said it.  This scratch baker thinks that (scratch) Funfetti cake is pretty yummy.  I never thought I'd try Funfetti, and I'd never dreamed that I'd find it to be delish.  But, I do.  True confession.
Funfetti Cake
Yield: Two 8" round cakes
Cake Recipe Inspired by: The Whimsical Bakehouse
1 ½ sticks butter, unsalted
2 cups superfine granulated sugar
1 teaspoon salt
3 1/3 cups cake flour
1 ½ teaspoon baking powder
¾ teaspoon cream of tartar
1 ¼ cup milk
1 ½ teaspoon vanilla bean paste
1/3 cup plus 2 tablespoons rainbow sprinkles
¾ cup egg whites
Pre-heat oven to 325 degrees.  Prepare pans by spraying them with non-stick baking spray.  In a medium bowl, sift together the cake flour, baking powder, and cream of tartar.  Set aside.  In a large measuring cup, stir together milk and vanilla paste.  Set aside.  Next, in a separate bowl, beat together the butter, 1 ½ cups of sugar (reserve ½ cup), and salt until light and fluffy.  Add the sifted dry ingredients to the butter mixture alternately with the milk mixture.  Then, add the rainbow sprinkles, and continue mixing until well-combined.
In a separate bowl, beat together the egg whites until foamy.  Then, continue beating the egg whites and add ½ cup sugar.  When stiff peaks form, use a rubber spatula to completely fold the egg whites into the cake batter.  Pour the batter into the cake pans.  Bake for 30-40 minutes, until a toothpick inserted into the center of the cakes comes out clean.  Cool on wire cake rack.
Vanilla Buttercream
2 sticks butter, unsalted – chilled, but not straight from the fridge
1 cup all-vegetable shortening
4 tablespoons milk
1 tablespoon pure vanilla extract
5 cups powdered sugar, sifted
In a large bowl, beat the butter and shortening until smooth.  Next, while you continue to beat the mixture, add the milk and vanilla.  Then, add the powdered sugar, one cup at a time.  Beat until smooth.  Lastly, before using, take a rubber spatula and stir the frosting thoroughly to eliminate any air bubbles.
About these ads