I had a vision for these cupcakes.  I knew exactly how I wanted someone to feel when they ate one. Comfy. Cozy. And a bit nostalgic. This banana cupcake, at least in my mind, is the perfect comfort food.  With every bite, it reminds me of coming home after school as a kid and enjoying a piece of snack cake.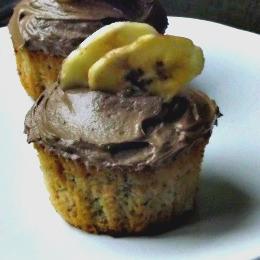 But, I also wanted to add a bit of a spin to it, too. Something that is a bit unexpected for a banana cake. Here's where the mocha comes into play.  The flavor of the buttercream is a bit of a tease.  It smells like chocolate.  When it first crosses your palate, it tastes like chocolate, but then the hints of mocha begin to tickle your taste buds.  And the cupcake?  Let me tell you about this cupcake….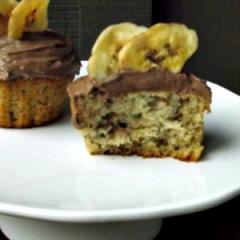 I've tried many banana cake recipes, but they have always bummed me out me.  I've even tried to create a couple of my own versions, with no luck.  With all of these other recipes, I've always felt like I was eating a piece of banana bread.  Way too dense.  Rest assured that this recipe has the taste and texture of a cake with a good banana flavor.  Come to think of it, I think it would make a lovely little snack cake with a Penuche frosting, too.
Banana Cupcakes
For the cupcakes, I used the "Best Ever Banana Cake" recipe by Rhonda J on Food.com.  CLICK HERE for recipe.  I didn't change a thing, which is pretty rare for me.
Mocha Buttercream
A Cakediva Original Recipe
1/4 cup milk
1 1/2 teaspoons of instant coffee granules
1/2 cup unsweetened cocoa
3 cups powdered sugar
1 cup (2 sticks) unsalted butter, room temperature
4 tablespoons of shortening
1 1/2 teaspoons pure vanilla extract
1/2 teaspoon pure almond extract
In a small bowl, combine milk and instant coffee granules, stir, and set aside.  In a medium sized mixing bowl, sift the powdered sugar and the cocoa powder.  Whisk together the powdered sugar and cocoa powder.  Set aside.  In the mixing bowl of your KitchenAid fitted with the paddle attachment, beat together the butter and shortening until they are smooth and creamy.  Turn down the speed of your KitchenAid to a 2 or 3.  Add the extracts.  Add the powdered sugar/cocoa mixture, one cup at a time.  Using a spatula, scrape down after each addition.  Add 3-4 tablespoons of the milk/coffee mixture until it has combined with the buttercream.  (Do not add all of the milk mixture!)  Lastly, take a wooden spoon or spatula and stir (by hand) to eliminate any air bubbles.