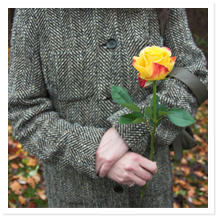 The loss of a mother is difficult to handle, but reading one of these funeral poems for mother at her funeral will help you to express the grief you are feeling. Not only do funeral poems help express grief, but they can also remind friends and family in attendance at the funeral of the wonderful memories that they shared with your mother.
It is often said that funerals are for the living and not the dead. Funerals give us an opportunity to gather with friends and family and celebrate the life of our loved one who has passed away. At the funeral we can share fond memories and remember how much the person meant to us. Funeral poems for mother are often included in a service and are an easy addition to the funeral that everyone in attendance can relate to.
Our mothers mean so much and do so much for us in our lives. It would be great to send her off with a poem that could be used as both part of the funeral service and as part of the service folder or other memorial. The following are some of the most popular funeral poems for mother and whatever poem you choose will always remind people of your mother when they read it.
Funeral Poems For Mother
Lilacs at my funeral
Lilacs when I'm dead
Lilacs in my coffin
Placed gently by my head
Lilacs at my funeral
Lilacs when I'm gone
Lilacs to help send me
On my journey home
Lilacs at My Funeral – By Dakota Austin
A Mother's Crown
Heaven lit up with a mighty presence,
as the Angels all looked down.
Today the Lord was placing the jewels
Into my mother's crown.
He held up a golden crown,
as my darling mother looked on.
He said in His gentle voice,
'I will now explain each one.'
'The first gem,' He said, 'is a Ruby,
and it's for endurance alone,
for all the nights you waited up
for your children to come home.'
'For all the nights by their bedside,
you stayed till the fever went down.
For nursing every little wound,
I add this ruby to your crown.'
'An emerald, I'll place by the ruby,
for leading your child in the right way.
For teaching them the lessons,
That made them who they are today.'
'For always being right there,
through all life's important events.
I give you a sapphire stone,
for the time and love you spent.'
'For untying the strings that held them,
when they grew up and left home.
I give you this one for courage.'
Then the Lord added a garnet stone.
'I'll place a stone of amethyst,' He said.
'For all the times you spent on your knees,
when you asked if I'd take care of your children,
and then for having faith in Me.'
'I have a pearl for every little sacrifice
that you made without them knowing.
For all the times you went without,
to keep them happy, healthy and growing.'
'And last of all I have a diamond,
the greatest one of all,
for sharing unconditional love
whether they were big or small.'
'It was your love that helped them grow
Feeling safe and happy and proud
A love so strong and pure
It could shift the darkest cloud.'
After the Lord placed the last jewel in,
He said, 'Your crown is now complete,
You've earned your place in Heaven
With your children at your feet.'
A Mother's Crown – By Author Unknown
You can shed tears that she is gone
Or you can smile because she has lived
You can close your eyes and pray that she will come back
Or you can open your eyes and see all that she has left
Your heart can be empty because you can't see her
Or you can be full of the love that you shared
You can turn your back on tomorrow and live yesterday
Or you can be happy for tomorrow because of yesterday
You can remember her and only that she is gone
Or you can cherish her memory and let it live on
You can cry and close your mind,
be empty and turn your back
Or you can do what she would want:
smile, open your eyes, love and go on.
She is Gone – By David Harkins
A Mother's love is something
that no on can explain,
It is made of deep devotion
and of sacrifice and pain,
It is endless and unselfish
and enduring come what may
For nothing can destroy it
or take that love away . . .
It is patient and forgiving
when all others are forsaking,
And it never fails or falters
even though the heart is breaking . . .
It believes beyond believing
when the world around condemns,
And it glows with all the beauty
of the rarest, brightest gems . . .
It is far beyond defining,
it defies all explanation,
And it still remains a secret
like the mysteries of creation . . .
A many splendoured miracle
man cannot understand
And another wondrous evidence
of God's tender guiding hand.
A Mother's Love – By Helen Steiner Rice
Memories unfold as we think of you,
A real mum, through and through.
You suffered in silence everyday,
An illness that would not go away.
But now you have no more pain
For God's loving arms have healed you again.
Dearest Mum – By Author Unknown
The memories of the past are vague
The hurts are forever and forgiven
What I have today is what there is forever
And those are the memories of all I have to hold on to.
In my mind I remember a face – one of beauty
One with rarely a frown
And almost always a smile
Never a harsh word – just a kind gentle smile
I hear her voice as she says kind words to all who she knew
The words were always soft
And they were who she was
I will forever hear her say "Hi Honey" soft and gentle was her voice
In the air I breathe
I know she is there
To guide and protect all who she loved
I will forever be grateful
I was born through her to love
I am now who she was
Who She Was – By Bonnie Hampton
After the clouds, the sunshine,
after the winter, the spring,
after the shower, the rainbow,
for life is a changeable thing.
After the night, the morning,
bidding all darkness cease,
after life's cares and sorrows,
the comfort and sweetness of peace.
The Comfort and Sweetness of Peace – By Helen Steiner Rice
When I was young I used to love
to sit upon your knee.
I'd gaze into your loving eyes
as your arms enfolded me.
Your gentle kiss would stir
the golden tendrils of my hair,
as whispered sentiments of love
we quietly would share.
We'd read a book together,
the same time after time.
I knew all of the words by heart,
you didn't seem to mind.
When darkness fell you tucked me in
and gently kissed my cheek.
You'd wish upon a shooting star
the Lord my soul to keep.
The years have passed so quickly,
death parted you from me.
I hope you know how much it meant
when I sat upon your knee.
Gazing to the heavens,
as I quietly reminisce,
I'd give a million of those stars
to feel your gentle kiss.
I'd give all my tomorrows
to hear you read to me,
and remember those quiet moments
when I sat upon your knee.
Quiet Moments – By Louisas Lodge
Somewhere in my heart beneath all my grief and pain,
Is a smile I still wear at the sound of your dear name.
The precious word is 'MOTHER', she was my world you see,
But now my heart is breaking cause she's no longer here with me.
God chose her for His angel to watch me from above,
To guide me and advise me and know that I'm still loved.
The day she had to leave me when her life on earth was through,
God had better plans for her, for this, I surely knew.
When I think of her kind heart and all those loving years,
My memories surround me and I can't hold back the tears.
She truly was my best friend, someone I could confide in,
She always had a tender touch and a warm and gentle grin.
I want to thank you Mother for teaching me so well,
And though the time has come that I must bid you this farewell.
I'll remember all you've taught me and make you proud you'll see.
Thank you my Dear Mother for all the love you showed me.
Although you've left this earth and now you've taken flight,
I know that you are here with me each morning, noon and night.
Farewell, Dear Mother – By Ruth Ann Mahaffey
I see you my darlings, all the time,
I know everything you do.
Would you believe, my dearest children
I'm even closer now to you!
I can see inside your minds,
Indeed, inside your hearts,
I even know you better now,
Than I did before, sweethearts.
I've always loved you – you know that,
But maybe now I love you more,
I love the adults that you've become,
Just as I loved the child before.
I know how much you miss me,
Well, I surely miss you, too.
I miss our talking and our laughing,
And all we used to do.
Whether you are six or sixty,
You'll always be my precious child.
You're the babies that I carried
And the adults that helped me smile.
What you need to understand,
Though death has taken me away,
Is that I've not left you, my darlings.
I am still with you today.
My family, I could never leave you;
God, of course, would not want that.
Physically, we are apart,
But our hearts are still attached.
I love you all the time,
You cannot get away from me.
That's the way a Mother is
Right until eternity.
Every day I'm with you
I see you from above,
And I want for you to know
How very much you're dearly loved.
A Mother's Message From Heaven – By Virginia (Ginny) Ellis
Poems are a great way to remember people that are no longer with us, and funeral poems for mother are an excellent way to keep her memory in the hearts and minds of those who attend her funeral.
People come to funerals looking for a way to remember the person who has passed away.  They want the funeral to be a way to celebrate the person's life, share memories and create new memories of the person that will stay in their mind for a long time to come. All of the elements of a funeral need to work together to help persevere the memory of the person being honored and a poem can be one of those important elements that people will long remember even after the person is gone. Funeral poems for mother can help us say what we want to say about someone who was so important in our lives.