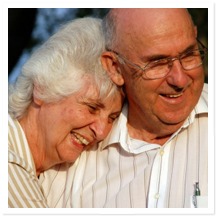 Our grandparents play an important role in our lives and losing a grandad is very difficult. The following funeral poems for grandad can be read at his funeral, or used on a memorial, to pay tribute to an important person in your life. Friends and family at the funeral will be able to relate to the funeral poem and when they read the poem in the future they will be reminded of your grandad.
One of the people that we highly value in our lives is our grandparents. When we lose a grandparent it is very sad, but we should celebrate the fact that they lived such a full life and highlight their many accomplishments. The funeral will provide an opportunity to say goodbye and share fond memories with friends and family. Funeral poems for grandad can help put in to words the emotions you are feeling. Funeral poems for grandad can express your love and condolences without having to write the words yourself.
The following are a few of the most popular funeral poems for grandad. Choose one or more poems that best reflect your emotions or describe your grandad's personality.
Funeral Poems For Grandad
My Grandfather was a man who had smiles to brighten your days,
who always made you feel good with his warm words of praise.
And what's more he knew
what to do to make wishes come true.
He was my Grandfather.
My Grandfather was someone who always had good stories to tell,
but just as importantly he knew how to be a good listener as well.
He was patient and kind
and the very best friend you could ever hope to find.
He was no ordinary man.
And I'm proud to tell the world that (Your Granddads name here)
Was my Grandfather.
My Grandfather – By, Author Unknown
Not how did he die, but how did he live?
Not what did he gain, but what did he give?
These are the units to measure the worth
Of a man as a man, regardless of birth.
Not, what was his church, nor what was his creed?
But had he befriended those really in need?
Was he ever ready, with word of good cheer,
To bring back a smile, to banish a tear?
Not what did the sketch in the newspaper say,
But how many were sorry when he passed away.
Not How Did He Die, But How Did He Live? – By Author Unknown
My Nanny rang at ten past seven,
To tell my Daddy, that you'd gone to heaven.
To play with Josh, and Luke and Jake,
Take them for a walk, by a beautiful lake.
But there were tears in Daddy's eyes,
As he remembered you, as you were in life.
He told me of the time, when he came round with Mummy,
How you wiped a tear, when he said I was in her tummy.
He told me how proud, he was to see me,
Sit for the first time, upon your knee.
How your wonderful smile, would light up the room,
When I came around, on Friday afternoons.
There's no-one like you,
There will never be another.
I'm sorry that you'll not meet, my new sister or brother.
I'm so happy I knew you.
But now I'm sad that you're gone.
My dearest, sweet, Great-Granddad Tom.
Great Grandad Tom – By Author Unknown
Our Grandfather kept a garden.
A garden of the heart;
He planted all the good things,
That gave our lives their start.
He turned us to the sunshine,
And encouraged us to dream:
Fostering and nurturing the seeds of self-esteem.
And then the winds and rain came,
He protected us enough;
But not too much because he knew
We would stand up strong and tough.
His constant good example,
Always taught us right from wrong;
Markers for our pathway that will last
a lifetime long.
We are our Grandfather's garden,
We are his legacy.
Thank you Grandfather, we love you.
Grandfather Kept a Garden – By Author Unknown
It broke our hearts to lose you,
but you never went alone,
for a part of us went with you,
the day god took you home.
A million times we missed you,
A million times we cried,
If love could have saved you,
you never would have died.
To the grave you travel,
Our flowers placed with care,
No-one knows the heartache,
as we turn to leave you there.
If tears could build a stairway,
and memories could make a lane,
we would walk right up to heaven,
and bring you home again.
We love you Granddad,
sleep well in heaven with the angels.
Our Grandad – By Author Unknown
Granddad, you were just a lad,
So many years ago.
You had your loves and had your dreams,
You watched us come and go.
You watched us make the same mistakes,
That you had made before,
But that just made you hold us tight,
And love us all the more.
We haven't always thought about
The things that you have seen.
To us you've just been 'Granddad',
No thought of who you've been.
But we remember now in love,
Your life from start to end,
And we're just glad we knew you,
As Granddad, and as Friend.
Granddad – By Author Unkown
There was no time to say goodbye
But this I ask – please do not cry
Remember me as you think best
The happy time – forget the rest.
Look for me and I'll be there
And you will find me everywhere
In the gentle touch of breeze
That cools the skin or swirls the leaves.
In the scent and color of flowers
That gave to me such happy hours
On sunny days under sunny skies of blue
Just think of me, I'll be with you.
In winter when there's cloud or mist
The rain will give to you my kiss
As wood smoke lingers in the air
Look for me and I'll be there.
Where seagulls cry above the sea
And surf rolls in so endlessly
Among towering trees that soar above
In all these things that i once loved
Look for me and I'll be there
You'll feel my presence everywhere.
I'll Be There – By Author Unknown
As I look up to the skies above,
The stars stretch endlessly–
But somehow all those rays of light
Seem dimmer now to me.
As I watch the morning sun appear,
The shadows still don't fade—
As if the brightest light of all
Was somehow swept away.
Though I see the branches swaying,
And watch their dancing leaves–
The echoes carried on the wind
Don't sound the same to me.
As I listen to the morning birds
Sing softly from afar–
It seems to be a mournful tune
That echoes in my heart.
Another day has come again,
As time moves surely on–
But nothing now seems quite the same,
To know that he is gone.
The days and weeks and months ahead
Will never be the same–
Because a treasure beyond words
Can never be replaced.
The loss cannot be measured now,
The void cannot be filled–
And though someday the grief may fade,
His mark will live on still.
For even with my heavy heart,
I know that I've been blessed
To have been one who's life he touched
With warmth so infinite.
As I Look Up to the Skies Above – By Author Unknown
Funeral poems for grandad can be read at the funeral on their own or incorporated into a speech. Or, the funeral poem can be used as part of a memorial for your grandad. Part of a poem can be included on a headstone, on a memorial folder or in the obituary. There are a number of ways that you can use a funeral poem to pay tribute to your grandad.
Any of the funeral poems for grandad listed above would make an excellent choice for your grandad's funeral. Or, read our other funeral poem articles listed below to find a different funeral poem to read at your grandad's funeral.