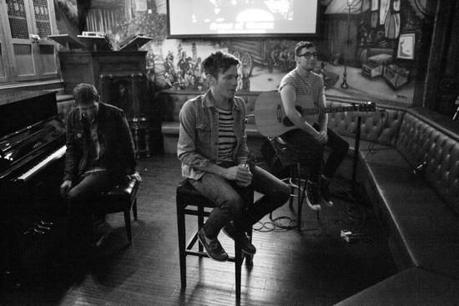 Photo credit: Meghan Benson
When you attend shows in NYC, it's not unusual to observe growth in a band's popularity simply based on the growing capacities of the venues where they perform. If you're lucky, you catch a band when they're fresh at small bars like Glasslands Gallery or Pianos and follow them up through the ranks of mid-sized stages — Bowery Ballroom, Music Hall of Williamsburg, Webster Hall, etc. Then, you gracefully accept that going to their shows will never be quite as intimate when they announce a date at Terminal 5.
fun. (@ournameisfun) was that type of band for me. I've seen them at Mercury Lounge, The Bell House, Bowery Ballroom, and Webster Hall. With their immense success as of late, I was pretty convinced I would never get the chance to see them up close and personal again, so I was thrilled when Eric and I got the chance to see a small performance to celebrate the release of fun.'s latest album Some Nights. Taking place at the lovely Sons of Essex in the LES, a crowd of about 30 enjoyed hors d'oeuvres and fresh drinks as the 3 members of fun., seated Greek theater style in a depressed section in the middle of the room, treated us to acoustic renditions of 4 tracks off Some Nights: "Some Nights – Intro," "Carry On," "All Alright," and "We Are Young."
Some Nights largely relies on sounds shaped in the studio, which may be tricky to recreate without a live band, but the spared down versions of the songs did not leave any of the attending super fans disappointed. Armed with just Andrew's piano, Jack's guitar, and Nate's voice, fun. revealed the skeletons of these songs, and probably what they sounded like when they were first conceived. It was also great to notice that the intensity on Nate's face when he hits those super loud high notes comes across just as easily in the big venues as it does when you are sitting only a few feet away from him.
In between songs, the boys jested about touring life, recently getting kicked out of hotels, and how they had continually been checking sales numbers (Some Nights had been released just 3 days prior). It was truly a wonderful experience, and we are so lucky to have been given the rare opportunity to see fun. in such a close and friendly setting again. Next up — the band supports their number-2-album-in-the-country with an explosive Spring tour, complete with two nights at — you guessed it — Terminal 5.