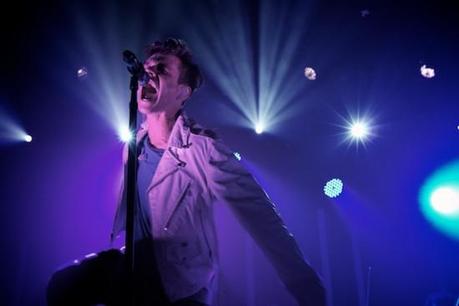 Photo credit: Eric Weiner
It may be hard for fun. (@ournameisfun) fans to accept that the band's new album Some Nights doesn't come out until February 21st, but the lucky ones who attended their Bowery Ballroom show on Wednesday should feel satiated. From the very first song, fun. made it clear that they are not the same band from their last album cycle. Don't get me wrong, they still delivered the same high-energy experience to scores of rabidly enthusiastic fans, but they added a few touches that took them over the edge from unique indie-pop band to super-polished, pop-rock champions.
The first noticeable new addition was a string section. Quiet songs during the band's live shows are few, but I truly enjoy how stripped down and intimate they feel. The strings added an extra layer to "The Gambler" but didn't subtract from this intimacy, instead building on the sporadic tempo of the song and making it more fluid and more beautiful. Also new was an intense rainbow light show that lit up LED bars behind the band.
As expected, the best new "thing" to be unveiled last night were songs from the band's upcoming album. Performing more rhythm-based tracks and making greater use of programming/sampling, I could easily tell that fun. has been working with hip-hop producer Jeff Bhasker. Die-hard fans shouldn't be afraid of this new territory, though. The hip-hop elements of their new sound work seamlessly with the essentials of fun.'s music. Auto-tune, for instance, isn't used to correct Nate Ruess's pitch or dehumanize his voice, but to add a textural layer.  Of the new tracks, most promising was one titled "Carry On," an arena rock anthem anchored by a fist-pumping, sing-along chorus and punctuated with a scorching guitar solo from Jack Antonoff.
Ruess's voice never ceases to amaze with its relentless power and precision, and fun. always delivers a high-energy show characterized by excitement, exhilaration, and a lot of jumping up and down. Wednesday's performance reaffirmed them as a band making their way to the top by being truly unique and fun (pun not really intended, but unavoidable). Last night was also the first show I've seen where they didn't cover The Format (Nate Ruess's previous band). They've never needed to though — they've always been able to stand on their own, awesome talent.

View Photo Album