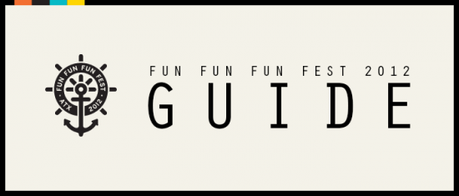 Fun Fun Fun Fest began in Austin in 2006 as the only genre-based music festival in the country, with each of the four stages featuring a specific mood.  While our music taste tends to lean more towards the acts playing the Orange Stage this year (Edward Sharpe & the Magnetic Zeros, Santigold, Explosions in the Sky, The Head and the Heart, WHY?, etc.), there's something for everyone.  The Blue Stage will have dance and hip hop fans working up a sweat (with A$AP Rocky, Girl Talk, Starfucker, more), while the Black Stage will have garage and punk aficionados moshing their heads off to the music of Japandroids, Refused, Tomahawk, Wavves, and so many more.  Meanwhile, those looking for a laugh can head over to the Yellow Stage where David Cross, Hannibal Buress, Doug Benson and other will be performing standup.
The festival's main focus is what we're all about — showcasing up and coming musical talent from all over. Held at the beautiful (and dusty — don't forget your handkerchief!) Auditorium Shores overlooking the city's skyline, it really does live up to its name. Like any larger-scale music festival, though, it can be a little overwhelming if you're not sure exactly what you're looking for. Here I've laid out some acts that we all agree you shouldn't miss. Although these bands are all across the board genre-wise, they all share one thing — genuine, raw talent and a unique contemporary musical voice. So grab some delicious street food and a beer, settle in, and enjoy all of these awesome live performances in the live music capital of the world.

I've gotta be honest — sometimes I get sick of lyrics. I grow tired of the thinking and analyzing involved and want to just listen. Austin's own Balmorhea (@balmorheamusic) is perfect for those times. The six-piece instrumental group has toured North America and Europe five times, each with names such as Fleet Foxes and Sharon Van Etten. They deserve the attention, and more. Their style is refined and sophisticated, yet entirely engaging. Catch the unique ensemble live on Sunday from 1:00 to 1:30 on the Orange Stage — you're in for a treat.

Hailing from Portland, Starfucker's (@starfucker) music is as striking as their moniker. The four-piece band has mastered the art of creating hooks that are refreshingly clever and danceable, yet as catchy as any pop song. Their indie-electronic music is akin to that of MGMT, minus the (at times exasperating) theatricality. If electronica can be described as organic, Starfucker is that. If you're in the mood to dance, I'll see you Saturday from 7:50 to 8:40 at the Blue Stage.

Long Island's Twin Sister (@twinsistermusic) is a relatively new discovery for me, and my love for them was an immediate, mild obsession. Lead singer Andrea Estella's voice is hypnotic and pure. Mixing that with the trancey electronic instrumentals creates an awesome — and awesomely creepy — mood. I guarantee you won't want to miss this one. Check out their vaguely terrifying video for "Kimmi in a Rice Field" and come to the Orange Stage from 9:00 to 9:45 on Friday.

If you've heard even a snippet of one of WHY?'s (@whywithaqmark) songs, this recommendation is totally superfluous. This California band seems to extract all the raddest elements of contemporary indie rock, electronic, and hip-hop, and turn them into the weirdest, most viscerally entertaining sounds you've ever heard. I've never seen them live before, but the thought of it makes me giddy. They'll be playing on Saturday from 3:35 to 4:20 at the Orange Stage. You'd be nuts to miss this one.

The beauty of Fang Island's (@fangisland) music lies with its simplicity. For many of the bands we talk about, our love stems from their ability to mesh a bunch of musical styles to make a unique, original sound. This band, however, sticks to the basics. The Brooklyn trio make rock music whose immense likability is found entirely within its personality, without relying on flashy instrumentation or styling. For some good, clean (yet still totally groovy) fun, head over to the Orange Stage on Friday from 1:35 to 2:05.

Deerhoof's (@deerhoof) strange, multi-dimensional music draws in listeners a number of ways. These days, they mix vintage-sounding guitars with ambient decorative instrumentation and then, for good measure, throw in Satomi Matsuzaki's always adorable, unassuming female vocals. I say "these days" because they've been around for quite awhile — they've got twelve self-produced albums to date — and their style is known for its constant evolution. Be sure to catch them on Sunday from 5:15 to 6:00 on the Orange Stage.

American Royalty (@amrcnrylty) began as an experimental studio project between members Marc Gilfry, Billy Scher, and Mat Ungson and accidentally ended up being a massive musical success. The trio mixes soul with indie electronica, creating a genuine sound that's all their own. The L.A. band has been gaining a lot of attention lately, and I'm pumped to see for myself what all the hype's about. They'll be playing on Sunday from 11:50 to 12:30 on the Blue Stage.

Among the other bands I'm beyond excited to catch live are Yellow Ostrich, Sharon Van Etten, Macklemore, Run-D.M.C. (hell yeah!), Santigold, Real Estate, Danny Brown, Kreayshawn, Givers, Explosions in the Sky, Girl Talk, The Head and the Heart, Girl Talk, and Wavves. This weekend, you're gonna be jamming nonstop, so be sure to remember your splint (ZING!).