Everyone loves Nestlé candy throughout the year, but it is especially popular at Easter because it can be used to plan egg/candy hunts, fill Easter baskets, and serve up delicious Easter recipes! Here are some products and ideas from Nestlé to make your Easter egg-stra special!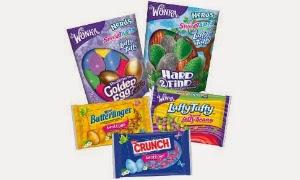 NEW! Hard2Find Egg Hunt Outdoor Kit
Each egg is shaped and colored to look like objects in nature, from rocks and bark to grass and flowers! They're pre-filled with NERDS, SweeTARTS and Laffy Taffy, making them perfect for your outdoor egg hunt!
NEW! Hard2Find Egg Hunt Indoor Kit
Each egg includes a hanging string, suction cups, adhesive stickers and glow-in-the-dark eggs so you can surprise the kids by hiding eggs in some crazy places!
NEW! SweeTARTS Gummies & Jelly Beans Pouches
Sold exclusively at Costco, these tart and tangy SweeTARTS come in chewy gummies and jelly bean form!
WONKA Laffy Taffy Jelly Beans
These brightly colored banana, cherry, grape and apple jelly beans are perfect for egg hunts and Easter baskets!
Nestlé Butterfinger Bunny and Crunch Bunny
Made of solid milk chocolate with Butterfinger pieces or crisped rice Nestlé Crunch pieces, they're sure to please your little candy-bar fans!
NERDS Bumpy Jelly Beans
With a crispy shell and chewy jelly bean center, these jelly beans come in your favorite NERDS flavors: orange, apple, cherry, grape and lemon!
These are just a few of the awesome Easter products from Nestlé. Pick them up at the store not only for Easter hunts and baskets, but also for making some delicious recipes like those below:


Easter Brownie Cupcakes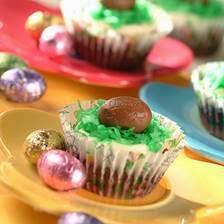 Ingredients:
• 1 package (19.5 ounces) chocolate brownie mix
• 36 NESTLÉ BUTTERFINGER or CRUNCH NestEggs, divided
• 12 ounces cream cheese, softened
• 1/4 cup granulated sugar
• 1 tablespoon vanilla extract
• 1 1/2 cups flaked coconut
• 2 drops green food coloring
Directions:
PREHEAT oven to 350° F. Line 24 muffin cups with paper liners.
UNWRAP and chop 12 Nestlé NestEggs.
PREPARE brownie mix according to package directions. Stir in chopped Nestlé NestEggs. Spoon batter evenly into prepared muffin cups.
BAKE for 16 to 18 minutes or until edges are slightly firm and centers just begin to sink. Cool in muffin pans for 10 minutes; remove from pans to wire racks to cool completely.
BEAT cream cheese, sugar and vanilla extract in small mixer bowl until smooth. Spoon a dollop of cream cheese mixture over tops of brownie cupcakes; smooth top.
COMBINE coconut and food coloring in medium bowl; stir with fork to combine. Sprinkle coconut over cream cheese frosting. Top each with 1 unwrapped Nestlé NestEgg.


Coconut Cookie Nests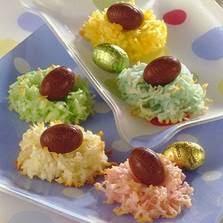 Ingredients:
• 2 large egg whites
• 2 cups shredded sweetened coconut
• 1/3 cup granulated sugar
• 2 tablespoons all-purpose flour
• 1/2 teaspoon vanilla extract
• 1/8 teaspoon salt
• 4 colors of food coloring (optional)
• 12 NESTLÉ CRUNCH or BUTTERFINGER NestEggs, unwrapped
Directions:
PREHEAT oven to 325° F. Lightly grease and flour baking sheet.
WHISK egg whites until frothy in medium bowl. Stir in coconut, sugar, flour, vanilla extract and salt until well blended. Divide coconut mixture into 4 bowls. Add 1 to 2 drops different color food coloring to each bowl; mix until colors are dispersed evenly. Drop by tablespoonfuls into 12 mounds 1 1/2 inches apart. Press centers in slightly to form nests.
BAKE for 20 to 22 minutes or until set and lightly golden brown. Remove baking sheet to a wire rack. Cool on baking sheet for 10 minutes; transfer nests to wire rack to cool completely. Place 1 Nestlé NestEgg in each nest before serving.


Chocolate Chip Easter Baskets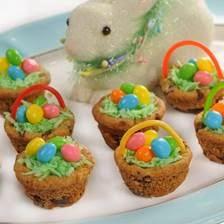 Ingredients:
• 1 package (16.5 oz.) NESTLÉ® TOLL HOUSE® Refrigerated Chocolate Chip Cookie Bar Dough
• 1 cup prepared white frosting
• Green food coloring
• 1/4 cup sweetened flaked coconut
• WONKA® SweeTARTS® or SPREE® Jelly Beans
• Thin-string licorice, various colors, cut into 3-inch pieces for basket handles (optional)
Directions:
PREHEAT oven to 350° F. Grease and flour 24 mini-muffin cups. Place one square of cookie dough into each cup.
BAKE for 14 to 17 minutes or until golden brown. Remove pans to wire rack. If licorice handles are to be added, with tip of wooden pick, make two holes opposite each other on top edge of cup. Make sure holes are the same size as the width of the licorice. This is best done when cups are very warm. Cool cups completely in pans on wire rack. With tip of butter knife, remove cookie cups from muffin pans. Arrange on serving platter.
COMBINE frosting and a few drops of food coloring in small bowl, adding additional food coloring until desired shade is reached.
DISSOLVE a few drops of food coloring in 1/4 teaspoon water in small, resealable food storage plastic bag. Add coconut. Seal bag and shake to evenly coat coconut.
SPOON a small amount of frosting onto the top of each cup. Add a pinch of tinted coconut. Top grass with SweeTarts Jelly Beans. Insert ends of licorice into small holes in cups for handles.
Your family's Easter will be totally amazing this year with Nestlé's yummy seasonal candy and the fun recipes above. Happy Easter!