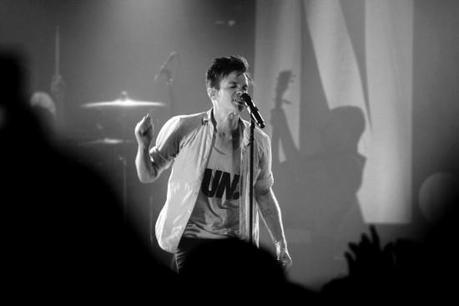 Over 3,000 people gathered together on Saturday at Terminal 5 to sing and dance with Now, Now and fun. Several dedicated fans actually began lining up at 10am that morning, and the sold out venue was literally packed with excited, eager individuals.
Indie pop band Now, Now (@nownowband) from Minneapolis happily took the stage to perform several songs from their new album Threads, released this past spring. As soon as the three band members arrived on stage, they immediately began glowing with happiness. They successfully captivated the attention of the audience with their soft vocals and beautiful instrumentals. Lyrically speaking, their songs portrayed a wide range of powerful emotions and moods. Overall, their set was beautifully composed and the audience showed their appreciation with their smiles, laughter, and cheering.
When the lights dimmed, the crowd began to roar. As usual, fun. (@ournameisfun) frontman Nate Ruess happily ran out on stage with a huge smile on his face. Considering the band members are New Yorkers themselves, they seemed genuinely comfortable, yet honored to be there. Beginning the show with the intro from their successful album Some Nights, they swiftly picked up the pace — not only were each of the band members dancing, but so was the entire crowd. fun. then surprised their fans by releasing thousands of streamers during the third song and a massive amount of confetti shortly after — it was beautiful combined with the fabulous lighting. Another show highlight came when the band preformed "The Gambler" off Aim and Ignite, a song filled with beautiful piano melodies thanks to pianist and trumpet player, Andrew Dost. Following a two-song encore of "One Foot" from Some Nights and "Take Your Time (Coming Home)" from Aim and Ignite, they gave their final farewell to the crowd, displaying their genuine appreciation for every single fan out there.
I'm certain that after two such stellar performances, everybody in the venue had fantastic night.
Note: All of the following photos were taken by the author of this post, Katie Karalis.