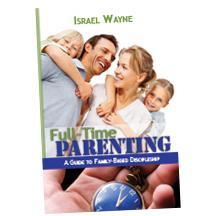 Some books are encouraging
Some books are enlightening
Some books are convicting
Some books propel you to do better.
Full-time Parenting is one book that fits all the above.
This well written and well-rounded book hit quite a few areas that I thought I had 'down' and showed me where I could improve...and how to go about doing that.  I was convicted many times.  But, instead of feeling that I needed to run and hide, I felt encouraged to stand up and try again.
First of all, what is a full-time parent?  According to author, Israel Wayne:
 "Parents who choose to be a full-time parenting team desire to take as much responsibility for the care and upbringing of their children as they possibly can....Full-time parents look for every opportunity to teach and train their children in the ways of the Lord, just as they are commanded in Deuteronomy 6."
This book has so many great tidbits of information and encouragement covering a wide range of parenting topics.  From a Father's role, dealing with Pop Culture, marriage, purity, living on one income, considering a family business, education, single parenting, why children leave the faith and much more!
I appreciate Israel's straightforward, yet humours and gentle approach to these topics.  In the practical chapter on teaching your children to sit still and be quiet, he says,
"It is not always important for children to sit still and be quiet.  They are children and should be allowed to play, have fun and be noisy.  We don't want them to be miserable during their whole childhood.  But they do need to learn how to quiet down and behave appropriately in certain situations."
From the chapter on the hyperactive child:
 "The goal of parents is to work with the child's God-given energy, not destroy it.....Know the difference between being active and being unruly."
Suffer from Perfect Family Syndrome?
 "Plan on experiencing failures.  The good news is you don't have to stay there.  WE don't embrace a message of defeat but, rather, one of victory that says, "Sure, you're a mess right now, but you're growing."
I especially gave a wholehearted 'hear hear' to the chapter on Techno Parenting and how to use it with a biblical worldview.  This is one of the reasons why I don't agree with a total online approach to educating my kids!
"I guess my greatest  concern about online and computer education is that it can become a substitute for the parents, which is what we are trying to avoid by training to be full-time parents.  Because our main goal is discipleship, we should be more concerned with relationships and winning the heart of our children than we are with teaching academic concepts. A computer or another teacher online or via video can, perhaps, teach our children just as well or better than we can, but are we sure that is the approach we want to take?  I am not opposed to supplementing education with multimedia - I think it can be very beneficial - but I am against replacing parental involvement with an impersonal and morally deficient machine."
Israel brings up some things to consideration before starting a family business.  These are things I never thought of before and admittedly I had quite a gold-covered vision of what this would be like for my family PRIOR to reading this chapter!
"First of all, starting a home-based business much be something that is spirit-directed and controlled or it will inevitably be a disaster.  You need to find work that allows you to balance all of life:  your relationship with God, your family, and our friends, ministry, finances, long-term personal goals, parenting goals, and evangelistic and discipleship opportunities.  Never let one of these factors exclude the others.  They are all important.  God wants your life to be integrated to maximize your effectiveness for His Kingdom."
Christian Education Manifesto contains example after example of a Biblical view of the training and education of children backed up with PLENTY of scripture.  WOW!!!
 "Can a blind man lead a blind man?  Will they not both fall into a pit?  A student is not above his teacher, but everyone who is fully trained will be like his teacher"  Luke 6:39-40  Christian parents must not turn the leading of their children over to someone who is spiritually blind.  Education is discipleship.  The students is becoming like the teacher.  Do you want your child to become like his atheist teacher?"
The chapter on advice for single parents is VERY thoughtfully written:
 "Faithfulness and consistency based on Biblical principles will go a long way toward establishing a solid relationship with your children that will not easily be shaken.  Much healing takes place when the peace of God reigns unhindered in your midst.  When just a little girl, my youngest came to me one day asking, "A lady at church said that us girls come from a broken home.  We're divorced but our home's not broken.  We used to be broken, but not anymore!"  Out of the mouth of babes!  There's no sense of lack when Jesus is held in honor as the head of a household."
My husband even read most of this book.  Now, for him, that's a BIG thing.  He's never read a parenting book outside of the Bible!  He started on the chapters on education and went from there.  He said the book was very well written, easy to read, Biblical and right on!
We both highly recommend Full-Time Parenting!!
Disclaimer:
I received a copy of this book free of charge in exchange for an honest review.
SPECIAL OFFER FOR Homeschool Circus SUBSCRIBERS through Jan. 31 Early American library is free with purchase of any curriculum CD. Use code
LISAtips
for a $19.99 discount when you buy any curriculum CD Library plus Early American library. This post written and property of Homeschool Circus and can be found at: www.upatdawnreadytowork.com.