This is a guest post written by Matt White, reviewer of all things hardware, including digital cameras, laptops and tablets.
The FujiFilm FinePix JX520 is a 14 mega-pixel digital camera that's designed with the beginner in mind. FujiFilm's J-series digital cameras are their entry-level models for those who might be intimidated by a camera with all the latest bells and whistles. This is a great choice for anyone who just wants to take a few pictures.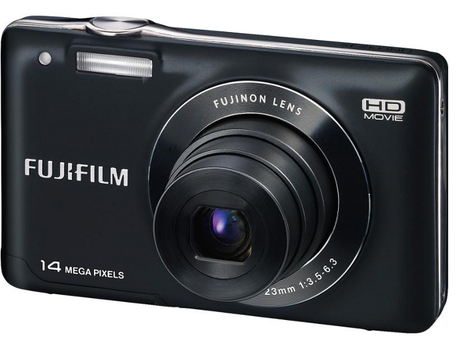 Review Summary
If you are looking for a camera that just takes pictures reliably then most reviewers agree that the FinePix JX520 is a good choice. The menu system is very easy to navigate with just the essential features. Several reviewers praise the camera's light weight, small size, and ease of use. Still, be prepared for a learning curve if you've never used a digital camera, as there are far more features than an analogue camera. The picture quality is decent for tourist shots, but not for any sort of professional photography. Make no mistake; this is an entry-level digital camera.
It does lack many features you can find in other digital cameras. It lacks any internal storage, so all images and videos are deleted unless you upload them immediately. This makes an SD card essential if you're taking pictures away from your computer. The lack of internal memory leads to another problem: battery life. To make up for having no internal memory, the camera has no auto-shutoff. This is a feature that preserves the life of the battery, and it's one the JX520 lacks. While this does avoid worries of losing your pictures before you upload them, it's also extremely easy to drain the battery.
The camera also comes with a software suite to assist in uploading photos and video to social media sites. Some users have reported that the setup manual is very sparse, but there is a full manual on FujiFilm's website. I tried searching for the manual and found it easy to locate. Still, some may see this as an unnecessary inconvenience.
Recommended Buyers
It also comes with a photography suite that has similar features to the JX520. From a beginner's perspective, I would say that the larger viewer and zoom puts the JX520 over the top.
The FujiFilm FinePix JX520 14MP camera is a great entry-level camera for people who just want to capture a moment. The camera is geared for ease-of-use, and has few features that a photo enthusiast would want. With the addition of an SD card and a good habit of keeping it turned off, this camera should present no problems to people new to digital photography.
JX520 Specifications
5x zoom lens
Supports a wide variety of SD media
Digital Image Stabilization
Able to record AVI film at 720p HD quality
Blink and smile detection
A brighter LCD display than the JX300 series
Weighs 4.2 oz with the battery and memory card
Social media tagging and upload features (YouTube and Facebook)
Ergonomic design
7 different colours
Source: Comet
Price: £80 – £90
You can find more information and even buy Fuji digital cameras by clicking here.