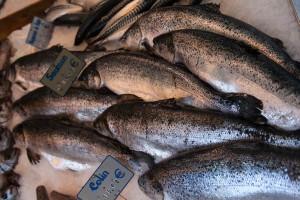 Global Fresh Foods, a San Francisco-based company that specializes in "naturally extended shelf-life technology," announced in May the successful completion of ocean shipping 40,000 lbs. of fresh, unfrozen salmon from Chile to California—a route that previously required fish to be shipped by air. Rather than freezing the Salmon, the 30-day project relied on the company's patented fuel cell technology to control the atmosphere inside the shipping container.
The company's "Safe and Fresh Delivery" (SAF-D) technology preserves meat by combining the ambient oxygen of the shipping container with stored hydrogen to produce water, the basic chemical process of a hydrogen fuel cell. The system checks oxygen levels every ten minutes, and turns on automatically if oxygen levels exceed 200 parts per million—about a hundredth of Earth's atmosphere. The oxygen-poor environment severely restricts bacterial growth and can keep fish fresh for more than 30 days before hitting store shelves.
More than just a one-off project, SAF-D technology has serious business potential. Though freezing meat is an effective preservation method, it comes with several downsides. The biggest shortcoming is the fact that fish can stay frozen for only 11 to 14 days before it's sold in marketplaces, and can still lose between 25 to 35 percent of its value when sold to wholesalers and restaurant operators. Furthermore, fish being shipped across long distances may necessitate expensive air freight.
If the demonstration project is any indication, SAF-D technology could address all of these problems and benefit the environment. Fish preserved using this technology can stay fresh for roughly a month and have longer shelf life once they reach stores; retain value when brought to market; reduce shipping-related carbon emissions by more than 90 percent; and crucially, enable fish to be shipped by ocean rather than air without compromising freshness. Shipping fish by boat is significantly less expensive, less carbon intensive, and, since the air-tight pallet can be reused, eliminates the need for polystyrene and other wasteful insulation packaging.
With the advent of this technology, some Chilean fish farmers are now eying Japan as a potential Salmon market. Still, we'll have to wait and see whether this technology can be widely implemented with near 100 percent reliability. Fuel cell technology uses a fundamental chemical concept, but few things are simpler than insulated ice.
Image by Flickr user Frank Kovalchek